If you are an avid printer user, you know how vital this technology is to print images and documents. The advent of inkjet printing with refillable ink tanks has made printing easier.
Do you hate when your printer keeps generating washed-out results? A turn-off, right? It also becomes frustrating to repurchase expensive ink cartridges frequently. It becomes nothing but a hassle.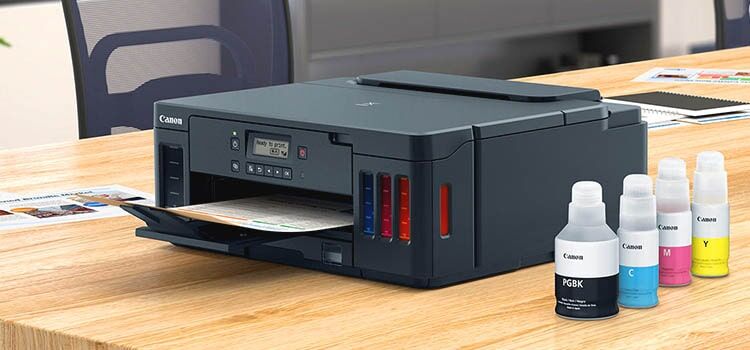 Imagine you urgently require some printouts, but your printer decides to be stubborn and keeps printing blank papers. We know this is the worst blood-boiling scenario!
To prevent such situations, you need top-notch supertank printers.
What are supertank printers?
Supertank or ink tank printers are mainly inkjet printers. These printers do not have disposable cartridges, but they possess ink bottles as ink reservoirs. Thus, it means less printer downtime.
Moreover, you do not have to spend on costly ink cartridges because bottled ink can save around 90% on consumables costs.
These printers will help you print whether you are printing photos at home, monochrome manuscripts for office purposes, or colored documents for school or college work.
If you are looking for one, we have enlisted some best ones. If it is of interest, continue reading to choose an exceptional supertank printer for yourself!
Comparing 5 Best Supertank Printers
1. Canon PIXMA G6020 – All-in-one Stellar Canon Printer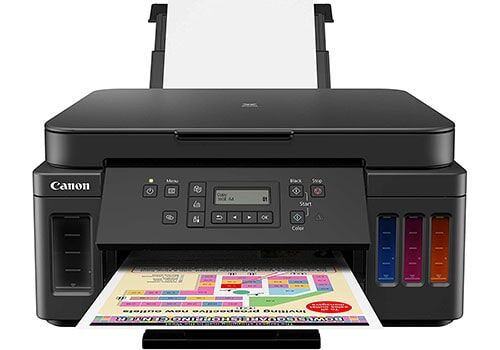 This all-in-one bulk-ink printer, although budget-friendly, produces stellar output for home offices. It is crafted for mid-volume copying and printing.
You can scan, copy, and print without worrying about replacing costly ink cartridges.
Moreover, this multi-tasking powerhouse allows both dye-based and pigment-based ink. It comes with three black bottles and a complete set of color ink.
The pigment-based black ink provides long-lasting and sharp text; in contrast, the dye-based ink provides colorful and vibrant images.
What's more, this multifunction printer features a high-page yield. You can print around 6,000 pages of black text and 7,700 pages with exceptionally vivid colors and beautiful and high-quality borderless photos.
Are you tired of the printer's complicated setup? It offers wireless connectivity, which makes setup a breeze.
You can use Canon Print App, Apple AirPrint, or Mopria to print, edit, and adjust images on your tablet or smartphone before printing.
Furthermore, you can print while using Wi-fi or connect your printer via ethernet.
It supports Windows, Android, and iOS; therefore, no drivers are required. Plus, the paper tray the printer comes with prevents paper jams and is easy to access.
What else? This multifunction printer offers automatic duplex printing and will allow you to print on paper's both sides automatically.
Moreover, this printer has a paper input capacity of 350 sheets. You can put 250 sheets in the main drawer and 100 sheets in the pull-out tray.
This exceptionally designed printer accepts voice activation commands like reviewing alerts, checking ink levels, and other notifications.
Oddly enough, the G6020 lacks an automatic document feeder (ADF). Plus, the LCD screen is tiny and not back-lit; therefore, it becomes harder to read in dim light conditions.
Pros
Economical printer

Offers automatic duplex printing

Compatible with Windows, Android, and iOS

High-page yield

Offers colored and black printing

Multipurpose

350 sheets capacity
Cons
No ADF

An outdated LCD screen panel
No products found.
2. HP Smart Tank Plus 651 – Best HP Supertank Printers You Need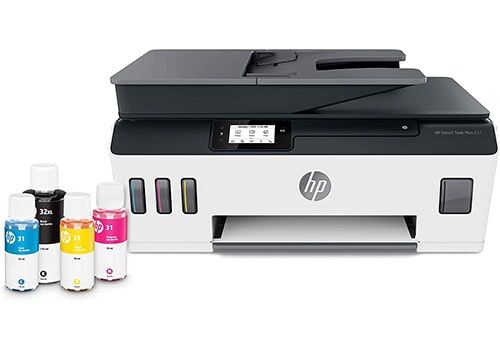 Are you searching for a printer that has low ink cost but an unbeatable print quality? The HP smart tank plus 651 is the one you need.
Its small design allows you to place the printer almost anywhere. You can put it on your desktop or in the room's corner. It is an extraordinarily lightweight and multifunction partner.
Moreover, it has a stylish and modern look, and it comes with an automatic document feeder with a manual duplex option and scanner bed.
What's more, it has a small control panel with a monochrome 2.2-inch touchscreen. It provides easier access and control during operation.
Plus, there are cartridge indicators that are present outside the printer's body. There are three tanks in one section and one large black tank in another.
These transparent tanks allow users to check the ink levels without opening the lid.
What else? You can quickly scan, copy, and print. It has a 100-sheet input tray capacity, and you can adjust it according to various media sizes.
The printer supports matte paper, plain paper, photo paper, envelopes, and glossy paper.
Oddly enough, this printer does not offer the best speed. This machine takes 11 pages per minute for printing documents, and the speed will drop considerably (5 ppm) if you want to color print.
What about its output quality? It is reliable and offers accurate details and colors. Plus, the colors of the pictures are sharp and vibrant.
It is a perfect printer for high-volume and low-cost printing because it enables users to print 6000 black pages and 8000 coloring pages. This device comes around with two years of ink in the bottles.
What about its connectivity options? It is not that impressive. The connectivity options include Wi-fi Direct, USB 2.0, and dual-band Wi-fi. You can also connect via Bluetooth.
Furthermore, this printer is compatible with smartphones. You can make your printing experience easy by using HP ePrint, Wireless Direct Printing, Mopria, and Apple AirPrint.
You can also download the HP Smart App for remote printing.
Surprisingly enough, this device does not offer ethernet connectivity and does not offer a voice-activated printing feature.
Pros
Compact and space-saver

High-quality prints

Affordable

Lightweight

Includes ADF

Support smartphone printing

Ideal for high-volume printing
Cons
No ethernet option

No voice-activated printing

Slow speed

Automatic duplexing lacks
No products found.
3. Canon PIXMA G5020 – One of the Best Canon Supertank Printers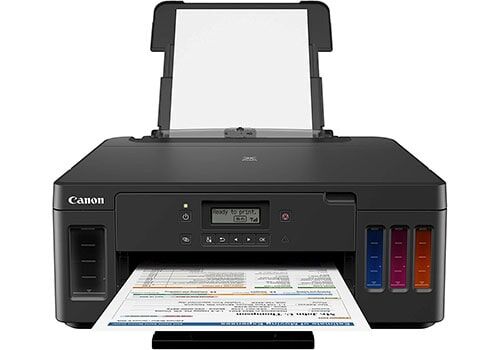 No products found.
Are you searching for a reliable inkjet device that delivers vivid images and sharp texts? This printer has a remarkable ink efficiency and insanely high page yield.
If we talk about speed, color printing is decently faster on photo paper than any other media. It generally prints text and other documents with black ink more quickly.
What's more, its color print quality is not highly vivid, but they are perfect for everyday usage. The device has integrated ink tanks that allow you to refill and view the tank conveniently.
The printer supports GI-20 ink bottles, and it has nozzles at one end that pour the ink quickly without any spills.
Furthermore, you can print around 6000 pages of black text and 7700 coloring pages with this set of ink bottles.
Since this product is named "Megatank," each color has a separate tank, i.e., magenta, cyan, and yellow.
What else? It features a 250-sheets input tray and a 100-sheets rear tray. This device is ideal for large printing jobs, and you can create and print borderless images with ease.
What about its connectivity features?
It is a Wi-fi printer because it can print wirelessly within minutes, or you can print via ethernet. It is also compatible with Android or iOS devices. You can conveniently edit, adjust, and print from your tablet or smartphone.
Moreover, it is a budget-friendly printer that saves your money by not letting you spend on replacement ink cartridges frequently. It also offers a one-year warranty.
In addition, the G5020 is compatible with several voice activation systems. It offers an automatic duplexing feature as well.
It does not have a fancy touchscreen control panel. It only possesses a monochrome text readout-style LED display with navigation buttons.
Pros
High-page yield

Compatible with Android and iOS devices

Supports voice commands

Auto-duplex

350 sheet capacity

Ideal for large printing jobs
Cons
Not the best print quality

No touchscreen control panel
No products found.
4. Epson EcoTank ET-3760 – A Wonderful Wireless Printer and A Big Ink Saver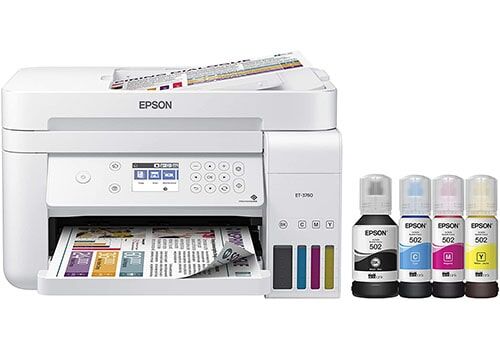 No products found.
If you are looking for Epson's economical inkjet printers, EcoTank ET-3760 might be one of the best Epson supertank printers.
It is an impressive device with a refillable supertank ink system. This device comes with four color bottles and one black ink bottle.
What features does this printer offer? It possesses a flatbed, automatic document feeder, a display screen without the touchscreen interface, and can hold four high-capacity ink tanks that are refillable.
Moreover, it offers good scanning features and can print black-only documents at a reasonable speed instead of colored sheets.
Oddly enough, there is no duplex scanning option; therefore, you will have to scan each page manually. Plus, it does not offer fax.
The rear tray can hold up to 150 sheets. Furthermore, the printing speed of monochrome pages is 15 ppm, while for color pages is around eight ppm.
What about its cost? This budget-friendly printer has a low cost-per-print and offers a high-page yield. You can print about 7500 black pages and 6000 color pages.
These ink bottles are not too expensive and are pretty affordable for long-term usage.
What about its color accuracy? The color accuracy is not that bad. It produces sharp text and vivid images. The printed photos have a decent quality and have well-defined colors.
Surprisingly enough, the pictures it prints may have some graininess. However, it is perfect for everyday usage and not for professional purposes.
What connectivity options does it offer? It provides wireless and wired connectivity support. You can use ethernet or Wi-fi to print endlessly. However, it does not support USB, SD card, and Bluetooth.
You can also copy, scan, and print via mobile applications. This printer is compatible with iOS, Windows, and Android; thus, making printing a breeze.
Pros
Compact

Low cost-per-print

High-page yield

Includes ADF

Automatic duplex printing

Inexpensive printer

Satisfactory print quality

Features mobile connectivity
Cons
Grainy pictures

No duplex scanning

Does not support Bluetooth, USB, etc.

No touchscreen display panel
No products found.
5. Epson EcoTank ET-4700 – The Most Economical Sublimation Printer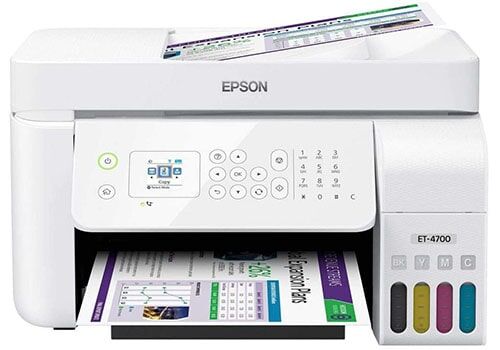 No products found.
This compact and multifunction model is one of the remarkable ecotank supertank printers that students can fit in their tiny home offices or desks.
What necessities does this model offer? It is an entry-level and casual photo printer. It is lightweight and compact but a little taller because of the Automatic Document Feeder.
Moreover, it possesses a mediocre display screen with easy navigation. The display LED screen is pretty tiny and is not touch-sensitive.
In addition, it has a fantastic supertank system that uses four high-capacity ink tanks. It offers users to print color and black pages.
You can load around 100 sheets and easily fax, scan, copy, and print. This 4-in-1 model will allow you to print about 7500 color pages and 4500 crisp text documents.
It does offer a scan flatbed; oddly enough, it does not have a duplex scanning feature, so you might have to scan double-sided documents manually.
What about its printing speed and quality?
This cost-effective printer lets you print plenty of photos. You can print decent-quality images, colors, and texts that are clear. It is suitable for casual color printing, but it is not entirely accurate for professionals.
Surprisingly enough, it does not have a remarkable printing speed. The color and black documents print slowly, but the photos require the longest time. Plus, it does not offer automatic duplex printing.
What about its copious connectivity options?
The printer is compatible with Ethernet, USB, and Wi-fi. You can also copy, scan, and print from Android or iOS smartphones. However, it does not support Bluetooth and other external storage options.
Pros
Offers ADF

Compact

High-page yield

Allows four functions

Low cost-per-print

Decent quality text and photos

Good connectivity options
Cons
No duplex scanning or printing

No options for external storage

Slow printing speed
No products found.
Best Supertank Printers Buyer's Guide: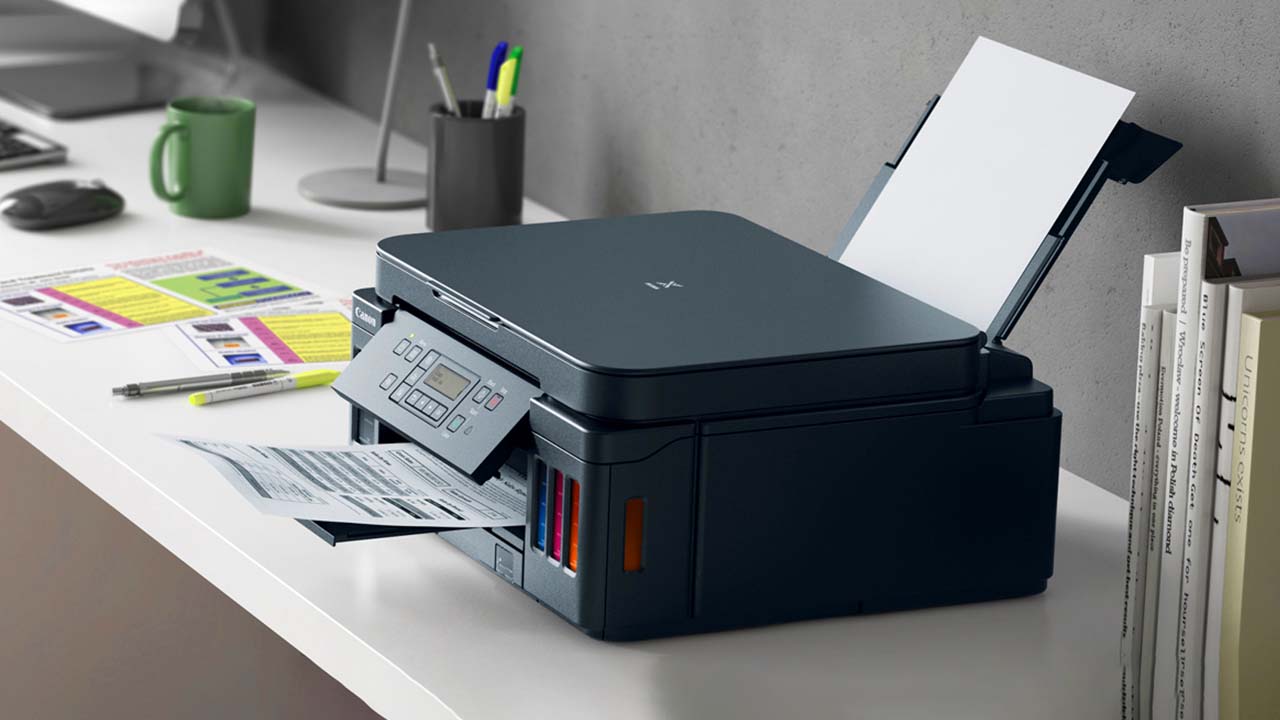 Supertank printers are perfect for those who print a lot daily. These models minimize the frustration of replenishing ink cartridges weekly.
What's more, these devices are affordable printing options with multifunction features and operate at a low cost. There are several top-rated companies available that make high-quality supertank printers.
But the selection is never easy, right? Choosing the best supertank printer involves plenty of research and checking a lot of considerations and aspects. This can create confusion and frustration.
Don't fret! Our quick-and-dirty guide will help you out in selecting the best supertank printer for your home or office purposes.
These are the following aspects that you should check for each model to match up with your expectations.
Pages Per Minute (PPM)
PPM guides and signifies how fast a printer will print pages. Moreover, you will mainly find two PPMs.
Each printer has a different PPM for black and other colors. Therefore, you will find two PPMs in the specification category.
Pages per minute is a crucial feature to consider because if you have time constraints and want to get your job done quickly, you will require a printer that prints fastly.
Slow printing slows down the work and can frustrate the user.
Not to mention, high-quality printers usually print clear and crisp text documents at about 15 to 20 ppm. Whereas ppm in color printing is less, and you will usually find in between 10 to 15.
Duplexing
Automatic duplexing refers to scanning or printing on page's both sides. It eliminates the problem of flipping the page manually.
Moreover, the printer accomplishes duplex printing by printing the page's first side and then pulling the page to flip it over to print the other side.
What else? Several models' scanners have ADF (automatic document feeder) and duplexing features. It allows you to scan page's both sides once the document goes through the ADF.
Duplex scanning and printing provide convenience, and without it, you can not turn the page over to scan or print the page's both sides with ease.
Handling Papers
Every model can stack A4 size paper, but what about glossy papers, index cards, or legal envelopes? Will the printer you are willing to buy can handle various sheet sizes?
Nowadays, several models include feed trays to print specialty papers with different weights or an unusual size.
What's more, do consider the sheet input tray as well. Smaller trays will make you replenish the sheets all the time.
In contrast, trays with 250 to 300 sheet space will eliminate such problems, and you can easily print for a month without replenishing the pages in between.
Ink Cost and Efficiency
Top-quality supertank printers are specifically designed to perform large printing jobs to minimize ink usage.
Refillable large ink bottles provide efficient performance and allow you to enjoy extended printing operations. Thus, you will not have to splurge on ink frequently.
Moreover, ink cost is usually measured per page; however, the printer's efficiency depends on its design and model.
An expensive and powerful printer cost around four cents per black and white page and eight cents for the colored page. In contrast, an affordable printer might increase the cost by a few cents.
Therefore, choose the printer according to your printing jobs because ink cost is a vital factor to consider.
Network Options
Printers that enable the users to connect from various sources eliminate the need to buy several printers to save massive expenses.
Many brands allow you to use a single device to print from multiple devices such as smartphones, laptops, desktops, USB, SD cards, etc.
Furthermore, cloud printing and Wi-fi connectivity are standard options. Several other connectivity types are more useful.
USB connections are generally standard on printers that allow users to hook them up on external hard drives and various other devices.
Other models offer Ethernet ports to secure internet connections through wires. Ethernet connection is not necessary for home-based printers but is useful for offices.
What's more, Wi-fi and Wi-fi Direct are other options that allow remote printing and allow other devices to connect to the printer.
In addition, the presence of Near Field Communication or NFC allows you to connect your printer to a tablet or smartphone. Moreover, full-featured printers will enable you to print from Google Drive, Dropbox, Flickr, and Facebook.
The other option is an SD card slot that is especially useful for photographers to print pictures from the camera directly.
Since you know there are various networking options available, check these options and make sure they fit your needs.
Print Quality
The printed images and documents' quality matters a lot. The output the printer produces should be detailed, crisp, clear, and vibrant.
What else? The print quality is measured in DPI or dots per inch. It refers to the number of dots a printer can place on a square inch of paper. The DPI of inkjet printers usually starts from 1200 and can go up to 5000.
Frequently Asked Questions
Conclusion:
All of the printers that we have mentioned above have top-quality features and are classy. We hope that you found your match from our quick compilation of top-tier supertank printers.
All of them are undoubtedly fantastic in their performance, and they offer seamless printing. Plus, they lessen the ink cost.
If you are unsure which one to choose, you can select from any of these brands that we discussed. They offer a warranty and are sturdy enough to carry out your printing tasks efficiently.
If you think we have left some other best supertank printers, let us know in the comment section below!
Happy Shopping!