Skid steer pallet forks are underrated. As much as these are useful, people tend to mistake this highly durable and tensile item for heavy-duty work only. But if you ask us, it isn't so!
Skid steer pallet forks are the best addition to your loaders, bobcats, and tractors we believe. These not only let you effortlessly lift hefty items but also help move lighter things.
Whether you are looking at lifting a bundle of haul logs or moving something as simple as debris, skid steer pallet forks can make it all easy for you!
Are you tempted into buying one too? Well, if you are looking for the best skid steer pallet forks, we have something in store for you.
1. Titan Pallet Forks Attachment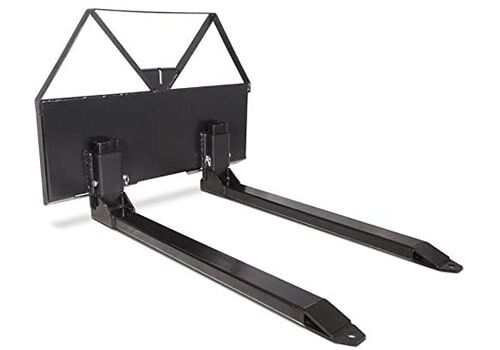 Titan's pallet fork finds its rightful place at the top of our list. Why? Because of the great features, it offers that have been successful in impressing us!
For starters, these steer forks can lift to 2600 lbs of weight. Whether you are looking at lifting a car parked wrongly or piles of soil, this little beauty can do it with ease. Hence, for hefty picking, we'd say this one does the job right!
Okay, the weight lifting part is surely impressive but what does the fork and mast measure up to? The fork dimensions are rightfully measured to be 46"x 4"x 2" while the mast measures up to 45.75"x 35.5", giving you a fair chance at picking up stuff that is heavy and wide.
But what about the attachments? Do the forks offer universal attachment? This was certainly a big concern for us too because we didn't want to waste hours on just fitting the fork.
The best thing about Titan's skid steer pallet forks is that they offer universal fitting. The quick tach style allows you to conveniently attach it to your tractor's bucket by sliding the pins into the slot and you're all set to lift the heavy load.
Since we've said so much good about Titan's steer forks, are they durable too? The blades need to at least last a decade before you buy a new pair. Well, we'd say you don't have to worry about it anymore!
The forks have been carefully manufactured using heavy-duty steel and powdered-coated for durability. Thus, no matter how wildly you use it, it won't bend under the weight.
Looks like you're also impressed by this little piece of machinery, right? If not completely, let us say, unlike other steer forks, this one is compatible with most lawnmowers, loaders, and tractors, making it easier for you to work.
Pros
Load capacity up to 2600 lbs
Offers universal fork fitting
Manufactured using powdered-coating steel for durability
Compatible with lawnmowers, loaders, and lawn tractors
Can be used for anything ranging from lifting cars to picking up piles of soil
Cons
Some users have complained about the forks bending under high weight
Very flimsy
No products found.
2. Titan's Clamp-on Fork Stabilizer Bar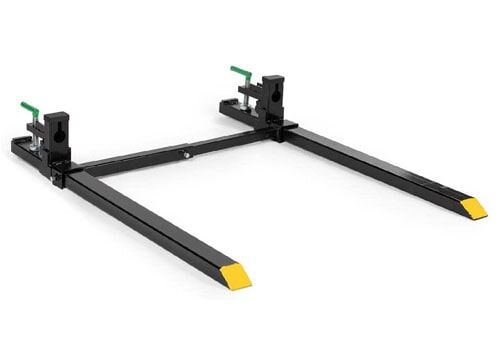 No products found.
Are you looking to lift a heavy item and take it a few blocks down the road? Well, then let the Titan's steer fork take care of it!
This powdered-coated steel construction lets you lift heavy stuff like it did not matter. Hence, forget the struggle of moving mowers or lawn tractors now!
Does this mean you cannot use the steer pallet forks for any other work? Yes, you can! This little machine is ideal to move fences, pick debris and piles of soil without you having to bend a leg.
But is this the only thing that we love about this Titan skid steer pallet forks? Not at all! What makes this machinery special is the adjustable fork that not every pallet offers.
We wanted pallet forks to pick up huge logs mostly and with an average skid steer forks, it was a difficult task to execute. But then we found out about this model of Titan machinery with adjustable forks.
The spreader bar can be adjusted at a gap of 19.5 to 36 inches, letting you pick logs, lumber, and other bulky stuff.
But is it a hard one to install? We didn't struggle for a minute! The fun part about owning this skid steer pallet fork is the easy installation that it offers. The Titan skid steers quick attach pallet forks offer high compatibility with Ford, Kubota, New Holland, and many more.
If you ask us, all you need to do is clamp it onto the tractor and your good to go! But do not be fooled by the clamp-on system. It offers extremely secure lifting, managing weight up to 1500 lbs conveniently.
Pros
Offers secure lifting of items up to 1500 lbs
Easy to install and compatible with most tractor models
Comes with adjustable forks which makes lifting easy
Can be used to lift bulky and small items equally well
Inexpensive
Cons
Poor paintwork on the forks
Not very durable and sturdy
No products found.
3. Titan Pallet Fork Frame Attachment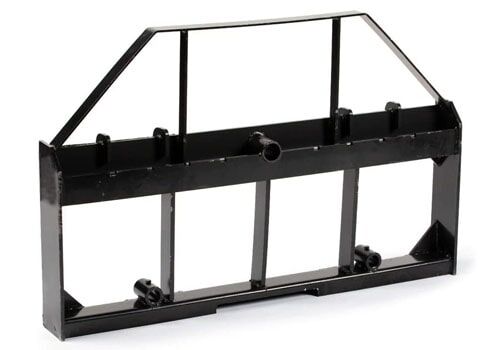 No products found.
Oh, not again! Another Titan pallet fork? Well, if you are wondering whether we are promoting the brand, we are not! Rather, we are only mentioning skid steer pallet forks that we've used and found extremely useful.
Talking about usefulness, this frame attachment is one of its kind. The powdered-coated steel frame can lift to 4000 lbs worth of weight without bending beneath. Yes, it certainly is durable and strong.
Moreover, the superior design is compatible with most loaders, Bobcats, and Kubota tractors, sliding over them smoothly. Sounds wonderful, right?
We love it too! The compatibility with universal fitting gives this model an edge over the rest of the models and hence, it is quite handy too.
Oh, and did we mention the amazing feature that this pallet fork frame flaunts like no other? What can it be? Something helpful we can promise! Well, the Titan skid steer loader pallet forks frame comes with removable forks.
That is correct! It allows you to install Class I and Class II pallet fork blades for a variety of uses. This enables you to attach spears and forks, either separately or simultaneously to get the work done quicker.
But what actions can this frame perform? Can you pick up the haystack with it or is it only used for heavy-duty work? When we were suggested to invest in this wonderful product, we thought it was only fit for bigger projects.
But we were wrong! The powdered-coated steel fork frame measures 29 inches tall and 46 inches in width, set to manage anywhere near 4000 pounds. The frame itself weighs around 120 pounds, making it easy to lift and install.
But are the forks adjustable? Yes, they are, and hence, it lets you work along with heavy-duty and light work equally well. whether you are looking at moving haystacks or lifting logs, the Titan pallet fork frame attachment lets you do it like no other!
Pros
Removable and adjustable forks
Ideal frame for heavy-duty and light work
Easy to install
Offers universal fitting
Made from superior quality powdered-coated steel
Fit for blades and spears
Durable and sturdy
Cons
It may not fit some loaders and tractors, hence check your model before the purchase
Requires extra bolts and nuts to tighten in place
No products found.
4. Titan Medium Duty Skid Steer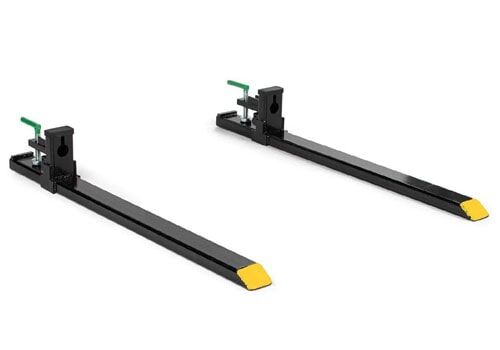 No products found.
Are you looking for a skid steer pallet fork that isn't heavy yet strong enough to help you lift hefty items? Well, we might have just the perfect thing for you!
Since we already mentioned a few forks by Titan, we already know the quality it offers. And hence, here is another one of Titan's light-duty skid steer pallet forks, ideal for light to medium lifting work.
The forks measure at 46x 4x 2 inches which makes them ideal for lifting haul logs, debris, and even fences. It doesn't matter what is the nature of your work, if you want a quick solution for lifting bulky things, these forks are made to manage weight up to 4000 pounds without a problem.
But what we found super useful about these pallet forks is the ease of installation. Whether you have a Kubota tractor or a loader, all you need to do is clamp it on and you are good to go.
Moreover, with this specific model of pallet forks, Titan has been super innovative and clever in its design. How so?
If you get a closer look at the forks, you'll see holes in them. These aren't just for fancying up the look. Rather the holes let you chain down hefty items like haul logs or any other to be transported safely.
Understanding how something bulky things can bend the fork and fall off, risking lives at the road, the addition of holes for chaining down things makes the fork safe and successful.
Although there is everything to love about these skid steer pallet forks by Titan, we know the clamp-on installation can make you confused.
Let's assure you, not only is it easy to install but also to use!
Pros
Easy clamp-on installation
Can lift weight up to 4000 pounds
Offers versatility in performance
Can easily be attached to tractors, loaders, and Bobcats
Chain holes for lifting bulky items safely
Cons
Users have complained of things sliding off from the forks if not chained tightly
The quality of the stabilizer bar needs to be improved
No products found.
5. Titan Heavy-duty Skid Steers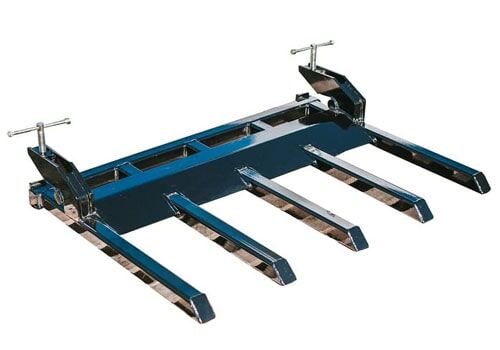 No products found.
Lifting logs or towers of bricks can be tiresome even if you have a Bobcat taking care of the task. What can you do in such an instance to save time and speed up the work?
Get an additional pair of pallet forks. And not just any ordinary pallet forks, we'd suggest investing in Titan's heavy-duty skid steer forks.
These pallet forks consist of not a single pair, but 5 forks attached to a single frame. But why did the manufacture put an effort to increase the quantity of the forks when people were happy with two only?
This is where the magic lies! When we used this attachment, we found it to be much sturdier than an average pallet fork. The greater the number of forks increase the surface area, giving bulky items more space to be tied down without slipping off.
Moreover, it evenly distributes the weight so you do not have to worry about the forks bending underneath the weight.
Having said that, this attachment is easy to install too. Just clamp it to your machinery, tighten it and you are set to use it. No extra effort or time is needed to fix it in place!
Although, clamp-on installation is a great idea when it comes to pallet forks we've seen this putting weight on a single point of the machinery wrap/bucket and damaging it over time.
But this isn't something you'll expect from this attachment. The addition of five forks evenly distributes the weight on the bucket, keeping it intact and free from damage. And we believe it is an absolutely genius idea!
So, if you too are looking for versatile and durable skid steer pallet forks, this attachment by Titan should be a great fit!
Pros
Clamp-on installation that saves time and effort
Evenly distributes weight for safe transportation
Durable and sturdy
Versatile in performance
Cons
Does not come with a warranty
No manual included
The installation using clamps may take a sometimes
No products found.
6. Mophorn Pallet Forks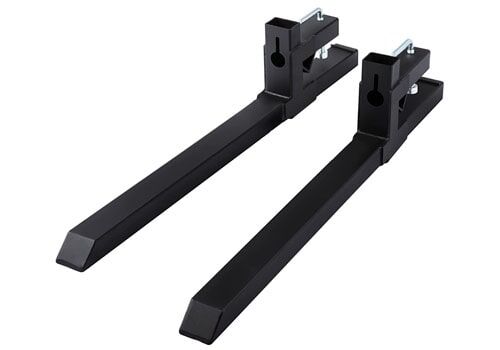 No products found.
Which other label offers the same brilliant quality as provided by Titan when it comes to skid steer quick attach pallet forks? We can vouch for Mophorn for sure!
Mophorn's pallet forks that we like measure along the dimensions of 30in x 2.75in x 1.97in and is suitable to lift weight up to 1500 lbs.
As compared to Titan's pallet forks that we have mentioned above, the load capacity may not b high but is surely decent enough to let you complete light to medium lifting tasks with ease.
Moreover, this pair of skid steers are easy to install. How so? Do you see the rod with screws at the back? Open the clamp, fix it in place and tighten the screws so it holds perfectly in place.
This pallet fork pair is all love! it is easy to use and ideal for moving lumber, debris, and even fences pretty securely. We understand when moving bulky items, safety is everyone's priority.
And when you're looking for skid steer pallet forks that are reasonably priced, durable, and promise safe transportation, we bet you won't be able to see past Morphorn's pallet forks.
Pros
Made from heavy-duty steel
Durable and sturdy
Offers clamp-on easy installation
Can lift weight up to 1500 lbs
Ideal for light to medium lifting tasks
Dual chain holes ensure safe transportation of bulky items
Cons
Poor welding on the bars
The quality needs to be improved
No products found.
7. Yintatech Pallet Fork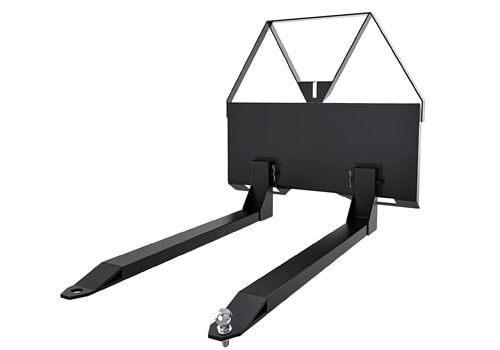 No products found.
When you research for the best skid steer pallet forks, Yintatech is another name that you are sure to come across! And yes, we think it is worth mentioning here too.
Whether you drive a Kubota tractor or work with a Bobcat, a pallet fork can come in handy. This pair by Yintatech measures 46in x 4in x 2in and has a load capacity of a whopping 2600 lbs.
Although the pallet forks themselves weigh only 140 lbs, the tensile steel construction allows them to lift hefty items without bending a bar.
Moreover, this pair is compatible with most types of machinery including Kubota tractors, New Holland, and even simple loaders. But is it difficult to attach to the bucket? Not at all!
Yintatech has cleverly constructed the pallet forks using quick tach, a feature that allows it to offer universal fitting, making it convenient for everyone to clamp it on without a hassle!
From durability to compatibility, from easy installation to high load capacity, these mini skid steer pallet forks by Yintatech will surely make your work easier.
Pros
Offer universal fitting
Ideal for all types of lifting work
High load capacity
Easy to install and disengage
Heavy-duty steel construction for added durability
Affordably priced
Cons
It may not be very suitable for heavy-duty work
the welding on the bars is poor and hence
No products found.
Buyer Guide
As we already said, buying a skid steer pallet fork can be pretty tricky. Why? Because unless you know what you are looking for, choosing the right piece of equipment can be a problem.
So, what helps you distinguish between a good and an ordinary skid steer pallet fork? If it is your first time buying this machinery, here are what things you should be looking at!
Load Capacity
A Bobcat or a loader is meant to lift bulky objects. Have you ever tried lifting and moving mowers and fences with your bare hands?
You certainly cannot! A Bobcat does it for you!
This is why, when you are out there buying a loader, make sure you go for one that offers a high load capacity. But how will you know the maximum capacity that you need? Choose one according to the nature of your work.
If you have to lift things like a car or a landscaper, anything that weighs around 2500 lbs then you'll need a loader that can at least lift 2500 lbs of weight or more.
Generally, skid steer pallet forks with 45 horsepower engines can manage load up to 1300-1500 lbs while an engine with a higher horsepower can produce enough strength to lift items weighing 2500 lbs or more.
So, we'd suggest knowing what work do you need a loader for and then buying one accordingly.
Dumping Height
A dump height refers to how high can the forks be lifted to dump stuff. This feature may not be important for someone who's looking to lift fences or logs but if you're into the construction business, you'd surely have to pay attention to the dump height of the loader.
We suggest going for an extra two inches of dump height than your intended height to avoid accidents.
Adjustable Forks
Adjustable forks of a Bobcat come in super handy. These give you the leverage of managing the width of the forks according to your requirement.
Thus, whether you are looking at lifting logs or lumber, the adjustable forks make it all possible! We've found loaders with adjustable forks to be very helpful, allowing us to carry a load of differently sized items without a problem.
Easy to Install
Imagine having a bulk load of work in front of you and even after a few hours, you're struggling with installing the forks to your tractor. Sounds annoying already, right?
Like us, if you do not want to waste your energy and time on fixing pallet forks, find one that is easy to install. There are a few good brands out there that manufacture clamp-on forks or hinge-pin forks that take only a minute to fix in place.
So, before you hurry into buying a pallet fork attachment, look for its installation system to help you decide.
Compatibility
What does compatibility mean when talking about skid steer pallet forks? Compatibility here means that your forks can easily be attached to different models of tractors, which is what exactly you want.
When our tractor/machine stopped working, we had to buy a new one and if by that time we didn't have a universal fitting pallet forks attachment, we'd had to spend an extra hundred dollars on buying new attachments.
Thus, always and we emphasize, always invest in forks attachments that offer universal fitting for extra compatibility.
The Lift Path
If you've done your homework thoroughly before buying skid steer pallet forks you'll know what a lift path is and how does it impact the usage of the forks.
So, when talking about lifters, there are two lift paths: radical lift and vertical lift of pallet forks.
Forks with radical lift swing outwards, away from the loader itself hence, allowing you to reach out to bulky items much easier. Pallet forks with radical lift are ideal for digging, collecting soil, and grading surfaces.
On the other hand, forks with vertical lifts are closer to the loader and move in an up and down direction. The best thing about these types of forks is that they offer more stability while lifting hefty objects.
Points to Remember When Using Skid Steer Pallet Forks
Although managing skid steer pallet forks isn't as difficult as one might think, a little practice hurt no one, right?
If you've already invested in this fabulous product to increase productivity, here are a few points to remember that'll help you use it in a better way:
Always read the manual to understand how the pallet forks are installed and used
For careful lifting and best outcomes, keep the forks low for increased visibility of the path in front
Book monthly maintenance appointments to ensure there are no faults or wearing
Check the hydraulic grapple for leaks and damages routinely
When lifting bulky items, make sure to evenly spread the weight to avoid unnecessary damage to the forks
Frequently Asked Questions
Conclusion
Skid steer pallet forks are very useful when it comes to managing hefty items. We understand how tiresome can it be to lift piles of soil or fences manually when you can add a pair of forks to your machine and make your life easier.
We've tried to gather the top-rated skid steer pallet forks and enlist them here so you do not have to research and find one that meets your requirement.