The Holiday season is upon us. It is our favorite time of the year to share the gadgets and gift ideas we find that make perfect gifts for practically anyone. Our team tries to update the list throughout the season and add new ones or update the existing ones with links where you can buy them with the most discounts. So here we go.
Most of our finds are under $100. They make perfect gifts for your friends and family but are also perfect for those who want to splurge a little on themselves. We also include a few deals that are expensive but trending this year and have the best discounts this season. So goes my new Holiday Season List, get in on the action fast because these items are selling out fast!
1. NATIONAL GEOGRAPHIC Stunning Chemistry Set
For under $40 this is one of the most trending science kits for ages 8+. Currently listed as Amazon's choice for "science kits for kids age 8-12", this high-quality educational toy/kit is presented by the National Geographic STEM series. This year definitely saw an uptrend in science or STEM kits for kids and this one is from National Geographic, featuring Over 15 Easy Experiments, Make a Volcano, Launch a Rocket, Create Fizzy Reactions, & More.
In this SCIENCE KIT, kids will have hours of fun as they explore the fizzy and bubbly reactions they create, just like a real scientist in a lab!
The kit has A TOTAL OF 45 EXPERIMENTS – Build and erupt a volcano, create a geyser, launch a rocket, and cause some awesome chemical reactions! Each experiment is easy to conduct and a whole lot of fun! The kit has EASY-TO-FOLLOW INSTRUCTIONS – The experiment guide in this kit has kid-friendly instructions with illustrations for each step and fascinating insight into the chemical reactions.
HANDS-ON STEM – Kids will learn the scientific process, important fundamentals of chemistry, and how to safely conduct experiments. This science kit serves as an important stepping-stone in STEM success! Definitely worth gifting ideas for kids in your family!
2. Eco-friendly Bamboo Suction Baby Plate and Spoon Set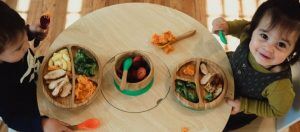 Eco-friendly products are the trend this year not just because of fashion but also because it is the right move now. Thanks to the awareness of consumers to do something right towards sustainability and environmental impact from their end, many companies also making efforts to put forward product lines featuring eco-friendly housewares or at the least using eco-friendly impacts such as using fully recyclable materials in packaging and shipping. One such company is https://ecofriendlyboutique.shop/ which sells really good and unique eco-friendly products. From their inventory, one product caught our attention that can be a very good gift this holiday season for babies.
Bamboo Suction Baby Plate and Spoon Set
is a unique product line when the baby starts solid food. The bamboo plate sits atop a silicone ring that suctions to the table, so you can relax and use this bamboo plate for easy eating and even easier cleanup! Besides, the bamboo plate is sectioned into 3 compartments, so you can balance meals and control portions by filling each compartment with wholesome food. Comes with a matching bamboo-silicone spoon with a soft tip for tender gums. And this is at a really good price of under $40. The website also features
other housewares
and a very cool apparel line for adults as well as kids. Check
this link
out for gifts this season.