We all know that the world is slowly steering away from all things that are disposable and starting to use more sustainable options.
Therefore, this is the reason why disposable batteries are a thing of the past and most of our gadgets are now supporting rechargeable batteries.
Rcr123a batteries are one of such great options. But, what is the one thing that you cannot miss when you buy your rechargeable batteries?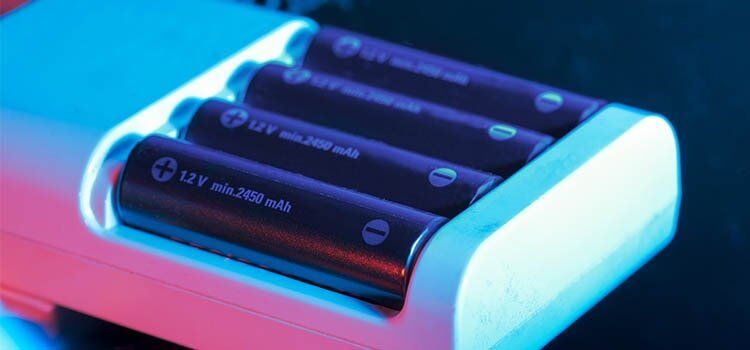 You thought it right!
The best RCR123A charger!
Not all chargers prove to be good enough in charging your precious little batteries. Reason being, poor quality.
But behold!
Here we present you with top-of-the-line chargers that will make your batteries last even longer.
Comparison 10 Best RCR123A Charger
There are a lot of things that you have to take into account while choosing the perfect RCR123A battery chargers. Here we present you with some of the main features you ought to look for.
1. Keenstone 18650 Battery Charger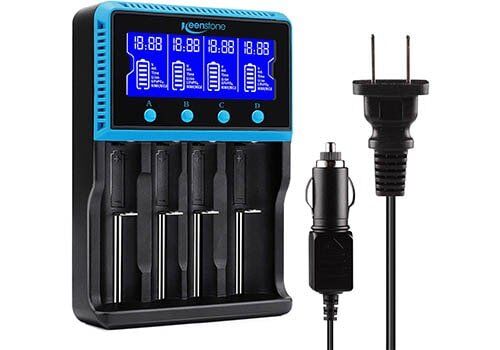 No products found.
Your rechargeable batteries save you money and waste; this is the reason, they deserve the best from you. This smart universal charger by Keenstone is what we are talking about.
As the name suggests, this charger is universal; meaning, it supports almost all types of modern rechargeable batteries.
It has four independent running slots, each of which controls the current influx separately.
And there's more:
The intelligent circuits function to prevent your batteries from getting over-charged in case you plug in and forget to switch off overnight.
Also, there is an LCD that shows all the vital information regarding your batteries. The current, voltage, and charging time are shown for all four slots with a/b/c/d buttons for each slot.
Furthermore, the chargers are safe to use because they offer protection against over-charge, reverse polarity, over-discharge, and subsequent short-circuit.
Other specifications include the input of 100-240V of alternate current and 12-24V of direct current.
The output voltage is mentioned to be 4.2V/3.65V/1.5V while the output current is 500mA or 1000mA for 4 slots.
Additionally, the package is completed with a user guide and two adapters for the car and AC for you to use at home or on the go.
Warning!
This charger is not to be used with non-rechargeable batteries or it can cause serious danger.
But there is one little downside to the design.
The alternate gray and black color; though aesthetically pleasing, can lead to confusion regarding the simultaneous use of slots.
One may think that only the same colored slots are compatible to work with each other.
Pros
Universal

Four autonomous slots

Automatic cut off power on a full charge

LCD

Built-in protection

2 charge current

Car and AC adapter
Cons
Alternate colored slots may be confusing
No products found.
2. Tenergy Fast Charger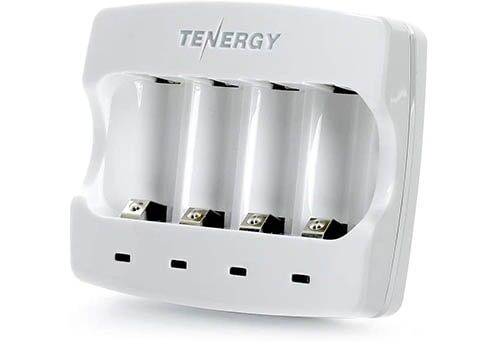 Everything runs on batteries these days. And even though technology has made our lives easier, it's always a hassle buying new batteries every time they run out of charge.
Hence, the Tenergy charger. Which offers fast recharging at your convenience!
So, let's dive right in:
If you are looking for a battery charger with 4 independent channels, then we are on the right track. Because it can charge up to 4 batteries at a time.
Thus, saving your time and money. Additionally, each port has its status indicator. Hence, making it easier for you to monitor them!
How fast does it charge?
Assuredly, they can fully charge a battery in two-three hours. The reason is, it has a current of 400 mA. Isn't that convenient?
Furthermore, is it unsafe in any way?
Not at all! Tenergy provides you with built-in protection which prevents reverse polarity and short-circuiting.
Moreover, the temperature sensor senses any abnormal change. Plus, a timer that prevents overcharging.
Not only that but it is also made of fire-retardant substance! Hence, you may charge your batteries whenever you want worry-free!
Is it certified?
The charger is internationally recognized as a certified product. Tested and certified according to CE and FCC standards. Additionally, the adapter is UL certified. Can you think of anything better?
Is it compatible with any rechargeable battery?
Unfortunately, this charger is only compatible with Tenergy 3.7V RCR123A 650mAh Li-ion rechargeable batteries.
So, please make sure you do not charge any other battery as this can lead to failure. Or, in some cases, explosions!
Does it come recommended?
Absolutely! Buy the battery charger which comes with a power adapter and a user manual. Moreover, use it without any worries, because this lightweight charger includes a 12-month warranty.
Pros
Certified

Lightweight

Value for money

Fast charge

Heat sensor

Saves money

Saves time
Cons
Shorter run-time per charge

Not pre-charged

Only compatible with specific batteries
No products found.
3. Nitecore New i4 2016 Intellicharger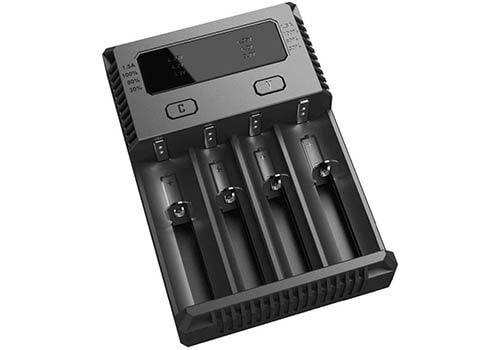 No products found.
If you are someone who hates going to the market to buy something as small as batteries, then let me tell you about Nitecore's new Intellicharger.
Wondering about its features?
This battery charger automatically senses the power status of a batter and displays the progress. Moreover, when the battery is fully charged, it mechanically stops charging.
Thus, preventing them from overcharging and burning out. Furthermore, it is made of flame retardant, fire-resistant material, making it even safer!
What about its charging speed?
Nitecore offers twice the charging speed of the i4 version. Hence, providing 1.5A.
Can I use it for all batteries?
This charger is compatible with many voltages! Namely, 1.2V, 3.7V, 4.2V, 4.35V. Additionally, it can also be used with Li-ion / IMR / LiFePO4 and all its versions. Finally, it is well-suited for AA, AAA, AAAA, C, and D types.
Any benefits that come with the charger?
If you have more than two batteries to charge at the same time, Nitecore has you covered! You can charge up to 4 batteries at a time. Therefore, saving time and money!
Any precautions that you need to keep in mind?
Please only use it for Li-ion, IMR, LiFePO4, Ni-MH/Ni-Cd rechargeable batteries! Moreover, never leave the charger unattended when it's working.
Most importantly, do not use it for primary cells like Alkaline, Lithium, Zinc-carbon, etc.
Also, if you see any sign of swelling or damage, do not charge or discharge batteries. Finally, unplug the charger and remove all batteries when not in use.
Would I recommend it?
Unquestionably! Nitecore offers a 12-month warranty that you can claim on its website from the day you purchase the charger. Its exceptional speed and versatility are another plus point!
Pros
Lightweight

Cheap

2 times faster charging

Versatile

12-month warranty

Charges 4 batteries at the same time
Cons
Might charge the weak batteries slower
No products found.
4. QUICKHELP CR123A Lithium Batteries and Charger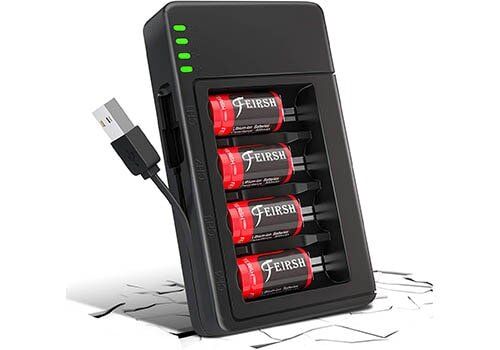 No products found.
If you want reliable and high-performance batteries for a lesser price, then these 4 pack rechargeable lithium batteries might be the solution for you.
The great performance won't let you down!
These CR123A batteries are designed to provide better performance. Because of the right use of energy, it gives a 21.8% better performance than other batteries.
The batteries even provide greater performance in harsh weather. When used in your security cameras, you don't even have to worry about the rain.
They work despite the weather conditions to keep a check on security without any interruptions. The QUICKHELP batteries make sure you get the best quality.
Did we mention they are rechargeable?
Yes, these four batteries are rechargeable and come with a fast charger. Moreover, they have a high capacity of 800mAh. They are reusable and can be charged 650 times.
For easier identification, the charger has an LED display. The color red means currently charging, whereas green means fully charged.
As overcharging can damage the batteries, this helps in removing the batteries at the right time.
Even the charging only takes as long as 2 hours.
Along with that, the charger has advanced technology. It detects the change and fluctuations in the current and adjusts them accordingly.
This way they stay safe from short circuits, over-voltage, over-current, over-heating, and even reverse current.
Additionally, the material of the charger, and the batteries, make it durable and long-lasting. A fully charged battery can last up to a month. USB cable is provided for charging too.
Moreover, these batteries have passed the CE, FCC, UL, and RoHS tests. Hence, are completely safe for you to use.
But the best part?
This package has a full brand warranty for a year. In case of dissatisfaction, they also have a return policy with a 100% refund or a free replacement.
If you have any more queries and questions, the QUICKHELP 24-hour customer service is available to you through email.
This is really a no-loss deal for you. You won't be wasting any of your money. So, in my opinion, it's worth a try.
Pros
4 batteries included

21.8% better performance than other batteries

Safe in any weather

Can be recharged 650 times

Fast charging

LED display

Multi-protection is available.

Long-lasting

Affordable

Tested

12-month warranty

Return policy available
Cons
Batteries may die earlier in some cases
No products found.
5. Snado Intelligent Universal Smart Charger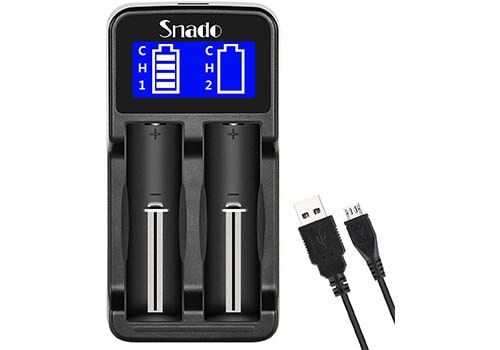 No products found.
This intelligent battery recharger is a high-functioning charger that is compatible with many types of batteries.
Let's first talk about the performance:
The Snado battery charger is a high-power charger that charges your batteries quickly and in a more efficient way.
By recharging your old batteries, you won't have to spend money on new batteries all the time.
I know how much of a nuisance battery changing can be!
Furthermore, a built-in power management and voltage control system improves the way your batteries charge.
The intelligent system detects and automatically adjusts itself against overheating, and fluctuations in the current that can cause further misadjustments which are not good for the batteries and charger as well.
They even put the surroundings in danger, but since the current, voltage, are very well controlled in this charger, they are completely safe for use.
Along with that, an active LCD display is also available. It shows the current status of the battery, how much battery is left, and if you need to wait a while to wait a little more.
Not only that but:
The smart system prevents the charger from overheating when plugged into a power source, as it discontinues the charging whenever the temperature rises up.
High temperatures can cause damage to the battery, and in even worse situations, they can even burn the whole charger and batteries.
Thus, it's better to get this Snado charge that keeps the temperature in control.
This charger can charge many different types of rechargeable batteries. Li-ion, A, AA, 14500 Ni-MH, just to name a few.
Furthermore, the charger comes with a universal USB cable. This means that you can recharge your batteries anywhere without a problem.
All the power sockets would support the universal USB port plug-in.
We are not finished yet!
It is also very small in size, so you can carry it with you anywhere, your office, your school, in the kitchen, or you can even take it with you when you're traveling.
It would also serve to be of great help and convenience while traveling.
When on tour, a person might be on the go most of the time, so having this reusable battery charger would come in helpful. It can charge two batteries simultaneously.
So, no matter what you need the battery for. Be it a toy, hand fan, remote, alarm clock, anything, you don't need to get out of the house and buy the expensive batteries.
All you need to do is just spend your money once, on this battery recharger.
Warranty kind of seals the deal, right?
This company offers a 2-year free replacement guarantee and lifetime maintenance.
And if you don't like the product at all and want to return it immediately, you get a 30-day return policy that allows you to get a full refund of the product you are dissatisfied with.
This charger is definitely one of the best smart chargers with quite a lot of good features and qualities.
Pros
Fast charging

Intelligent controlling system

LED display

Overcharging protection

Universal USB port

Comes with a USB cable

Portable

Lightweight

2- year warranty

30-day refund

Lifetime maintenance
Cons
The batteries may not be long-lasting
No products found.
6. Alehme LCD Display Universal Smart Battery Charger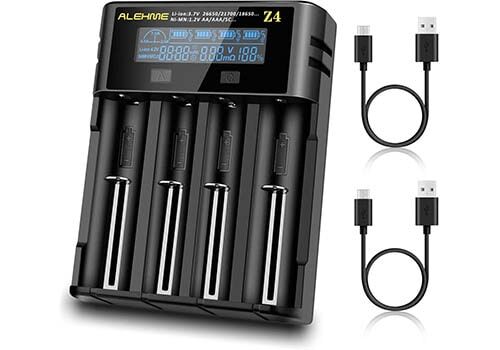 No products found.
If you're looking for a charger that would charge all your batteries regardless of the type then you have to get this universal smart charger.
How is this charger smart?
This charger has an LCD display that displays all the important information about your battery you might want to know.
Such as the battery type, the current battery charging, the electron flow, voltage, internal resistance, input current, and even the charging schedule.
Its smart and advanced technology detects all that and it adjusts according to the type of your batteries. More so, it stops your batteries from overcharging.
It stops the current automatically when it's charged so your batteries don't get damaged.
Moreover, this charger has 4 independent slots, which means you can charge as many as 4 batteries at the same time.
Not just that, but it also allows you to choose the charging current, from 500mA, 1000mA, and 2000mA. You can charge your battery at your preferred current level.
This means that when you want, you can choose the higher current option for fast charging.
On the other hand:
This charger has three input ports and can support the input types, a type-C, lightning 3 interfaces, and micro USB.
For your ease and convenience, they provide you with a micro USB and type-C cable along with the charger.
The battery types supported by this charger are Li-ion batteries, AAAA, AA, A, LiFePO, INR, IMR, ICR, and many other batteries that are rechargeable in nature.
Furthermore, it is very lightweight and small. Hence, you can easily carry it around with you anywhere.
And as it charges easily with a USB charger, laptop, computer, power bank, it's perfect to bring around with you when you're traveling.
So, the next time you run out of batteries for your remote, your flashlight, or any other gadget, you don't have to run to a shop to buy yourself one. You can just charge the batteries ahead of time.
As if that was not enough:
It also comes with a handbag that is anti-static and waterproof, so you can keep your charger stored in a safe place.
This charger is ideal for your everyday use and even on tour and is safe to use by a person of any age. It is made environmentally friendly and cost-effective too.
Pros
LCD display

Smart features

4 charging slots

3 current options available

Battery capacity detector

Fast charging

3 types of input ports

Supports almost all rechargeable batteries

Comes with mini USB and type-C cable

Portable

Affordable

Comes with a bag for storing
Cons
Doesn't come with a wall charger
No products found.
7. Zanflare LCD Display Speedy Universal Battery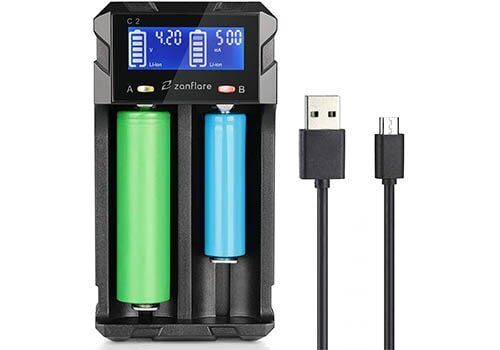 No products found.
The quick rechargeable battery that you can rely on when you need lasting performance.
Tired of spending your money on spares?
With this battery recharger, you don't have to buy a new battery every time one runs out. You can simply charge one while you're using one.
This saves you from the hassle of going to the grocery store every time the remote battery runs out when you just want to relax and watch some TV.
Even when you need to travel, you don't have to buy bulk in the fear of running out of batteries. You can just bring this charger along.
This brings me to my next point:
The recharger only weighs 94 grams and is just 4.61 inches in length. Super compact and portable.
Furthermore, it has a smart LCD display. It displays the current battery status in numerics. Like the voltage, current, battery level, the battery type, and even the time.
It keeps you aware of how much charging the battery has, so you know how long it's going to last.
Now you won't have to worry about your batteries running out at the worst possible time.
Additionally, it has a multi-protection system:
It protects your batteries from over-current, over-voltage, and over-short circuits. It smartly detects all the current and voltage changes.
And even protects your batteries from reverse polarity, which can be very bothersome.
Moreover, you even choose which current option you want to charge at. It has three options, 300, 500, and 100 mA.
The charger can also detect when your batteries are damaged so you can discard them.
That's not all!
With LED light detection, you can easily identify when your batteries are charged. The green light indicates full charging and stops the charging immediately. Whereas, red indicates currently charging.
It can simultaneously charge two batteries of different types, be it any of the following, A, AA, SC sizes, RCR123 batteries, and countless other types of batteries.
Moreover, it has a USB port along with a micro SUB port. Hence, you can use your regular charging plug to charge the batteries. You can even plug it in your car charger and it would do its work.
And one of the best parts?
The Zanflare company guarantees 100% customer satisfaction and a 2-year warranty. So in case you have any issues with your charger, you can easily get it fixed because they value customer satisfaction.
Pros
Compatible with most battery types

Smart LCD display

Three current options

Multi-protection features

Compact design

Detects damaged batteries

Intelligent LED light detection

Charges two batteries at the same time

Stops charging after full charge

USB and mini SUB port

2-year warranty
Cons
The USB ports may become loose
No products found.
8. EASTSHINE Universal Smart Battery Charger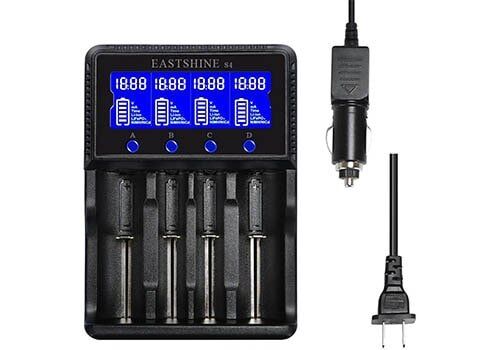 No products found.
Need to go camping, but your flashlight has dead batteries?
Worry no more!
The EASTSHINE Universal smart battery charger is intelligent and gets the job done in no time.
This charger has four slots for batteries and they all function separately. It is compatible with almost all types of rechargeable batteries with multiple specifications.
It has 2 charge current options; that is, 500mA and 1000mA and 3.2V LiFePO4 options.
But, what's extraordinary?
This smart charger has a micro-computer chip installed to control the charging. The LCD notifies you of your battery charging status, voltage, and also current.
What's more, is that the charger automatically shuts charging when any of the batteries is charged to maximum.
You can load the charger with different rechargeable cells and the display will show you if the cells are compatible to be charged together or not.
This charger is also one of the safest out there because of its smart technology that protects from any danger of short-circuit, over-charging, over-heating, reverse polarity, over-current, or voltage.
Phew! What a relief.
Also, this is an all-in-one package. It comes with a US Wall Power Cord, a Car Adapter Cord and, also a user manual.
The manufacturer, however, issues three warnings. First, the charger cannot charge a faulty, or wet battery. Attempting to do so can result in a fire hazard or short-circuit.
Secondly, the charger cannot charge primary cells with unsupported chemistry. And last, you should not charge a car and AC power sources at the same time.
Pros
Safe to use

Supports almost all rechargeable batteries

Intelligent LCD

4 independent slots

Microchip controls charging flow
Cons
Does not support primary batteries
No products found.
9. EBL RCR123A Battery Charger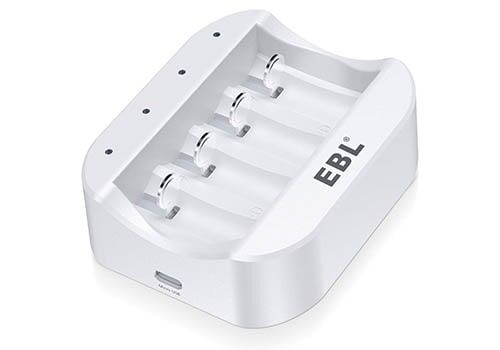 No products found.
A charger with special features that can charge multiple batteries at the same time.
Which batteries is it suitable for?
This EBL battery charger is suitable for rechargeable RCR123A, RCR2, 16340, CR2 batteries. It also charges rechargeable lithium Li-ion batteries.
However, it will not work for any non-rechargeable batteries.
It has 4 independent slots so you can charge up to four batteries simultaneously.
Moreover, the dimensions of this charger are 2.59 x 2.14 x 0.84 inches. And it weighs only 3.99 Oz. Thus, it would hardly take up any space.
To specify, the charger gives an output of 350 mA with an input of 1.5 A. Meanwhile, charges the batteries that have a capacity of 750 mAh.
That's not all.
The charger also saves the battery from overcharging. It detects when the battery is completely charged and automatically stops the flow of current. This way your batteries don't get damaged.
Along with that, it also protects the battery from over-current, over-voltage, over-heating. It operates at a surface temperature below 60 degrees.
Additionally, it has built-in short circuit protection. It ensures complete safety when charging the rechargeable batteries.
Further, the charger has an MCU system that controls all this. Consequently, it cuts off the voltage and turns it back on to protect the batteries.
This charger can even work under humidity levels up to 95%.
But wait, there's more.
It has an intelligent LED indication. This LED turns red to indicate when the batteries are charging and turns green when they are fully charged.
Furthermore, the EBL company has been known to provide quality products and is trusted by customers since 1998. They make sure all their products are reliable and high-quality.
If you're looking for a battery charger with these specifications, then make your purchase now.
Pros
Multiple slots

Lightweight

Portable

Smart MCU system

LED indicators.

Multi-protection
Cons
May charge slowly

May burn if mishandled
No products found.
10. Elebase CR123A Rechargeable Batteries and Charger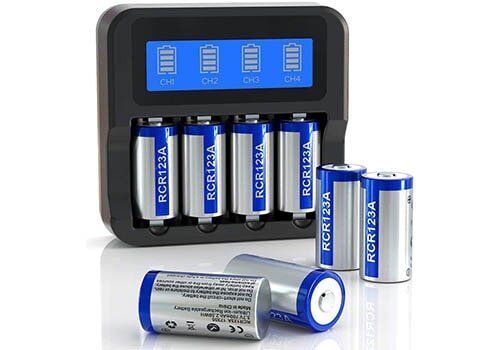 No products found.
This one comes as a combo. It has both the batteries and the charger to be your two-in-one purchase for your battery-operated camera before going on a trip.
This charger features four battery slots that can recharge four batteries at once.
The batteries are compatible with most of your go-to electronic gadgets such as security cameras, flashlights, toys, and other appliances that employ RCR123A or CR123A batteries.
The guide presents a note to fully charge your batteries before first-time use.
That's not all!
Moreover, the charger features an LCD screen on top that can be used to check your battery's recharging status by a four-bar charge indicator or any threat of reverse polarity.
In addition to that, the charger has a built-in safety system to protect from any over-heating or over-charging issues.
The charger will auto-stop once the batteries are fully recharged, protecting the batteries from any malfunction.
What is extraordinary about this is that the manufacturers offer a one-year warranty and customer service in case you have any problems.
And you know what?
All this is included at an extremely budget-friendly price.
Two downsides to this combo, however, are that the charger has an input and output for direct current only.
Secondly, the batteries included have a capacity of 750mAh which might be too low for some of your needs.
But you can always replace these batteries with high-capacity ones and the charger will perfectly serve its purpose.
Pros
Comes with batteries

Four compartments for four batteries

LCD for indication

Safety system

One-year warranty
Cons
Direct current only

Batteries have low capacity
No products found.
Buyer's Guide:
No matter how much you've used your batteries, we all know that they have a tendency to run out at the worst possible moment. Moreover, now you know the best RCR123A Charge.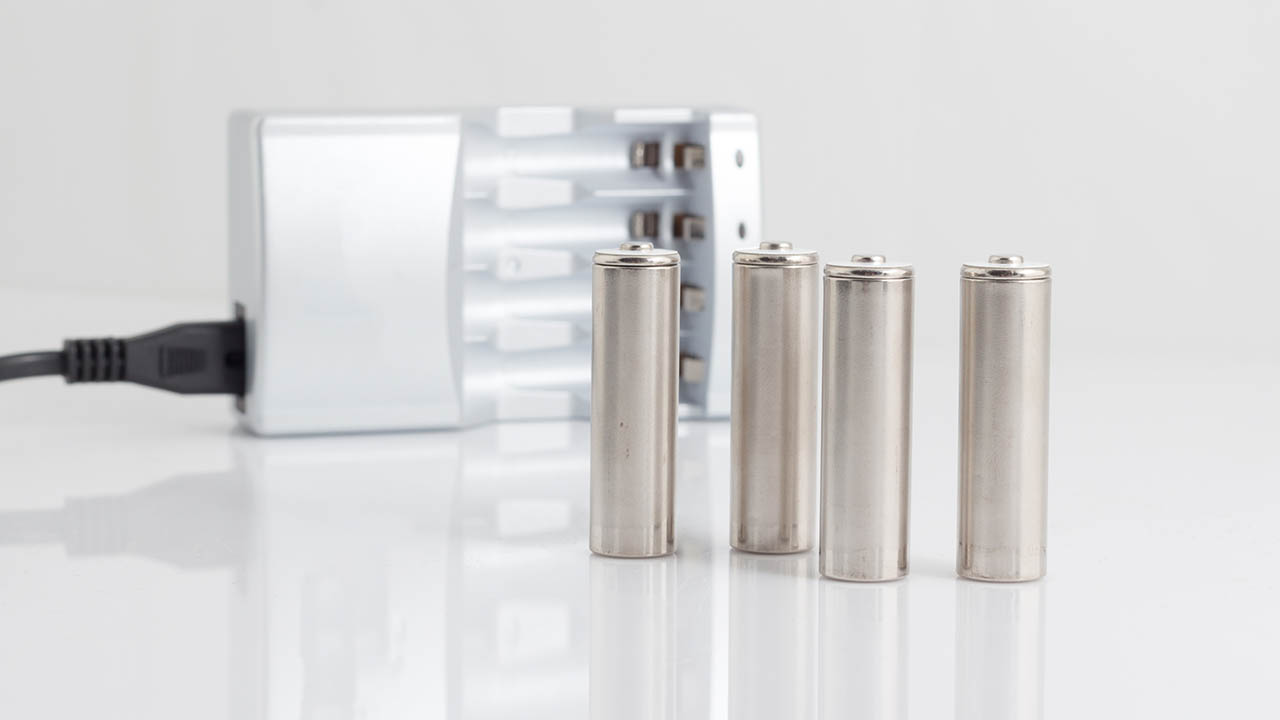 Needed your flashlight to work when you were out on a hiking trip? Does your camera always seem to die down at an important moment? Or did you just need to operate a toy car?
We've all been through this:
The spare batteries would just be lying around unused and when you finally get around to using them they wouldn't work. Have you ever wondered why?
Let me tell you the reason:
Most batteries self-discharge when they are not being used. It's due to a chemical reaction that makes them lose charge and when you finally use that battery, think it would have power because it has not been used and it doesn't work.
Only a few name-brand batteries manage to regain some of their original charges after a long time.
Thus, it's kind of useless to buy spare batteries.
So, why don't you buy a battery recharger instead that would not only save your old discharged batteries but will also save you the cost of buying new batteries over time.
Don't know what charger would be the best for your batteries?
Don't worry; we will help you choose the best charger that will be compatible with all of your batteries.
There are a few things to consider when you are buying a battery recharger. Let us help you walk through all of them one-by-one.
Material - Their Size is Not the Only Difference:
Batteries, like almost every other thing, come in different types. Their size may be different, but their material is different too.
And that is the most important thing you need to know when buying a battery recharger; the material of your battery.
According to the use of the batteries, they are of many different types:
Lead-acid batteries

Nickel-metal hydride or NiMH batteries

Lithium-ion batteries or Li-ion batteries

Nickel cadmium or NiCd batteries
To name a few.
Now each of these batteries has different uses and has different lifetimes. What you have to do is find out what batteries you mainly use and what type they are.
Then you can easily find a charger that supports the type you are going to use.
Input and Output Current - You Don't Have to be Confused!
I know that the input and output current of both, the batteries and the charger are very confusing and hard to understand.
Let me try to explain it in an easier-to-understand way:
The input current of the charger is basically what the charger draws from the power socket. Whereas, the output of the charger would be what it would be able to deliver to your batteries.
Similarly, the input of your batteries will be what it would draw from the charger and the output would be what it would be able to supply to your devices.
It's just that simple:
Now that you know what the input and output values of the current mean, you can easily find the charger that matches the current of your batteries.
There may be a difference in both, but make sure that the charger's output current is higher than your battery's input current.
Smart Protection Functions - How Important Are They?
When it comes to battery charging, you have to look for a few features that would ensure better charging and battery protection.
These protection features are:
Over-current protection

Overcharge protection

Over-voltage protection

Reverse polarity protection

High-temperature protection
The charger functions are not limited to these neither are all of these absolutely necessary to have in the charger.
What they do is protect your battery from extra damage and ensure that the life of the battery is not reduced. Their purpose is to charge your battery up to its full capacity to provide optimal performance.
You should look for a battery that provides as many of these features along with all the other things.
An LCD Display Function - It's Not Just for Show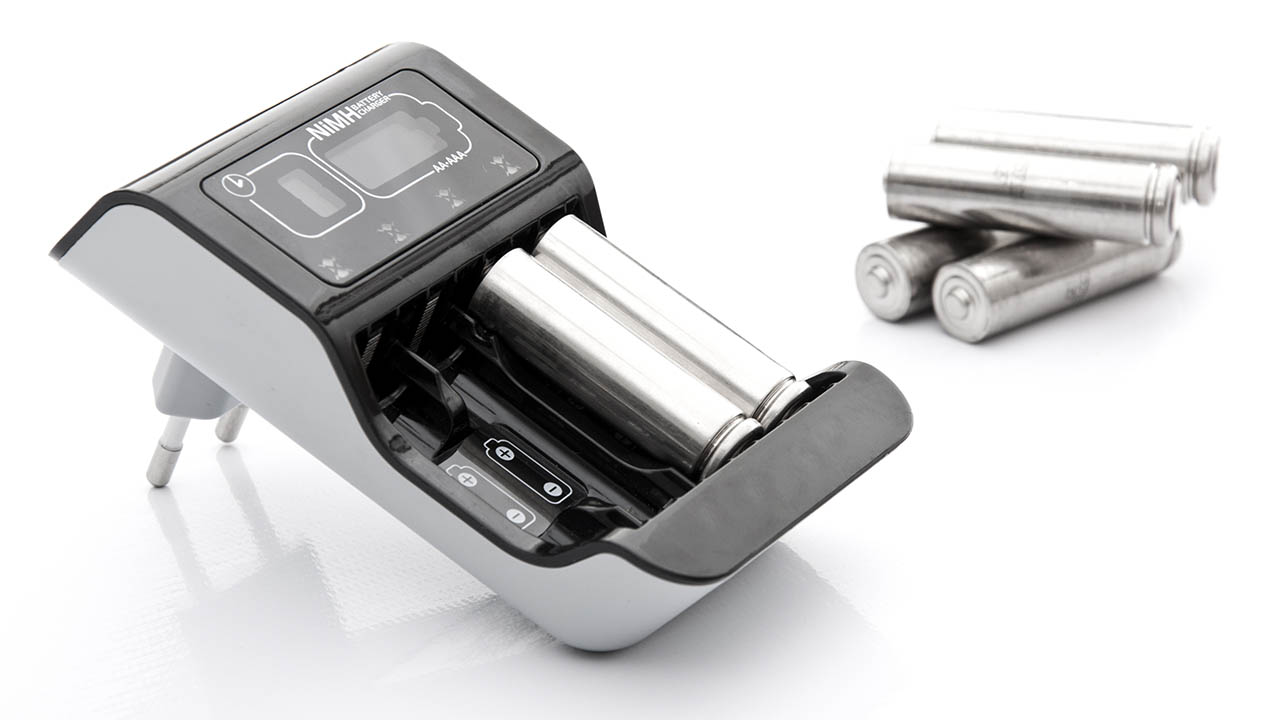 Although an LCD display is not a must-have feature, it certainly helps a lot. An LED would display all the current specifications of your batteries. For example, the current charging, battery capacity, battery type, etc.
It would be easier for you to identify everything
However, many chargers don't have an LCD display function, but they have LED light indicators to make up for it. These lights would turn red to indicate charging, and green light to show that the battery is fully charged.
So, this helps you to identify when to remove the battery.
Input Charging Port - The More Common The Merrier:
The input charging port of your charger is from where your charger would get the power to charge your batteries. If the port is universal, then you could conveniently use your regular USB cables to supply power to it.
You wouldn't need to carry around different cables, even your mobile charging cable would do the trick.
Thus, it's better to get the charger with a USB input port.
A Portable Size is Always Convenient:
Though most of the battery rechargers are available in small sizes, make sure you get the one that is lightweight too.
As a battery charger is something that could come in use anywhere, your office, your trips, and even on tour, having one that is neither heavy to carry nor takes up a lot of your space should be preferable.
Go for The One That Gives More:
Many different brands offer different things along with their chargers as a package. It could be a holding bag, extra batteries, or even a USB cable for charging.
So, once you've finalized some products, go for the one that offers any of these things.
Because we don't turn away free stuff, right?
Keep in Mind!
A battery charger will only recharge rechargeable batteries. Extreme caution needs to be exercised in this matter, as even accidentally trying to charge a non-rechargeable battery could result in a fire.
Frequently Asked Questions:
Conclusion:
If you have been searching for the best RCR123A charger, then we've provided a great deal of information on how you can find the best one for your needs.
Further, we've reviewed the 10 top RCR123A chargers so that your search becomes easier.
Isn't that great?
Finding a charger for your batteries is an oddly specific task, you need to keep many things into consideration so you don't end up wasting your money.
To remove this hassle and make it easier for you we've provided a buyer's guide that is designed to help you guide through with the steps you would need to consider, one-by-one.