Heading out to the shops and finding the best non slip socks for toddlers – happens only in dreams. No?
Or you could say, in nightmares, if you've got your little ones with you on your shopping trip. Truly, a roller-coaster ride.
But well, now that you're here, you need not worry about these disappointing dreams or frightening nightmares. We've got you covered!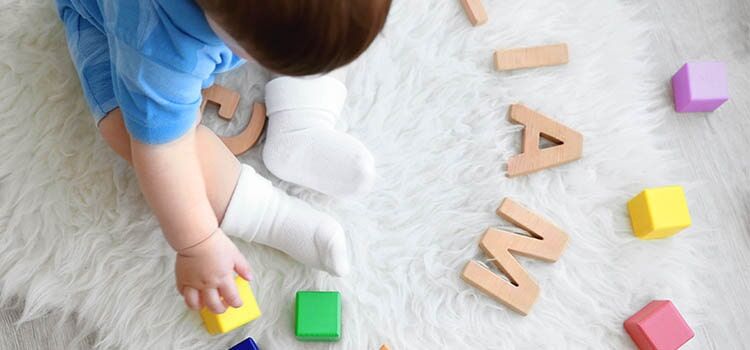 Here in this all-embracing guide, you will find the top ten best non-skid socks for toddlers, as well as a buying guide below.
You can now purchase premium-quality grippy socks for your little ones in the comfort of your home.
So, let's get to it without further ado!
Comparing 10 Best Non Slip Socks For Toddlers
1. Simple Joys by Carter's – Pack of 12 for Girls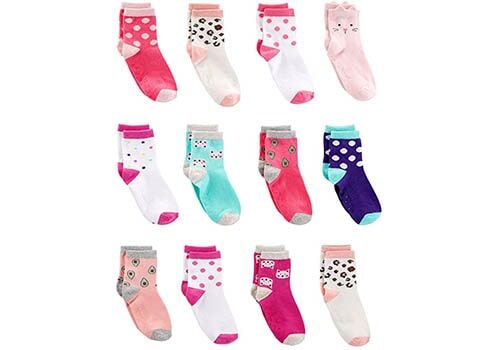 No products found.
If you're shopping for, say, your second or third child, you may as well be quite well aware of the name Carter's. The latter is an unrivaled leading manufacturer of children's apparel.
Be it clothes, baby gifts, or socks.
In actuality, the brand sells ten products for every child born in the USA. But. Several young parents take a long while of research and experience to admit that finally.
Explains why parenting your second or third child would have you believe in the brand's potential and make you a loyal Carter customer.
With that said, this particular pack houses about twelve decent pairs of Girl's socks. Unfortunately, the color combination and designs may not be unisex.
But for girls, these are just all cute and dreamy. You can also choose from other options they provide.
The pairs feature the following color combos:
Pink and White

Pink and Grey

Dark Pink and Light Pink

Pink, Grey, and Green

Blue and Grey

Dark blue and grey
These colors are exclusively available for 6-12 months. Carter's included yellow and grey too in the pack for 12-24 months. Younger girls, however, (0-6months) only get white, pink, and grey.
In terms of design, the pack for 12-24 feature vibrant designs, including stripes and spotted design.
For 6-12 months, you'll find a uniform design (i.e., spots or cartoon-ish designs on the upper half). On the contrary, socks for 0-6 months of kids do not come with any print.
All three sets have a crew cut length and a rib-knitted cuff. It will sit tight and comfortable on your young one's calf. The material is a soft cotton blend comprising:
72% Cotton

26% Polyester

2% Elastane
Collectively, these make the socks super soft to wear and machine-washable. You can expect these to last until your child outgrows them.
The sole at the bottom of the sock comprises anti-slip dots in the arch area, which makes them a safe choice for slippery areas liked hardwood floors.
Pros
Available in three sizes

Highly reasonable

Cute designs

Comfortable
Cons
Not unisex

Limited non-slip design
No products found.
2. LA Active Athletic Crew Grip Socks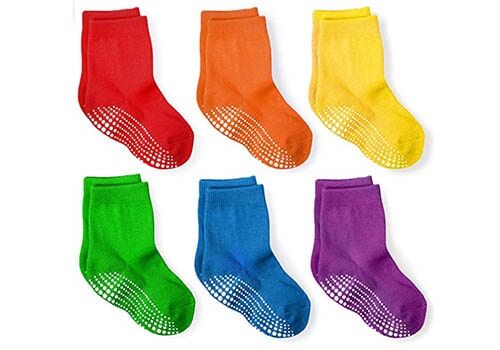 No products found.
Effectively manufacturing some of the best grip socks for all ages, LA Active is a leading brand name in the sock industry. LA Active stresses providing value to its consumers, whether they are children or adults.
The uber-cute LA Active baby socks support your child in the early walking years when they explore their mobility- from infants to toddlers full of energy and excitement.
Super comfy and breathable, LA Active weaves these socks with a high-quality cotton blend. Thus, making it soft on the skin and highly comfortable for versatile usage.
These socks also have lush terry loops at the heels and toes, which enhances comfortability.
The LA Active grip socks are not only cozy but equipped for both indoors and outdoors. Therefore, keeping your child's feet protected while they explore their surroundings.
The way these socks are equipped for maximum slip-prevention is perhaps the best thing they offer. It has a full-foot grip pattern with extra grippers on the heels and toes.
Hence, your baby remains safe on all surfaces- even the slippery ones!
Super comfy and breathable, LA Active weaves these socks with a high-quality cotton blend. Thus, making it soft on the skin and highly comfortable for versatile usage.
These socks also have lush terry loops at the heels and toes, which enhances comfortability.
LA Active considered the comfort of children as well as of the parents. You get relieved about your child's safety when playing, as well as the laundry.
These machine-washable socks have the size stitched on the inside of the socks' cuffs. Hence, turning laundry sorting a whole lot easier for you.
Pros
Vibrant colors

Good for winters

Good non-skid feature

Super comfortable

Long-lasting
Cons
Company given size chart may not be true to its values
No products found.
3. Marvel Baby Socks – Pack of 6 for Boys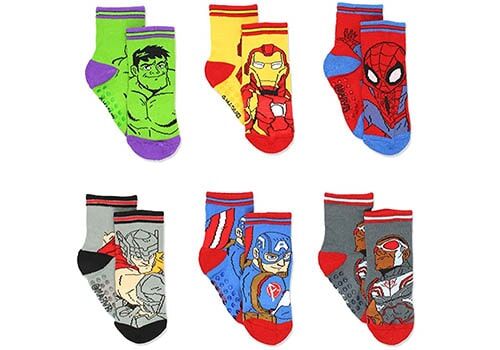 No products found.
Does your young man hate the sight of socks? If so, then you might as well consider getting him some Marvel merch like these!
This pack of six pairs of socks features vibrant and catchy prints of all marvel heroes, including Thor, Falcon, Captain America, Ironman, etc.
Each pair features a separate hero with a unique color scheme for each. Thus, giving your young one a plethora of choices.
Alternatively, if your little one's love for Spiderman dominates the love for all others, then you may as well try the second group of socks.
This bunch, however, comprises only red, blue, and white colors.
We recommend these for relatively formal gatherings. Or if you've got your toddler enrolled in a playgroup, then these may work great for his classes.
In terms of sizes, you'll find these a convenient fit for babies aged from 12 to 24 months.
The manufacturer suggests these are fit for girls with US sock sizes of 2-3 or boys with a sock size of 4-5.
On that note, we'll suggest you double-check your toddler's sock size with the provided sizes.
That's because, as per the provided guidelines, these may not be the best fit for kids older than 1 – 1.5 years of age.
The socks comprise 98 percent polyester and 2 percent spandex, which makes them both warm and durable.
The use of these materials and cushioned nature of the heels also makes them ideal warm non-slip socks for toddlers.
Also, to make the graphic prints as fresh as new, you can wash the socks in cold water.
Even more, these may be the best toddler socks for chubby legs you've purchased yet.
The rib-knit cuffs at the top will keep the socks firmly and comfortably intact on your little one's calf, irrespective of their endless energy!
Even if they play around rubbing their legs with one another, carpeted or grassy surfaces, these will not come off readily.
Pros
Themed-socks

Thick & comfortable

Good grips

Warm

Machine-washable
No products found.
4. Sesame Street Elmo Crew Socks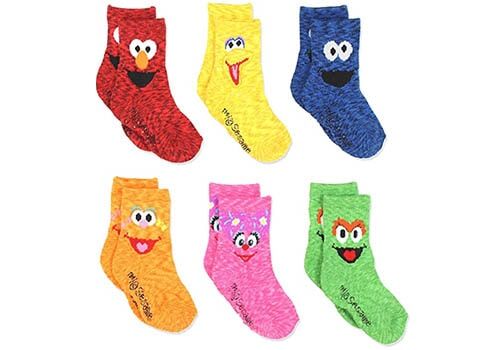 No products found.
The Yankee Toy Box exclusive Sesame Street sock set includes a set of six adorable pairs of socks featuring your child's favorite sesame street characters!
These high-quality, comfortable socks get exquisitely manufactured with a blend of polyester and spandex. Thus, they are soft and comfy, providing value for the money.
The grippers on the lower end of these athletic socks prevent your kid from slipping and falling over even on smooth surfaces.
Also, they have arc support and cushioned soles to keep your child at ease all the time, which also makes them ideal baby grip socks for walking.
Moreover, these Sesame Street socks are stretchable and adjust according to your child's feet structure.
Additionally, these fun and affordable unisex sesame street socks come in bright colors, featuring the most beloved sesame street characters to excite children. Hence, also making an exciting gift!
Pros
Provide value for money

Super cute

Comfortable

Unisex

Giftable

Have grippers
Cons
Not very durable if mishandled
No products found.
5. Debra Weitzner Non-Slip Toddler Grip Socks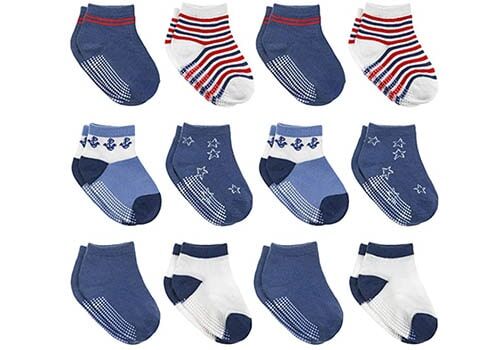 No products found.
If you're hunting for socks that stay fit on your child no matter what, then these Debra Weitzner non-slip socks are an amazing choice. Why? Allow us to explain!
As their name recommends, these are non-slip socks that feature a special grip pattern on the bottom.
You will find larger circles on the outside and smaller ones on the inside. As a result, this pattern creates a grip that is impossible to remove.
There is also a non-skid pad that stretches from toe to the heel. So, your child will remain safe and sound regardless of wherever he walks.
These amazing socks prevent the kids from falling on shiny and slippery surfaces.
The anti-slip socks comprise an eco-friendly rubber, which means your purchase would make a positive impact on the environment too. It also consists of soft cotton material that is extremely thin.
Its thin construction makes the socks breathable. So, your baby's skin remains healthy and moisture-free.
The elastic fibers of the fabric stretch along with your baby's feet too.
Hence, stretching as the toddler grows and making his experience comfortable. The child can run, walk, and crawl without the socks pulling on his feet.
There is a special heel cut tab too. It allows you to pull on and off the socks easily. The elastic cuff on the top further makes the fit snug and irremovable.
Sometimes, the snug can be a little too tight. It means the baby might get marks, but not big enough to cause any significant harm.
These socks come in a pack of 12, which is going to last you a long time. Plus, they are available in multiple sizes as well as patterns. You can choose anyone or many different types!
You will find these non-slip socks available for kids between 12 to 24-months, 24 to 36-months, and 3 to 5-years.
Pros
Pack of 12

Non-slip grips

Socks stay in place

Breathable

Extensive compatibility

Satisfaction guaranteed
No products found.
6. LAISOR Non-Skid Ankle Cotton Socks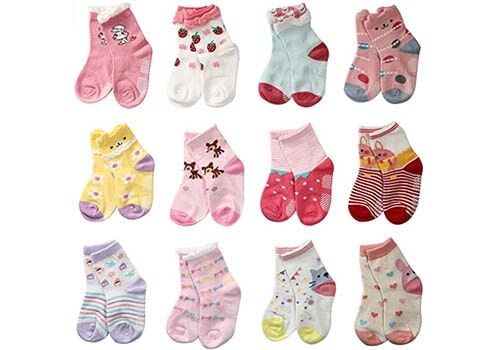 No products found.
The imported Laisor socks are loved by parents everywhere for various reasons.
These super cute socks are great for the everyday wear of your little girl and with 12 different patterned socks per pack.
Each pattern is different from the other. Hence, giving you a variety of socks to choose from for your toddler's daily wear. In simpler words, your kiddo gets style with comfort!
Carefully manufactured with a blend of cotton and spandex, these ankle cotton socks are soft to the skin.
They are breathable and comfortable, thus keeping your child happy and at ease at all times.
The premium material also enhances the elasticity of these socks. Meaning they conveniently allow your child's feet to grow into them.
These socks are also very durable; both these factors ensure practical and long-term usage.
Furthermore, these socks have a non-slip design. Therefore, helping reduce the chances of your toddler of tripping when playing.
Falling over does not only ruin playtime but also cause injuries.
With a reduced risk of toddlers falling, parents are relieved. The medium thickness of the socks material makes them suitable for all seasons as well.
Another thing about these socks, they are machine and hand washable, both. So you do not have to worry yourself about laundry instructions!
Go about with whatever method is feasible for you, and never worry about ruining the socks in the process.
Pros
Elasticity

Ideal for everyday wear

Breathable and comfortable

Durable

Machine and hand washable

12 different patterned socks per pack
No products found.
7. Zaples Grip Crew Socks with Anti-Skid Soles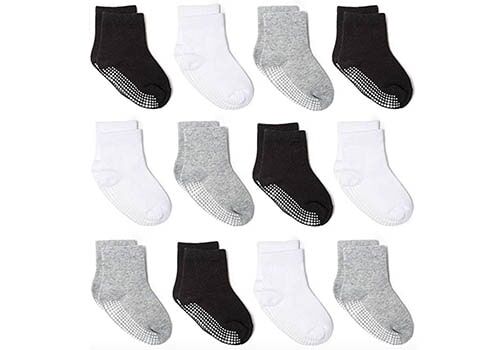 No products found.
Zaples baby socks have gained massive popularity amongst parents. And we're telling you: for all the right reasons!
These crew-length socks come in packs of twelve. You can order for the following age ranges:
0-6 months

6-12 months

12-36 months

4-7 years
The Zaples store understands your train of thought as a parent. Their team seems to know how difficult it is to finally find the perfect pair and have your little one grow out of it the next instant.
And so, they provide pairs of socks for children up to seven years. Once your child is comfortable in these, you can avail of its benefits over and over again.
Plus, we love the looks. These pairs are not only cute but super elegant for their size! You get these in the following colors:
The grips at the base are white. Also, although the size range of these socks is diverse, the company has its proprietary sizes.
These may not comply with the standards. And one of the clients reported that the 4-7 age range socks they ordered for their 5-year-old were too tight.
So, at best, we suppose these are two sizes ahead of the standard size.
As for the fabric, it's a soft cotton-rich blend. It's suitable for use all through the year (in all seasons).
The rib-knit cuffs at the top are stretchy to keep the sock intact on the calf muscle.
Unlike most other non-skid socks at this price, these are not too tight. So, means you need not worry about marks.
And the best part is they perform best for their intended usage, i.e., minimizing slips.
Although the manufacturer makes prominent claims that the base of the socks features plenty of grips for stability, we evaluated the take of the experience to determine the effectiveness of Zaples socks.
It turns out everyone's super happy with the results.
Pros
Elegant looks

Pack of 12

Available for children up to 7 years

Durable

Excellent grippers

Comfortable, stretchy fabric
Cons
The company offers proprietary sizes
No products found.
8. SkiBeaut Store Non-Slip Socks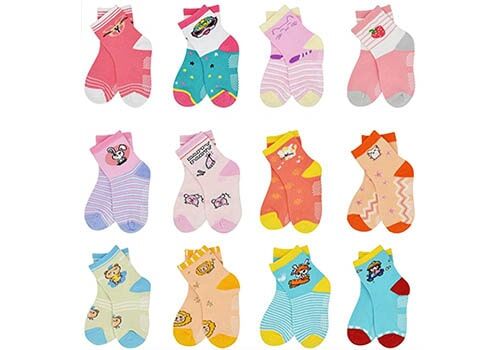 If you seek super grip toddler socks, such that they have grips all over the base of the foot, then these may be an ideal pick.
SkiBeaut ensured that these socks provide traction on all surfaces by providing plenty, intelligently dispersed grips on the sole of the sock.
In terms of built, these are soft and durable. The breathable cotton makes it wearable for kids of all ages. You won't find your little one annoyed or irritated by its feel.
The rib-knit cuffs may be a bit tight, but they won't leave marks. The tightness only ensures that they won't fall off, so you need not worry as your child plays around.
The good part is SkiBeaut store divided its range of non-slip socks into nine sets. You can get:
Cartoon style socks

Strawberry style socks

Car style socks

Stripe & star style socks

Striped style socks

Castle girls style socks

Lion girls style socks

Blue rabbit-style socks

Horned monster style socks
Each pack contains 12 pairs, with each pair featuring a unique color scheme and design.
So, you can easily distinguish between the pairs. And you can even designate one for each day or week, whichever way you prefer it.
The only drawback here is that there aren't many options for boys in terms of design.
Pros
Exciting designs

Excellent traction

Durable

Soft and comfortable

Pack of 12
No products found.
9. CozyWay Store Non-Slip Infant Socks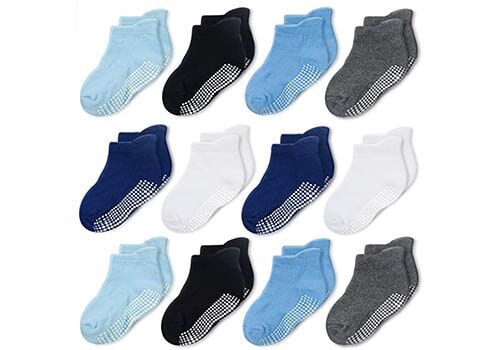 No products found.
CozyWay non-slip socks are the best socks for babies learning to walk. These non-skid socks come equipped with a padded heel tab at the backside of the rib-knit cuff.
And this protects the ankle and heel as your young one collides with furniture and falls now and then as he or she takes his or her baby steps.
These tabs also make putting the socks on and off your little angel's feet quick and easy.
The elastic around the ankle area is comfortable enough. Unlike most toddler socks, it doesn't inflict pressure or red marks.
Plus, the color and design range offered by CozyWay is simply massive. You can get white, blue, black, grey, and bicolor combinations in packs of 6 pairs and 12 pairs.
Although you can differentiate based on colors, the manufacturer suggests that the socks are unisex.
And that's probably because, apart from shades, there's nothing else that becomes an identifying factor, i.e., no cartoon characters or labels.
You can have your child wear striped socks, spotted socks, bicolor socks, etc.
Even so, in case you'd like to get different colored socks for your son and daughter, then you can abide by the following color scheme when purchasing these:
Girls: Pink, Violet, Lavender

Boys: Blue, Navy blue, Light blue
With that said, the size range is diverse too. You can get these for the following sizes:
0-6 months (shoe size 0-1)

6-12 months (shoe size 1-4)

12-36 months (shoe size 5-9)

3-5 years (shoe size 9-11)
We particularly appreciate the fact that these infant socks got manufactured from Eco-friendly rubber.
Pros
Great for wooden floors

Eco-friendly

Diversity of colors & designs

Excellent sizing

Padded heel tabs

Machine Washable

Comfortable

Unisex
No products found.
10. Tphon Toddler Non-Skid Socks with Grips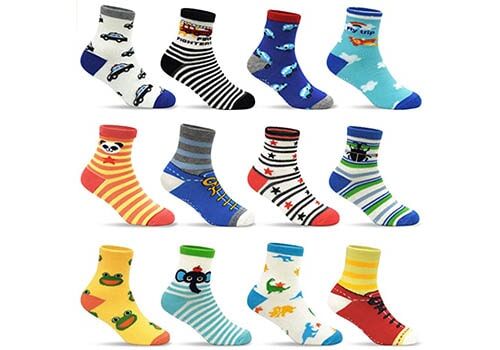 No products found.
The Tphon toddler unisex socks are for toddlers who have just started exploring their surroundings or are already running around!
They are manufactured with the highest quality cotton and keep your toddler comfortable all day long.
Breathable and comfy, these socks have a skin-friendly material that your child can wear in any season. You can get your child to wear these anywhere and everywhere – every day!
Don't you hate it when socks stink? Well, these socks not only absorb sweat but also, are odor-resistant!
Plus, they are machine-washable. Both these make laundry a whole lot easier for every parent.
These Tphon unisex socks offer 12 pairs per pack and can fit a wide range of ages. They are suitable for children of ages one to seven.
Additionally, these Tphon socks comprise non-skid grippers that ensure the safety of your child.
The non-slip grippers present on the heels and balls of the feet support your child in crawling, walking, and running.
And also, prevent them from slipping on surfaces with reduced friction like hardwood floors.
Although these socks have short threads on the inside, which a few toddlers may not enjoy, they are honestly versatile.
They have cartoon patterns on them and lively base colors, which look good with numerous outfits.
You can even gift these socks thanks to their super cute and stylish looks!
Pros
Variety of colors and design

Non-slid

Breathable

Premium quality material

Giftable

Sweat-resistant

Wearable in all seasons

Machine-washable

Unisex
No products found.
Best Non Slip Socks For Toddlers Buyer's Guide: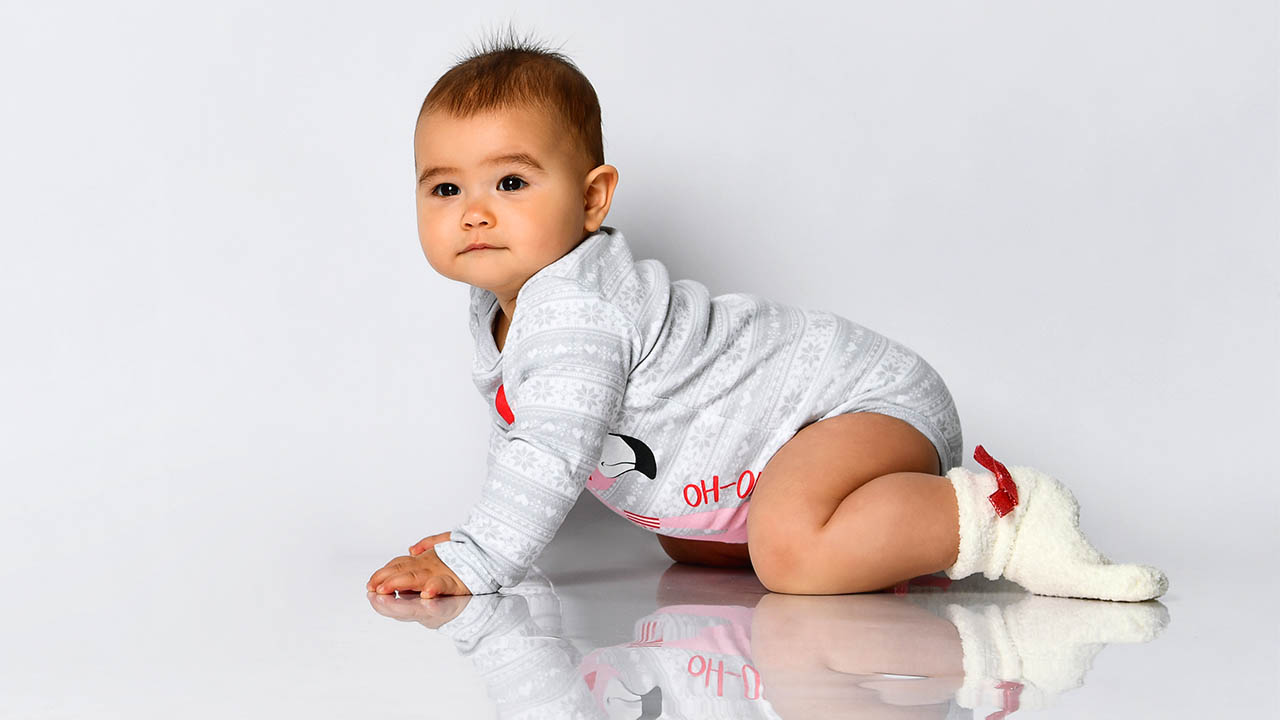 We know, we know. You could probably try all the socks above yourself. Maybe you won't order them in bulk altogether.
But given their minimal price, you could buy and try each of these non-slip socks from time to time.
When it comes to infants and play-group-age kids, we suggest you not take any risks with time and quality.
By the time, what we mean is, you don't have an entire lifetime to keep on testing these toddler socks. Right?
Your little angels are growing up real fast. Aren't they? So, better protect them from pilot practices and provide them with the best in one go.
Besides, being an informed purchaser is crucial to your well-being, as well as the industry.
Making a well-researched and responsible decision will save you a lot of resources, i.e., precious time, hard-earned money, and all this effort.
Simultaneously, it sets standards for manufacturers. And they strive to bring only top-notch quality to the shelves!
With that said, we assessed all the socks above as per the following aspects:
Type:
Before anything else, you need to determine what type of socks you wish to buy for your toddler. And this choice itself is rule by the factors listed below, i.e., purpose, looks, and comfort.
In terms of types, your options include:
Knee-high Socks
Usually, knee-high baby socks are a winter thing. You would want your youngster to wear these when the weather is chilly, and you need to keep your hyperactive girl or boy warm and cozy.
For summers, however, these may be a little irritable since they cover the leg up to the knees.
Crew-length Socks
Crew-length socks best serve for outdoor activities on relatively breezy days. The length of these socks extends halfway until the calf muscle.
Quarter Socks
Quarter socks are an inch above the ankle. You could say these are an intermediary option between ankle-length and crew-length socks.
Ankle-length Socks
Stretching up until the ankle, these socks are the most widely used type of socks. They serve ideally for both indoors and outdoors all around the year.
Gripper Socks
Technically, Grip is a feature of a few socks, based on the presence of rubber-like patterns or dots on the sole that give the socks a non-slip property.
You may find this feature in ankle-length, crew-length, or knee-length socks. However, since this feature gained massive popularity, it is safe to categorize them separately.
Material:
Next, you've to determine the material. The choice of material primarily depends on the weather and your child's comfort zone.
Your options include:
Cotton (Organic/Recycled/Combed/Mercerized)

Nylon

Polyester blend

Bamboo

Polyester Spandex

Wool
From amongst these organic cotton, polyester blend and polyester spandex are recommendable for everyday use.
Nylon and bamboo are the second most preferable. And wool is a material that you should use only in winters.
Size:
Once you're through with deciding the material and the type, it's time to bring in your child's specifics. Determine the size you're looking for as per the following standard sizes:
| Age | Size (US) | Shoe Size |
| --- | --- | --- |
| New Born | 3 - 4 (XS) | 0 - 3 |
| 3 Months - 1 Year | 4 - 5 (S) | 2.5 - 5.5 |
| 1-3 Years | 5 - 7 (M) | 4 - 9 |
| 3-5 Years | 6 - 8 (L) | 8 - 12 |
Tip: The heel of the sock will determine the right size. If the heel of the sock is above your child's ankle, the sock is too big. If the heel is below your child's smooth heel, the sock is too small. It should sit on your kid's heel perfectly.
Purpose & Looks:
Usually, toddlers need socks to go with their formal dresses in outdoor events, at home in winters, or for outdoor play.
Some parents may want their infants and toddlers to wear socks all day long at home or outside.
In any case, you need to make sure that the material and type corresponds with the purpose.
For example, in winters, you may want your child to wear crew cut or ankle socks of wool at home or outside, while thinner fabric with knee-high or crew cut length will do best for formal events.
Brand:
Lastly, check for the brand's reputation. These days several young brands have flooded the market. And they yet have to meet the market standards.
Hence, we advise you to look for reputable, established names that can promise premium quality in terms of material and product longevity.
Frequently Asked Questions:
Conclusion:
Time to sign off. We hope this guide about the best non slip socks for toddlers and our top ten picks help you make the right choice.
If you are torn amongst multiple options, then we'd suggest you opt for Simple Joys by Carter's or Debra Weitzner socks.
These two offer the best traction capabilities and are available in crew cut length in packs of twelve.
Even if you feel the need to switch to any other option, later on, we assure you the experience of either of these will have your toddler gleaming with joy. Good luck!