Just imagine your favorite music band rocking on once you gear up the album with the best multiple-disc CD player –things get fantastic, no doubt.
Start the playlist from the very beginning to the end and get the best musical journey so far.
You can tune up your favorite music to host the party night or enjoy the evenings with the music echoing around -thanks to some advanced music services in the multiple disc CD players.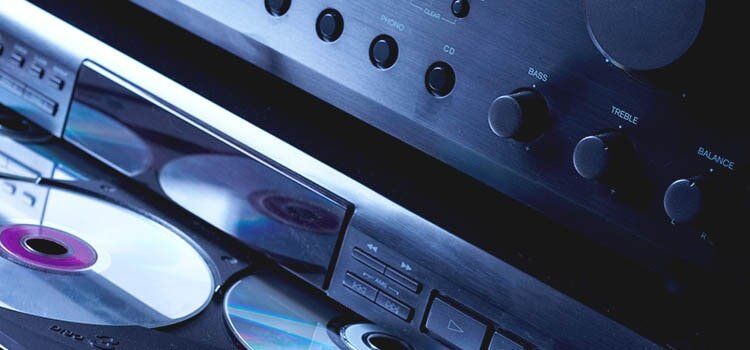 What makes them unique?
The DVD players are way different from the CD players as they can play any CD format to fulfill both your video and audio needs.
Although DVD players are relatively easy on your wallets, how can we neglect some perks of multiple-disc CD players?
Housing more than one CD at a time, playing all your favorite albums at the push button, and allowing you to have an extended listening journey without chopping and changing music every five minutes is all you get!
Wait, wait, wait! Once you've played your CDs on the player, you're going to love the genuinely original recording audio reproduction than the compressed playlist on smartphones.
We are here with our top picks and the detailed buying guide to step you ahead to your purchase.
Comparing 8 Best Multiple Disc CD Player
| CD Player | Changer Capacity | Audio Format | |
| --- | --- | --- | --- |
| Sharp CD-BHS1050 | 5 Discs | MP3, WMA, CD-R/RW | Check Price |
| Sharp XL-BH250 | 5 Discs | MP3, WMA,CD-R/RW | Check Price |
| Sony CDP-CE500 | 5 Discs | MP3, CD-R/RW | Check Price |
| Onkyo DXC390 | 6 Discs | MP3, CD-R/RW | Check Price |
| Sony RCD-W500C | 5 Discs | CD, CD-R/RW, MP3 | Check Price |
| Bose Wave | 3 Discs | CD, MP3 | Check Price |
| Yamaha CD-C600BL | 5 Discs | MP3, WMA, CD-R/RW | Check Price |
| SONY DVP-NC615/B | 5 Discs | MP3, DVD, CD, CD-R/RW | Check Price |
1. Sharp CD-BHS1050 5-Disc CD Player -Best Overall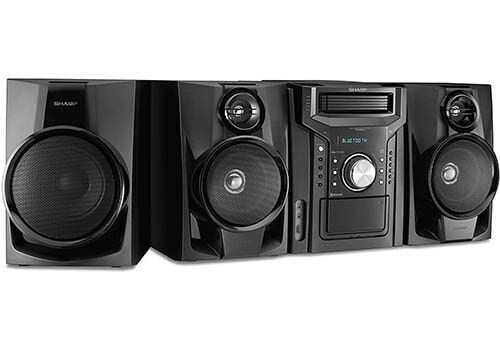 No products found.
Features:
This CD player has 500mV Input Sensitivity

This power device requires 120V nominal voltage

The operational power consumption of this player is 95Watt

The frequency range of the AM tuner is 530-1710 kHz

The signal-to-noise ratio is 50dB
Here's the latest iteration of Sharp's top-line CD player series with quite many improvements.
Despite the brilliance in aesthetics that we'll discuss later, this Sharp 5-disc changer has a lot to make you spell-bound.
What makes it so unique?
Are you looking for tuning up multiple CDs at a time? If yes, you've got the best bang for your buck.
Let's just start right from the 5-disc options of this player that allows you to add five playlists at a time -that's the reason it's in our top picks.
Want to know about the aesthetics?
We genuinely appreciate Sharp's proficiency in building strong and powerful aesthetics that gives some high-end vibes.
There's a simple and easy-to-operate control panel on the middle unit to get things settled quickly.
Insert the CD, tune the player on, and adjust the volume levels by rotating the huge dial clockwise and counterclockwise.
The quality matters too!
The overall polycarbonate construction and some scratch-resistant coatings make the unit quite more durable and sturdy. We must say it's meant to provide you years of high-end music journey, no doubt.
Is compatibility something Sharp has kept into consideration?
YES! This multi-disc CD player isn't compatible with all types of CDs. Mostly, it goes well with WMA, mp3s, CD-R, and CD-RW.
Sharp's approach towards installing digital AM/FM radio with up to 40 preset options make things better when you're not in a mood to insert any CD.
Let's dive into the more in-depth details!
With an ideal 50dB signal-to-noise ratio, you get high-bass, smooth, and immersive audio fidelity to create a dream environment. And wait! There's no signal drop, and you won't miss out on any lyric!
You can fire the player up either by plugging an AC source or a DC battery -it goes well with both of them.
What's in the package?
So, it's just not only a CD player to house your multiple CDs; it comes with two 5.12" woofers and two tweeters to set the bass high and optimal.
How can we neglect its headphone output, USB-port, audio line-in, and remote control operation? Trust me; things get more comfortable when you get all these perks in one package.
Pros
Exceptional stereo sounding

Smooth and silent CD operation

Easy programming

Sturdy and durable
Cons
Quite bulky

No FM antenna included
No products found.
2. Sharp XL-BH250 Sharp 5-Disc Speaker System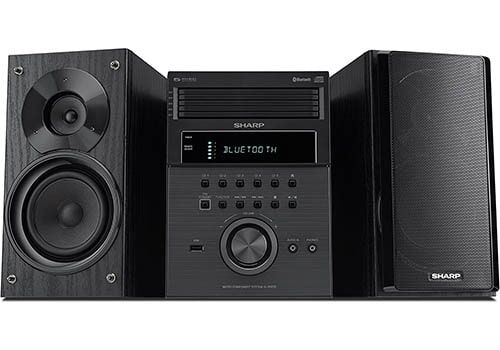 No products found.
Features:
This CD player uses a battery and AC source

It is a floor-standing type of CD player

The weight of this player is 15.7 pounds

The CD player can hold at least five discs
Sharp has got an excellent reputation in manufacturing high-grade CD players- the BH250 Speaker System is not an exception.
The remarkable features and along with the brilliant construction, it is no more than a treat for you.
Why is it unique?
Do you desire to get a cost-effective and fully-featured CD player, then no doubt you have landed up on the right spot?
The multifunctional 5-disc feature makes it our top choice, allowing you to play 5 CDs at a time. YES! That's right. It is really a versatile-looking player.
Want to know about the quality?
See the difference? Well, this speaker offers some reliable scratch-resistant features so you can place it wherever you desire.
That's something really beneficial, isn't it? The sturdy and robust design enables it to leave the competitors behind.
Some incredible features
So you get a digital AM and FM tuner here too! You will get amazed with the features it provides to you, thus enhancing the everyday needs.
The tuner comes with 40 presets; that's no more than an exception, trust me.
If you want to crank up the speaker listening to your favorite tunes, the Sharp XL disc speaker system will undoubtedly not disappoint you.
What's the catch, by the way?
The foremost thing is the multifunctional and innovative task it performs, isn't it?
The high-performance and the most noteworthy features can make your day. It offers an MP3 or CD charger for better functioning along with digital playing and radio choices.
What about the compatibility?
Here is something unique for you! The speaker system can work conveniently with WMA, CD-RW, MP3, and CD-R; that's a huge advantage, no doubt.
The overwhelming thing is the Bluetooth compatibility, which will let you stream your favorite music from Android and Apple devices as well.
Don't forget connectivity!
Do you want to connect different external devices to your CD player too? Let us take a closer look at what connectivity features it can provide to you.
Moreover, you can connect USB through the input and other Bluetooth paired gadgets using the system's touchpoint.
Pros
Exceptional sound quality

Remote control features

Durable and robust

Headphone output

Perfect to use in small spaces
Cons
Controls aren't bigger enough
No products found.
3. Sony CDP-CE500 5-Disc CD Changer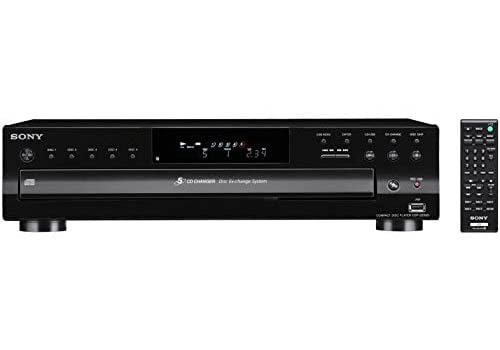 Features:
It offers a five-disc capacity

The CD player comes with a one-year warranty

Features a lightweight construction of 11.46 lbs

Multifunctional CD player with many unique features
There is no exaggeration in saying that Sony CDP CD Player is well-known for its performance and versatility. And trust me, the 5-disc changer is not an exception to its design.
Here is what you need to know!
What about the 5-disc CD-feature?
Let us talk about it this way! The 5-disc changer is specially designed to provide superb sound to the user allowing you to listen to your favorite music, whether it's old or new.
You can easily enjoy your most-wanted CDs as well as the custom playlists being recorded on the discs. Astonishing, isn't it?
Well, it is, and there is no doubt about it!
Despite storing your favorite CDs to listen to alone, the CD player allows you to listen to some other kinds of music, too, fulfilling all your mood swings.
What can more one desire of right?
What's more?
By using Sony multiple-disc CD player, you can keep the party going for an extended time consistently.
If you plan get-togethers often, then this CD player is undoubtedly a must-to-buy option for you. It makes the use easy yet enjoyable.
Connectivity matters too!
Sony CD player has aided you with some fantastic connectivity features, which is undoubtedly the thing anyone will desire to get.
Before buying this CD player, you must be confused whether it's compatible or not, right? How will you connect it to other devices?
No worries, we have got you back with this detailed emphasis on how you can connect this smart CD player.
There is a USB port specially designed on the front panel to accommodate a USB drive. Beneficial right? Well, the feature allows you to play files from your flash drive conveniently.
Moreover!
You can easily record the music from your disc to the flash drive using the SYNC function despite just playing the music.
Believe it or not, it will record the music as an MP3 file transferring the file or a single track that you are playing on the CD changer.
Well, all these benefits make this aesthetic player a remarkable one!
Do you know about the remote control?
A fully-featured and well-constructed remote unit will enable the user to program the sequence with at least 32 files or tracks.
And guess what? It will help you select which disc of the five available discs you plan to play along with randomly shuffling the songs.
Compatibility yet an important aspect!
The Sony CD player will allow you to choose between digital and analog output, making it a broadly compatible player with lots of home theater arrangements. Sounds impressive, right?
Pros
Lightweight construction

Control volume effectively

Remarkable sound quality

Efficient programming sequence
Cons
Installation is a bit difficult
4. Onkyo DXC390 6 Disc CD Changer -Best Frequency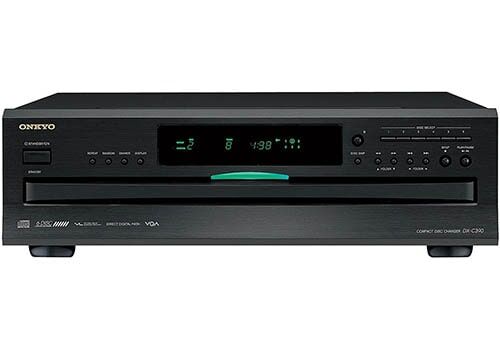 No products found.
Features:
It features six-disc incorporation at a time.

There is a frequency response ranging from 5Hz-20 kHz

Remote control design

It constitutes a weight of 13.23 lbs.
Let's just say that Onkyo DX-C390 6 disc CD changer has quite an aesthetic approach towards constructing a robust design and super quality than its competitors.
Let us dive in and see a detailed review on how it works and what features it offers you.
What makes it stand in our top picks?
The six-disc incorporation capability makes this our top choice in the portable multiple-disc CD player's exclusive options.
The six repeat modes provide no interruption in your music path, enabling you to change the five discs whenever you desire. And guess what? The sixth disc is still playing.
Sounds impressive, isn't it?
What makes it unique?
If you are a music lover, no doubt this music player will be your first choice because of the crystal-clear playback and the smooth audio signaling.
YES! You heard that right. All that is because of the Vector Linear Shaping Circuitry that makes the Onkyo multiple-disc CD player worth considering.
Want to know about the quality?
A high-grade cable with heavily protecting features makes this CD player sturdy and durable, and it will protect the sensitive audio signal from various sounds emitted by the circuits.
The aluminum front panel will allow you to listen to uninterrupted music consistently for hours.
Let us tell you about the converters!
The digital-to-analog converters are highly powerful to boost a dynamic range of up to 120db, and they process the entire data faster that allows you to get maximum out of it.
Moreover, they are highly resistant to clock jitter, ensuring the high performance from audio CD and the DVD-Audio.
What's more?
The remote interactive system allows users to operate and integrate the entire compatible parts using a single control.
The compatibility enables you to connect your iPod directly to the CD player without needing any cable. Admittedly this excellent sound cannot be experienced using headphones.
Pros
Effortless installation

Exceptional volume control

High sound quality
No products found.
5. Sony RCD-W500C CD Player/Recorder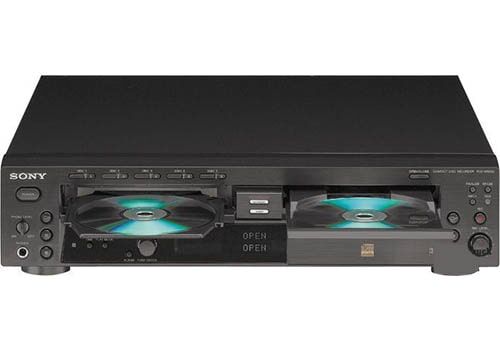 No products found.
Features:
There is a 5-disc playing option at a time

The CD player weighs 17.7 pounds

Digital design and high performance
Sony is right here with its CD player and Recorder to amaze its users with the unrivaled quality and enhanced design.
The CD player is fully-featured and well-constructed, allowing you to enjoy parties at home consistently for hours.
What do you need to know?
The CD player will allow you to enjoy some sonic outcomes by mixing your music as you desire. The multiple-disc CD player boombox style is enough for a user to enjoy the tremendous experience ever.
What else?
Have you seen the dual deck feature of this efficient CD player? Well, that's something really unique we must say!
It offers four times incredibly high-speed dubbing allowing you to enjoy the best-ever sound you can imagine.
Here's something about the recording!
Let's be honest this feature is no more an exception. It comes with the option to record CD-Rewritable and CD-Recordable discs, providing more convenience to the users.
Oddly enough, this recording option is a treat to many users.
Despite giving such worthy recording options, it uses the Super Bit Maooing recording while enhancing the user experience to a much greater extent.
What about the playback capability?
The CD players offer various playback capabilities to ensure practical usage. It is probably playback compatible with CD, CD-RW, CD-R, and MP3; thus, you can enjoy any of this hassle-free.
The CD-RW and CD-RS's CD text entry makes it stand in our top models of multiple disc cd player.
Don't forget the outputs!
With inputs and outputs featuring optimal analog and digital characteristics, this CD player will undoubtedly not disappoint you.
The high-grade finalizing speed is making sure that the CD player is compatible with fulfilling your entire needs.
Some other features
You can play music randomly as per your choice, and the repeating option is a benefit too. The brilliant and durable aesthetics make it a convenient and suitable choice.
Pros
24 programming sequence

Effective remote control

Headphone jack for efficient volume control
Cons
Not compatible with all discs
No products found.
6. Bose Wave Music System Multi-CD Changer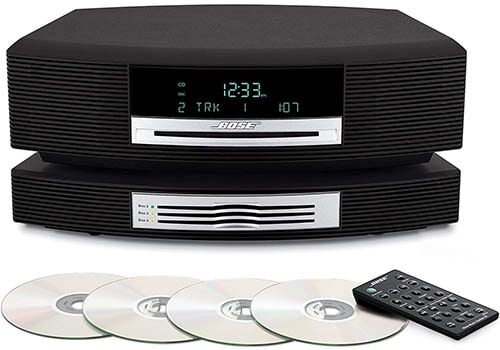 No products found.
Features:
It can install three discs at the same time

The CD Player weighs 14.77 pounds

Easy on and off with a single tap
If you are willing to invest more in buying one of the most remarkable CD players, you have landed on the right spot.
The Bose Wave Music System comes with all those features that a standard CD player comprises but a few features are more enhanced.
What about the design?
Surprisingly enough, the CD player features an elegant yet simple design. You only need to plug-in the system, and it's ready to go.
The influential touch control for easy on and off is entirely invisible, giving the CD player a pleasing appearance.
Do you know what? The system can fit perfectly anywhere in your house, eliminating the need to move CD doors or the shelves.
What about the compatibility?
It is well-constructed, along with advanced proprietary sound technology, and digital electronics will allow the player to deliver high performance regardless of the system size.
Sounds impressive, right?
Don't forget the compatibility!
It comes with a built-in AM and FM radio and a CD player. But wait! Does it ends here?
NO! The CD player will allow you to enjoy multiple kinds of music and CDs, whether from your smartphone, tablet, iPod, or any other Bluetooth device.
That's undoubtedly a treat for you!
What about the convenience?
Are you addicted to the snooze feature? If yes, Bose Wave Music System has made it easier for you. Whenever the music begins or the alarm comes on, you only have to tap the CD player's top. BOOM!
Everything is back in place. There is no need for buttons or remotes, making it time-consuming to locate what you have to press next.
More features to know!
There is an auxiliary input to help you enjoy different audio if you want to listen to music alone; there is a headphone jack installed for you.
Pros
Good value for money

Ease of use

Sturdy and durable

Brilliant sound quality
No products found.
7. Yamaha CD-C600BL 5-Disc CD Changer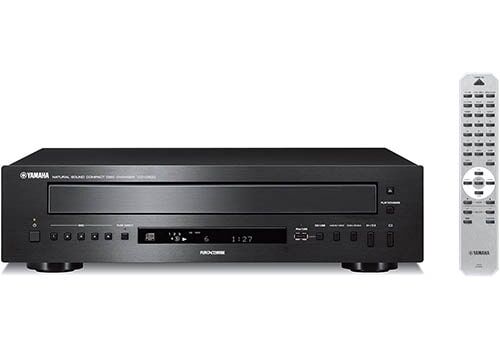 No products found.
Features:
Ultra-lightweight construction of 3.15 pounds

5-discs incorporating ability

It comes with a frequency response ranging from 10Hz to 20kHz
Here's the latest Yamaha CD player series model, the Yamaha CD-C600BL 5-disc CD changer, with the practicality and performance going hand in hand.
Let us take a closer look at some of the most accessible features this CD player comes along with.
What about the sound quality?
Yamaha has continuously amazed its users with this extremely sophisticated layout and circuitry, producing a purely direct sound along with high-quality.
Moreover, the small-signal paths and make sure that you listen to the tremendous sound when playing any of your favorite track or file.
What about the functioning?
This durable aesthetic and brilliant CD player offers a patented play change allowing you to enjoy hours of uninterrupted music effortlessly.
Despite being such a portable, multiple-disc CD player, it still provides a 5-disc option to enjoy your favorite music, whether the old ones or the industry's latest releases.
What's more?
There is a DAC that is fully-featured for high precision so that the voice is minimum.
Have you seen the laser floating mechanism? Well, this CD player features a laser pickup mechanism to get the maximum out of it.
Let us tell you about the compatibility!
Compatibility is something people get the most confused about! There is a front panel for the USB port for other devices, including the iPod.
It is compatible to work with WMA and MP3, allowing you to enjoy the best of it.
Several playback functions make the CD player highly convenient to use. The CD-RW or the CD-R compatibility is enough to explain the versatility of this CD player.
The intelligent digital servo is also a benefit to enhance its performance.
The bottom line
Yahama has designed this CD player to keep all the essential specifications into consideration, which is the reason behind its portability and compatibility.
Pros
Brilliant sound quality

High-grade performance

Durable and sturdy design

A much more convenient option
No products found.
8. SONY DVP-NC615/B DVD Changer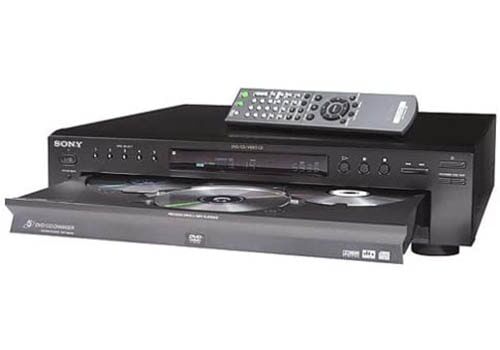 No products found.
Features:
The DVD player weighs 11.45 pounds

It offers a 5-disc system for enhanced functioning

MP3 playback system

It comes with a high-grade control menu
Last but not least, the Sony DVP-NC615 DVD changer keeps the durability and portability going together. And guess what?
There is no compromise on the versatility too. Let us dig a little deeper!
What makes this so unique?
See the difference when you plan to go into the DVD world with a practical 5-disc changer feature and get the most accessible experience than ever.
The fantastic quality allows you to connect the player to the TV using the video output component. Sounds crazy, right?
Let us tell you something interesting! You can connect it to the surrounding sound receiver and listen to the sounds, which will make you feel that you inside the action.
What else?
The multi-disc resume option is best to play anything wherever you stopped it. YES! You heard that right. The option allows you to complete your other tasks side by side and resuming the music where you stopped.
Let's talk about versatility!
No problematic installation is required, trust me. It offers a quick and simple setup.
The picture navigation is something that makes it incredibly versatile, allowing users to enjoy it virtually. Moreover, the custom mode adds to its legacy.
Want to know more?
The DVD player consists of an MP3, CD-RW, CD-R, DVD-R, and DVD-RW playback options, making it appropriate to fulfill every user's needs. The system is well-known for blocking noise reduction so that you can use it conveniently.
The smooth slow mode and the SmoothScan mechanism provide a digital cinema-type sound making sure that you get the most enhanced sound and display.
Some other features
With the dynamic tilt compensation and high-grade display, and custom control, this DVD/CD player is no exception.
The instant replay mechanism makes it more unique and user-friendly. The multifunctional aesthetic remote is perfect for controlling all functions accurately.
Is it worth it?
If you want a long-lasting partner for your music hobbies, this Sony CD/DVD changer is all you need to get a tremendous experience seriously.
The high-grade construction makes it a top choice for many users.
Pros
Less noise formation

Precise and high sound quality

Advanced features and design

Dvd changer with high performance
No products found.
Best Multiple Disc CD Player Buyer's Guide:
Sony has marked its debut in the digital world with its innovative approach towards manufacturing the most practical CD players.
There's no doubt in Bose's proficiency in building compact and powerful aesthetics. But wait, how we can neglect a great deal of versatility Sharp has put into its multiple-disc CD player.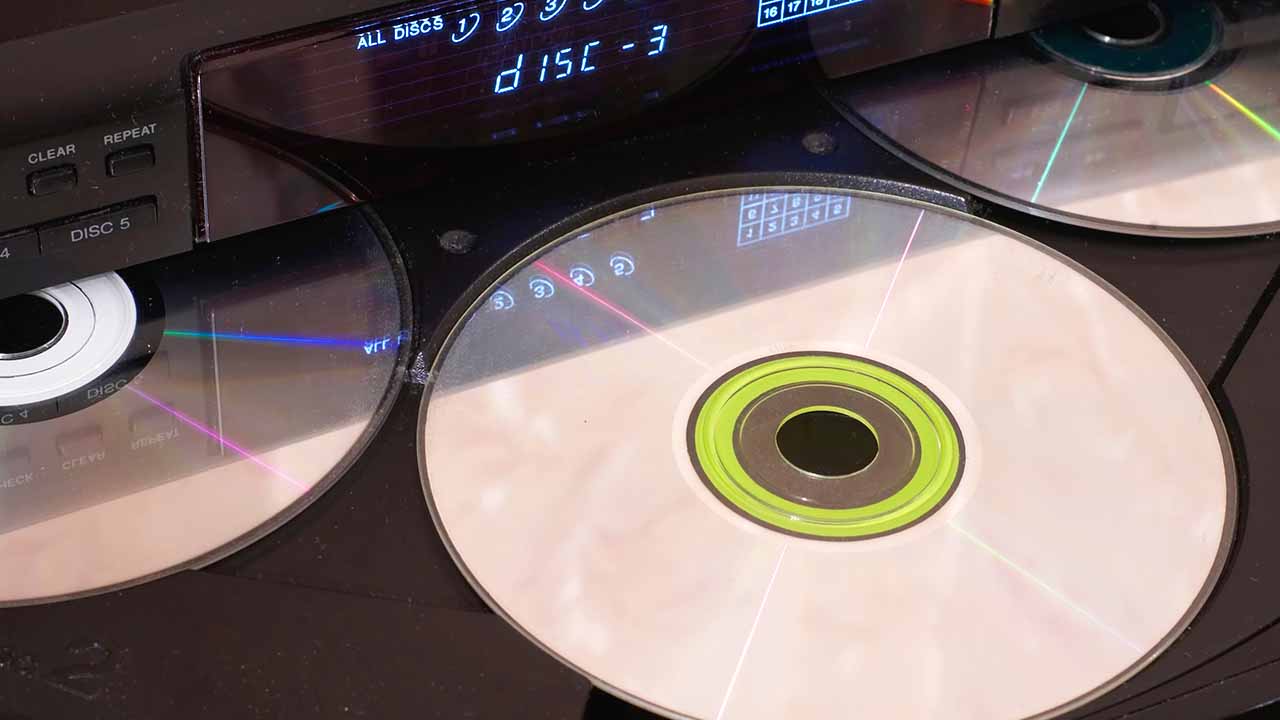 What's the catch, by the way?
Things get quite challenging when you have a stack of top-rated models in front of you. Just like you try to make the right choices in life, you've to make the right choice too if you want a remarkable experience.
We have mentioned all the things you need to keep in mind before getting into any particular model.
Digital-to-Analog Converter (DAC)
You might be wondering that how DAC can affect the audio performance of a CD player. Well, believe it or not, the speakers you've connected to the player can only respond to an analog signal.
It seems like some sort of conversion of digital information has to take place on the compact disc to tune up the CD player.
Most high-end CD player models, especially multiple-disc CD players, have a decent built-in DAC to make this conversion efficient.
But wait! We must say that audiophiles use a more complex and sophisticated outboard DAC to take the player's pure digital output.
The model you're choosing must have a decent DAC to produce a genuine and high-end sound. For that, you'll have to spend a little more.
What About Programmability?
There are many CD players out in the market that allow you to program various tracks at a time with your desired sequence.
At the same time, certain players allow particular CDs to program differently, such as shuffle play.
However, the multi-disc CD players allow the player to shift between different CDs and songs by just sitting and controlling through a remote.
It's the prominent feature of a multiple-disc CD player that's the reason behind its practicality.
Anti-Skipping Feature is Important too!
Will you like your music skipping its vocals in the way when you're listening to your favorite lyrics? Well, nobody wants this interruption.
It usually happens when you're running, jostling, or beating around your CD player. If you're good to listen to your music this way, the anti-skipping feature is way more important for your player.
What's the anti-skipping feature, by the way?
Some high-end CD players come with an anti-shock technology for strengthening the laser that reads the digital signal. In this way, there's less chance of missing out on any beat -the frequency remains consistent throughout.
Moreover, there's a built-in memory buffer for reading the music ahead of time. If you hit a bump on the CD player, the memory buffer keeps it get going smoothly.
If you really think you need this advantage out of your CD player, do consider it too.
A Solid Power Supply
No matter what the device is, the reliable and stable power supply is the essential part of electronic equipment.
If you're looking for a low-noise and high-current power, the rugged toroidal transformers are not going to disappoint you -just like they are valued in the electronics industry.
But wait! How can we neglect some high-end exceptions like McIntosh's linear power supply with a unique R-Core transformer?
Well, that's truly a thing to consider too! If you want the best performance out of your CD player, make sure it comes out with a substantial power supply.
A little About Media Types
Any multi-disc CD player is designed to handle and play typical mass-produced CDs, no doubt.
Wait, wait, wait! What about the home-recorded CDs that come filled with FLAC, WAV, or such files? Is your CD player compatible with them?
Well, that's something you have to look at in your purchase.
The same goes for Super Audio CDs (SACDs) that can be played on a standard multi-disc CD player. They require a player compatible with the SACD player to bring some additional high-res channels into play.
Aesthetics Really Matter!
Have you ever wondered that vibrations are the biggest enemy of great sound? YES! That's true.
Aesthetics come right into play when we're talking about vibrations. If the CD player's built-in quality is sturdy and durable enough, it won't let the chassis vibrate and ruin the sound fidelity.
That's where you need to pay heed and scrutinize the built-in quality of the chassis. There are good ways to bolster the player's casing so it won't vibrate -thanks to some advanced technologies and smart engineering.
The CD player you're going to purchase must contain a solid foundation for stable, high-bass, and immersive music.
Frequently Asked Questions:
Conclusion:
After setting your home with colorful lights, a perfect floor, different aesthetics, and proper decoration, it's time to bring the best multiple-disc CD player to get the maximum out of any party.
A best Multiple disc CD player allows you to listen to some of your best music using different discs at a time.
Moreover, they ensure that you get other connectivity options, too, which is no more an exception.
We have presented a detailed emphasis on our top exclusive eight models along with all their features and drawbacks.
But wait! It is what we think, isn't it? You can choose the best one that suits your needs correctly.
Our recommendation!
All models on our list are highly recommended and designed innovatively to fulfill the user needs. Still, out of our exclusive models we are highly pleased to announce the winner which is the best in all ways, and there is no about it seriously.
The Sharp 5-Disc CD changer is best overall in all ways, whether it's the durable aesthetics, brilliant and high-grade compatibility.
The scratch-resistant construction with excellent disc options makes it stand on the top.