Sure, who doesn't want to have a well-maintained garden/backyard? For that, you will need the best mulching blade for Husqvarna to help you achieve zero cloggings of the grass. As a result, it will give the perfect finishing and uniformity to the backyard/garden.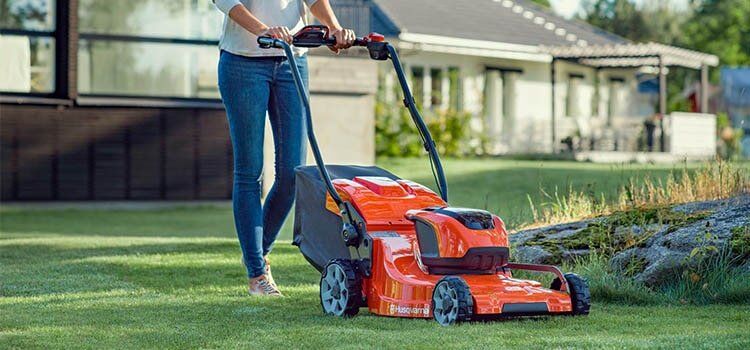 All the blades reviewed are sharp, durable, safe to use, and economical.
Comparing 10 Best Mulching Blades for Husqvarna
Undoubtedly, we have only added the most precise, efficient, and durable blades which are the top mulching blades for Husqvarna.
Take a look at the features of each and decide which one suits your needs.
1. Maxpower 561713XB Commercial Mulching Blades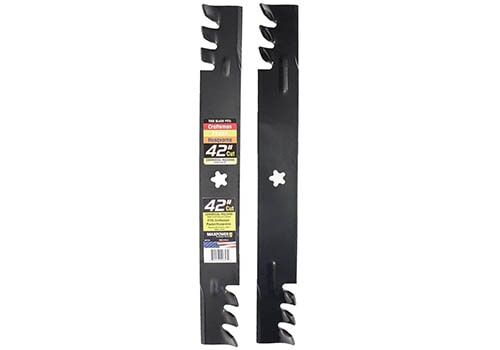 These blades are made in America. This says a lot about the quality. If you are looking for a perfect fit for all the Husqvarna models, MAXPOWER 561713XB might just be the blade for you.
But wait, that is not only what it is compatible with!
Yes, these blades are also compatible with other major brands like Poulan and Craftsman.
Furthermore, it is not a replacement for one or two models, it can replace the following models of Craftsman, 9178B99, 9169A99, TS14H42C, DPR20H42STA, 2P4B9A, AYP7158A49, AYP7143A79, AYP9149A69, 138498, PP24003, 127843, 134149, and 138971.
Wow! That is one impressive list!
The teeth on both ends give a precise and efficient cut the first time around.
Now, you don't need to go over the grass, again and again, to cut it right. Therefore, you will get the perfect cut in just one go. Moreover, it can cut to a length of 42".
The pointed blades are placed upwards so that they can easily catch the grass when it flies up in the air. All these features make the mulching blades for Husqvarna 42 very efficient.
Furthermore, the length is 21" and the width is 2.5". Additionally, it has a 5 point star center hole. This makes it easy to assemble and take off.
Best of all, you get a set of 2 blades in the packaging.
Lastly, the blades are made keeping in mind high-quality standards. All the blades exceed the OEM specifications. Hence, the durability and longevity.
Also, these blades will lower your operational costs manifold. These blades are one of the best gator mulching blades for Husqvarna 42.
How is that possible?
Well, they are so efficient that you won't need to go over the cut again and again. Consequently, the operating costs will reduce significantly.
Pros
Durable

Meet OEM quality standard

Compatible with Craftsman and Poulan

Two-faced blades

Lower operating costs

High performance
Cons
Do not snug perfectly to the spindle on the Craftsman mower
No products found.
2. Rotary Store Set of 6, Replacement Mulching Blades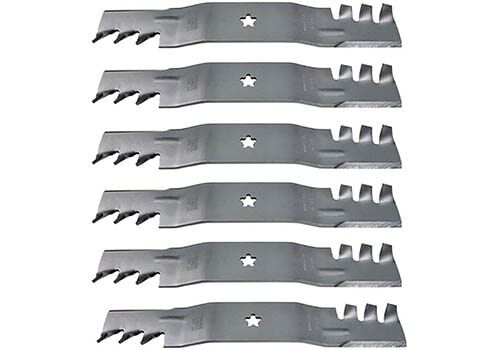 No products found.
Are you looking for a blade replacement that will work well with tall grass? Yes, Rotary has come up with a blade that knows how to cut long grass efficiently and effectively.
Now, you don't need to worry about getting a neat cut, these blades will do the trick!
How long will they last?
Unlike other blades, this set is going to last a very long time. Not only are they sturdy, but they also come in a set of 3.
Yes, you will get 6 blades, i.e. 3 sets of 2 blades. Now, you don't need to worry if you need an extra blade ASAP. All you need to do is take out the extra pair and get back to work.
See, no need to waste time!
The 5-star center point allows the blades to snag easily on the machine of your choice. Of course, it can be used as a replacement for Husqvarna 532187255, 187255, 532187256, 532187254, 18725 and 187254
But, that is not all.
Want to know more?
These blades can also replace the blades on Poulan and Craftsman. Hence, they are versatile and can be used with different brands also.
Moreover, they are very easy to sharpen. So, you don't need to spend a lot of time trying to make the blades sharp enough to use.
Just a few strokes and you are done!
Even though they are very powerful and precise, they hardly weigh as much as the other blades on the market. The entire pack of 6 blades weighs a mere 12 pounds. Do you know what they work perfectly with?
Yes, they are perfect mulching blades for Husqvarna 54 indeed.
Pros
Versatile

Heavy-duty

Set of 6 blades

Lightweight

Efficient

Give a precise cut
Cons
Does not create any airflow
No products found.
3. Husqvarna HU46 46-Inch Mulch Kit with Blade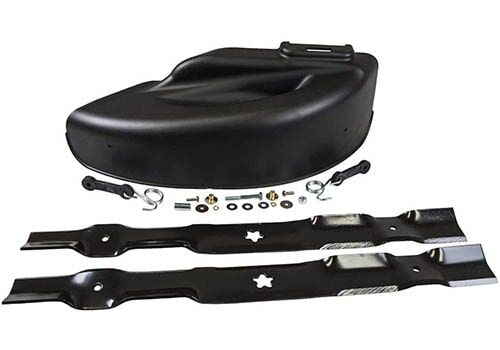 Are you on the lookout for the best mulching blades for Husqvarna 46? This kit is one of a kind.
Why do we say that?
Well, because this mulch kit is used to convert any tractor into a lawnmower. For that, you won't just need the blades only. The entire kit needs to be used.
What does it include?
Surprisingly, it contains 2 blades, a mulch plate, and proper mounting hardware. The hardware will be used to assemble and disassemble the blades to be used perfectly. The hole is big enough to make sliding in the blade a piece of cake.
Moreover, the mulch plate gives the balance and stability needed to avoid the need for raking. So, all you need to do is to attach the plate to the base of the deck and that's about it.
Furthermore, it is compatible with any tractor and provides the perfect balance needed to cut the grass. Apart from that, they are compatible with ZTR which has 46-inch decks. Basically, the MK46.
Weighing a mere 6.5 pounds, the blades are heavy duty and perform well for tall and small grass alike. On the other hand, they are small and compact.
Overall, the blades last longer than others and give a nice cut to the grass. The only drawback one can face is that they are not very sharp when they come from the factory.
Don't worry!
Sharpening them is not a big issue. You can easily sharpen them with the help of any sharpening device.
Keep in mind to be careful while changing the blades. Sure, they are not as sharp as the other blades. Still, proper care needs to be taken when changing them.
Pros
Can easily snug to the spindle

Is a kit

It is a perfect fit for many tractors

Lightweight

Precise blades

Can easily be sharpened
4. USA Mower Blades – Toothed High Lift Blade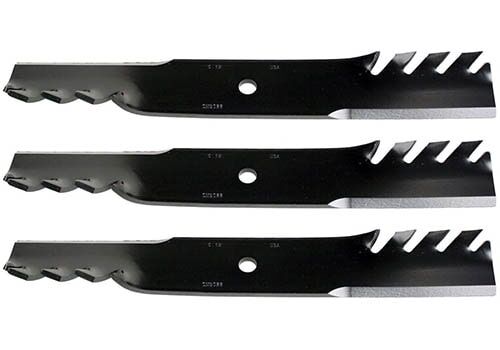 No products found.
USA Mower Blades are one of the most well-balanced blades available in the market. Consequently, the sound and vibration quotient is very low.
What does sound have to do with balance?
Mostly, the blades make a lot of noise. The reason is, they don't fit perfectly on the spindle and don't balance properly.
Once they are not balanced, they start vibrating when the mower or tractor turns on. Consequently, there is a lot of vibration and the noise quotient is very high.
But, with the USA mower blades, special care has gone into the manufacturing process. Hence, they don't give a tough time while mulching.
Do you want to know the best part?
This set of 3 blades is universal and can fit perfectly on any 50" Husqvarna model. Moreover, it is compatible with 52" decks also. Hence, making it versatile and compatible!
Additionally, the unique design makes it perform better than the rest. The blade is high-lift from one side and points downwards at the other side. So, it makes cutting tall and short grass very easy.
Versatile, isn't it?
Similarly, they are multi-purpose. They are a perfect replacement for the Husqvarna Toro model numbers 482462, 481711, 48108, 48185, 481707.
As compared to the others on the market, they are not universal blades. Still, they give good performance and are totally compatible with the models mentioned above.
Moreover, the center hole is 5/8 inch and that makes it easy to screw on and off. Weighing at 8.78 pounds, they do not come pre-sharpened. But no issues, most of the blades aren't pre-sharpened.
Pros
Well balanced

Compact

Low noise quotient

Perfect fit for the models mentioned above

Economical
No products found.
5. Husqvarna 954636867 Lawn Mower Mulching Blade Kit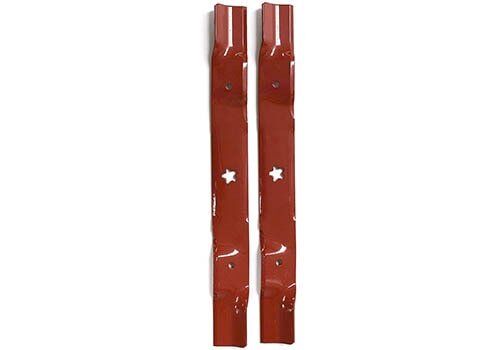 What is better than getting a set of neat and precise blades?
Think hard!
Yes, a warranty to back the claim. This Husqvarna 954636867 blade kit comes with a solid 90-day money-back guarantee. This means that if you find any manufacturing default in the blades, you have a window of 90-days to return them.
Isn't that a lot?
Moreover, the blades are a set of 2 and need to be used together to get a precise cut. Additionally, they are affordable replacements for the blades on the following models; LTH18542, YTH1542XP, LT18542, and LTH2042.
Who wouldn't want a set of fancy orange blades?
Throw in precision and accuracy and they might just be the ones you were looking for. Another interesting feature is the price. You will hardly find a set as affordable as this one.
So, if you have a 42" lawnmower, go for this pair!
The blades eliminate the entire process of bagging, raking, and collecting all the leftover clippings of grass. Designed in such a way to throw the grass clippings back on your lawn, they help the grass stay healthy and fertile all year round.
Lastly, you can sharpen them whenever you like. Thus, giving better cuts along the way! Even though they weigh only 3.1 pounds, efficiency and precision are spots on!
Pros
Eliminates the need to bag, rake and collect grass clippings

Compatible with several models

Set of 2 blades

Easy to sharpen

High quality

Affordable
Cons
Do not match the holes of the original at times
No products found.
6. 8TEN Mulching Blade Set – High-Tooth, Precise, Well-Balanced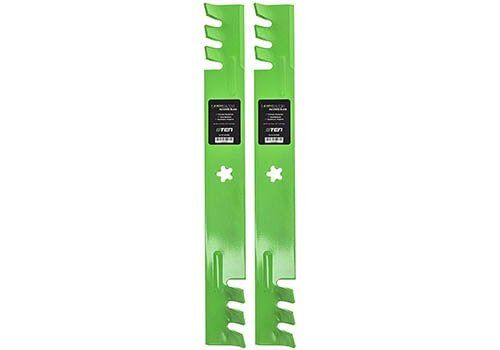 No products found.
Who wouldn't want to have a perfect cut, every time? This is exactly what the 8TEN mulching blade set promises to deliver.
What's better than hand-balanced blades?
Sure, the machine-balanced ones are good enough, but when you want perfection, you don't rely on machines. These blades have been balanced manually.
Hence, the balance is perfect. Moreover, it results in zero vibration. Consequently, there is almost zero noise when the blades are working.
Secondly, they have been hardened and tempered. Therefore, making them able to endure extreme temperatures and weather conditions. As a result, they tend to outlive the other blades available in the market.
Thirdly, the set comes pre-sharpened. So, there is no need to worry about sharpening them as soon as they come from the manufacturer.
What about compatibility?
Of course, they are compatible with 42" Husqvarna LT125, LT130, 2042LS, LTH2142, LTH18542, LTH145, LTH1842, LT18542, LT1942, LTH174, LT152, LTH152, LT16542, LTH130, LTH1742, LTH140, LTH2042, LTH12 and LTH1542.
Not only Husqvarna, the blades are also compatible with 42" Poulan model number PP19A42, PP155H42, , PP175G42, PB155G42, PB17542LT, PB195H42LT, PB20H42YT, PP155G42, PO14542LT, PB15542LT, PXT175G42, PB195A46LT, PO17542LT, PB22H42YT and PO15542LT.
Wait! There is more!
These acts as a total replacement for not one, or two parts, but several different parts on ARIENS with OEM numbers: HU22004, HU22004, AYP 127843, 139775, 138971X431, 532139775, 134149, 21546095, 138971, 532134149, 138498, and 532138971.
Again, it replaces Craftsman OEM Part numbers: 138498, 127843, 134149.
For Husqvarna it completely replaces 532127843, 532138971, 532188971, 113312X, 532138498, 521981601, 532134149, 532139775, 777134149.
Moreover, it also replaces Poulan 134149.
Undoubtedly, the compatibility quotient makes it one of the most versatile blades available on the market.
Pros
Versatile

Compatible

Hand balanced

Precise

Gives an accurate cut

Tempered and hardened
No products found.
7. Oregon G3 Gator Blades – Efficient and Compatible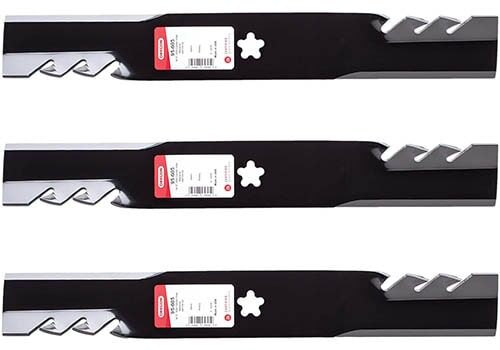 These gator blades come in a pack of 3. Gator blades have a more sophisticated design as they have an angular curve between the toothed edges. These are suited for decks of length 54 inches.
Furthermore, these can be used with mowers from Husqvarna, Ariens, Craftsman, and Poulan Pro.
In addition to this, the length of these blades is 18.5 inches and the center hole is the 5 point star type.
Thus, these holes will fit the specific spindle which matches this shape and measurement. With an outer hole of ⅜ inches, it has a width of 2-¾ inches and a thickness of .187 inches.
Angles and curves are good:
With these specifications, these gator blades have angular curved surfaces. This enables air to flow smoothly between the edges, making it easier to get rid of all the debris.
In addition to this, these will give your lawn a neat and well-trimmed look. These are very easy to use too.
Moreover, these G3 blades by Oregon work as a replacement for AYP/Husqvarna 532187256, 575938401, 187254, 33954, 574292401, 187256.
Also, these act as a substitute for Craftsman/Poulan 582923101, 187254, 575938501, 187255, 539112053, 575938401, 532187255,574292401 and 532187256.
Stens: 302-430 and Ariens: 21546235 can also be replaced by these.
The compatibility of the blades with the mower is one of the most important features that you should consider. Because if you end up choosing the wrong set of blades, these will not fit your mower perfectly, and you will not get the desired results.
These gator blades fit various tractors and mowers from Craftsman, Ariens, and Husqvarna.
For Ariens, these are compatible with hydro/automatic/gear tractors of deck length 54 inches. In the case of Craftsman/AYP, these fit perfectly with GTB54A, GT2254, GTH2654, and LT2227.
Furthermore, these blades are compatible with a wide variety of models for Husqvarna. These include 2354GXLS, 2354GXLS, MZ5424S, 2754GLS, LGT24K54, RZ5424, MZ54, GTH26K54T, RZ4219, EZ5426, LGTH2454, RZ4620, GTH2454T, Z254, GTH26V54, LGT2654, LGTH26V54, RZ5422, GT2254, 2354GXLS, GTH24V54, GTH2654, LGTH24V54, RZ4619, RZ5426, GTH24K54, GTB54A, and LGT2554.
Pros
Multiple blades included

Efficient

Precise cutting

Hassle-free

Compatible with many models of Husqvarna
Cons
Do not have a universal fit
No products found.
8. Husqvarna 532403107 Lawn Tractor Mulching Blade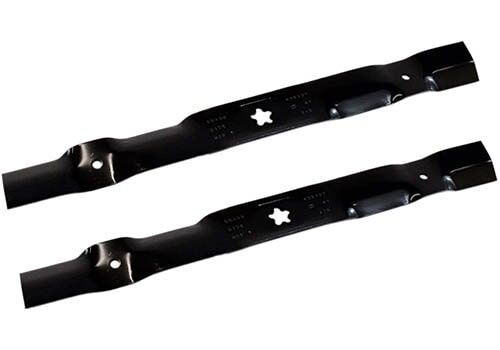 No products found.
This blade is a genuine part that is made by the OEM. It is compatible with Dixon and Husqvarna mowers. You can replace previous parts as well as 403107 with this one.
Also, it might look slightly different, but it works exactly the way these work. So you can choose this as a replacement without any worry.
It has a blade that is 23 inches in length. But it can fit decks that are 46 inches in length from the Craftsman 917-series.
Sharper blades cut the best:
The blades are quite sharp. Also, install it in such a way that the side of the blade which has numbers written will be placed towards the grass. The pack contains two blades. It works efficiently and will give your lawn a neatly trimmed look.
It is compatible with various models which include: YTH20K46-917240461, 917250842, 917253241, 917288620, 917288270, 917253240, 917288532, 917288140, A2346YT (96046001900), A23BH46, 96046001200, YTH2246-917289540, 917288533, 96042010800, 917288623, 917289245, 917289243, 917250841, 917288142, 917255840, 917288622, 917289241, 917289283, 917990360, D22KH46(96046001200), 917288141, 917289244,917289240, 917289281, 917289280, 936050, PB22H46YT, 917992901, A22KH46,917255621, 917203840, 917254810, 917203841,917255620 and 917240460.
Pros
Compatible with many lawnmowers and tractors

Good quality

Genuine

Reasonable price
Cons
Does not have a universal fit
No products found.
9. MaxPower 561714B 2-Blade Mulching Set for 42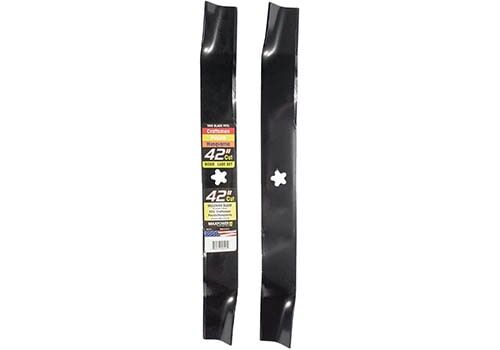 No products found.
These blades are very sturdy and durable. Made of high-quality carbon steel, they are strong and powerful. The American steel used in the manufacturing process makes these last many years.
Also, these are treated at an extremely high temperature, which makes them resistant to all types of wear and tear. Since mowing the grass is a strenuous task, these blades are designed to handle this tough job.
Additionally, they cut with considerable force and will do the job quickly. And they are power efficient too. The blades can be driven with almost 20% less power.
Thus, not only will these deliver superior performance, but will also save your fuel costs.
And they are sharp!
They cut well. Additionally, the vibration is low and they do not ruin your lawn surface
The blades are 21 inches long and the pack includes two blades. So you can fit these with a 42-inch deck of Husqvarna, Craftsman, and Poulan front engine rider.
In addition to this, these blades act as a replacement for OEM parts of Poulan, Craftsman, and Husqvarna 594892701, 134149, 532134149, and 5321341-49
It has a width of 2-¼ inches and the center hole is five-point star-shaped.
Pros
Sharp

Fuel efficient

Consume less power

Sturdy

Resistant

Comes in a pack of 2
Cons
The blades might be a bit thinner compared to the original ones
No products found.
10. Stens 340-062 AYP 406707 Mulching Blade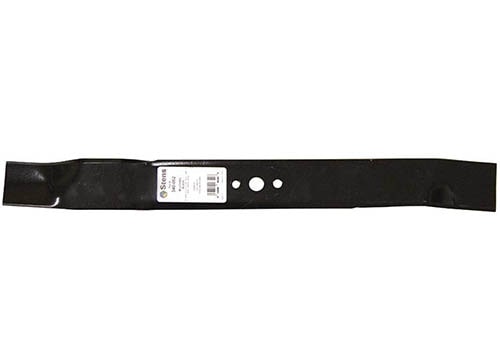 No products found.
These blades are 21.75 inches long. Black in color, these are flat blades. Also, they have a low lift design which makes them well suited for sandy lawns.
These work very well in lawns near the coastal area. These blades are strong and powerful enough to trim dry grass.
Additionally, these blades chop off the grass into fine clippings and will spread them back on your lawn's surface, to act as a natural fertilizer.
It is a replacement for AYP: 141443P, 141443, 532406713, 406707, 532406707, Craftsman 532406713, 33365 33256, Husqvarna 532141443, 532406713 and Poulan PP23007. In addition to this, it is compatible with AYP 22 inches walk behind.
Pros
Good for sandy lawns

Strong

Flat in shape
Cons
The blades might not be as sharp as the original ones
No products found.
Buyer's Guide: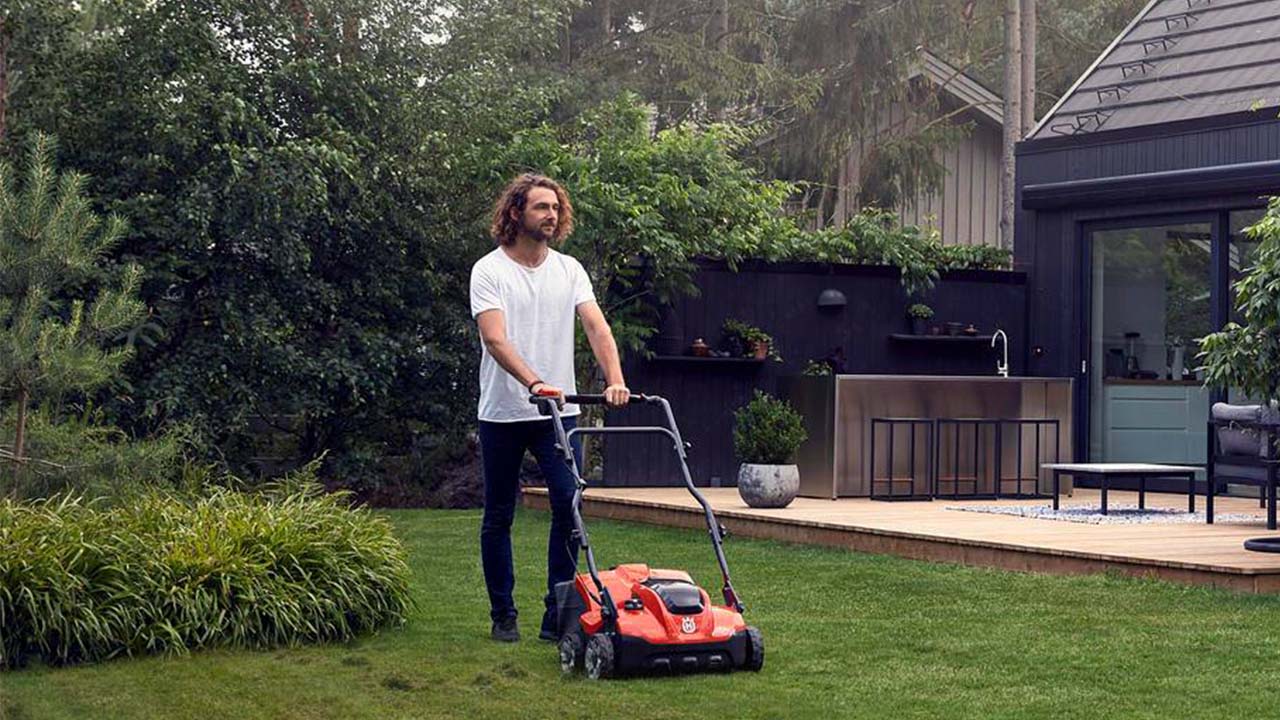 To choose the best mulching blades for Husqvarna, you should consider the features discussed here.
Curves and Turns Go Together:
Mulching blades have a curved surface. It looks like curved teeth and they work at two different angles.
The backside of mulching blades is also known as lift because it is raised at a certain angle. And this is what sets these apart from standard mower blades.
The angular edges, along with toothed edges allow the blades to perform various tasks simultaneously.
Not only do they cut the overgrown grass of your lawn, but will also push these grass clippings into the deck, chop them off into smaller pieces and push these back on the ground.
All these functions are performed altogether. Because of this, these blades have to be sharp-edged too.
It is very important to check the model of your mower and buy compatible blades.
Since there is a huge variety available, and all these vary in size and shape, make a thorough check about the specifications and compatibility details of the blades that you are planning to buy.
Longer Is Not Always Better:
The general impression that a longer blade would do the job well is a misconception. Instead of looking for a long one, you should focus on buying the length which fits your mower perfectly. A smaller blade will take longer to shred the grass.
Moreover, it will not do the cutting precisely, leaving behind some parts undone. And you will be left with an irregularly mowed lawn.
Thus, it is better to check the length which is indicated by the cut size. It is mentioned on the mower's side or in the manual provided when you purchased it.
Heavier Than Usual:
These blades are relatively heavier than conventional blades. And this happens because of their structural design.
The serrated edges, and the lifted rear, take up a lot of material and that makes it heavy. As a result of this, the speed of the mower is also affected.
This is a disadvantage of these blades. But the benefits outweigh this problem, and hence these blades have become popular amongst gardening experts.
Either Replace All or None:
When it is time to replace these blades, some people do not replace all the blades. Instead of changing all three blades, they tend to buy only one.
Even though that will save you some money at the moment, in the long run, its impact on the mower will not justify the saving. Different blades will run at varying speeds, and therefore the result will not be satisfactory.
Match the Mount and Fit it Right:
This is one of the most technical specifications that you need to understand and consider. Blades are affixed at the bottom of the deck and are attached to a spindle. And what connects these two are called center holes which are present on the blades.
Thus, the center hole size and design should perfectly match the spindle of your mower. These center holes come in various shapes and sizes. These range from a round hole to five, six, and seven-point stars.
Blades with these star-shaped holes will fit only the spindles which are exactly alike. Even though it seems like a complicated feature to look for, the positive side to this is the ease with which you can install these.
Material and Durability:
Since blades have to rotate at high speed and the task is quite strenuous, the material has to be sturdy enough to handle the intense pressure and speed. It should also have anti-corrosion properties. Most of the blades are made of steel.
Do I Need to Sharpen My Mulching Blades?
Yes, you can do it.
Tip: Be very careful when doing so. Make sure you wear gloves and unplug the wire to keep yourself safe from unexpected accidents.
Step 1: Unscrew the bolt holding the blades in the spindle.
Tip: Use a wrench or any other appropriate tool to do this. Do not use your hands. Read through the instruction manual and go through the directions to detach and reassemble the blade.
Step 2: Use narrow and wide files for different parts of the blade. Usually, these files are part of the mulching kit. Narrow files are for curved edges and wide files for the remaining blade.
Tip: Do not over sharpen the blades. Maintain the same angle when sharpening for all curved edges, and the number of strokes should be the same too.
Step 3: Reassemble the blades.
Tip: Do not forget to balance the blades before reinstalling them as unbalanced blades can damage your mower.
Mulch It the Right Way:
These are some pointers to improve your mulching results and will give your lawn a neat and well-manicured look:
Start with the outline of the lawn and do the center later. This will prevent clumps from forming near the edges of the lawn.

It is recommended that you do not cut more than one-third of the grass length.

Mulching blades work best for lawns that are mowed after every three to four days.

You will get the best results when the grass is dry at the time of mulching.

Always mow in rectangles or circles and cover the center of the lawn in the end.
Frequently Asked Questions:
Conclusion:

To keep your lawns well-manicured without a hassle, our pick from the best mulching blades for Husqvarna is the Rotary Store Replacement Mulching Blades.
The reason is, not only are they heavy-duty and compatible with multiple models, but they are precise and give the most accurate cut of the lot!
So, go on and pick the best blade for your lawnmower.