If you are better than the average shooter, you should not halt your progress. However, having a steady hand while shooting requires a lot of practice plus the necessary accessories.
Every hunter wants to enhance their shooting ability, and if you are an avid hunter, you might want to invest in the most crucial accessory, i.e., shooting rests.
Not to mention, bench shooting is a popular hunting method that allows shooters to sit on the bench while shooting their targets. It also allows users to rest their high-precision rifles on a bench or a table.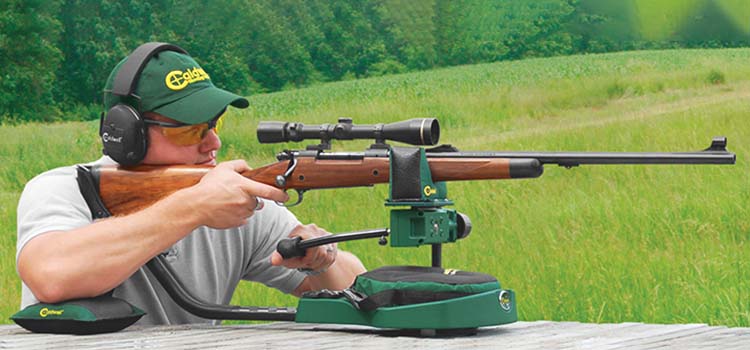 But what maintains or develops your marksmanship skills is stability. Therefore, a shooting rest is an utmost necessity during bench shooting.
What are its benefits? It holds and aims your rifle towards the target and prevents any discomfort or wobbling while using. Moreover, it provides flexibility and optimum adjustability for spot-on shots.
It also provides precision and accuracy on any terrain. A shooting rest firmly secures your weapon and keeps it steady for the perfect shot.
We have combed through the web and evaluated some of the top-tier lead sled shooting rest that will fit your requirements.
While reviewing these products, we have jotted down their pros and cons and a detailed buyer's guide to further help you make decisions.
Scroll below to purchase one of the best shooting rest!
Comparing 4 Best Lead Sled Shooting Rest
1. Caldwell Lead Sled DFT 2 – The Best Adjustable Caldwell Lead Sled DFT Rifle Shooting Rest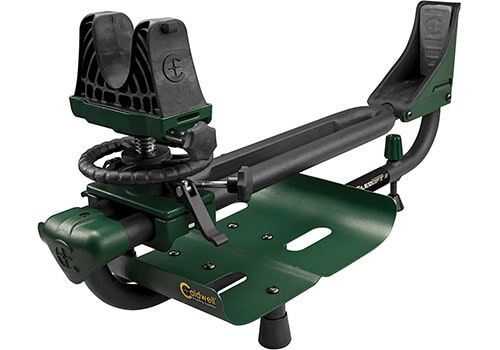 If you are searching for a highly adjustable shooting rest, the lead sled DFT 2 is the correct buddy for you that will not disappoint.
Caldwell is well-acclaimed because of its various shooting sleds, and lead sled DFT 2 is no exception.
In addition, this model is popular among long-range shooters because of its remarkable versatility and adjustability.
What makes this shooting lead sled worth buying?
This shooting sled is heavier and larger than other Caldwell's shooting sleds. However, it is a flexible product that will get the job done with any long gun.
Its Dual Frame Technology (DFT) offers shooters the stellar recoil reduction system and the ability to slide the front cradle back and forth.
If we talk about its components, the front mount has a flexible, adjustable rubber strap for the rifle's handguard.
Oddly enough, the strap might be too high for thin-walled or slim handguards, like AR-15, and it might not tighten the rifle's front part down.
Moreover, the buttstock pad is placed inside the shoulder brace and can accommodate any tactical shooting rifle's buttstock. You will also find padding on the brace for mitigating recoil.
Let's move on to its adjustment options! Its rear elevation adjustment knob will allow you to place it on uneven benches or surfaces.
In addition, it offers 2.5 inches of up and down adjustment. Plus, the entire frame is powder-coated; thus, preventing corrosion and rust.
Furthermore, the front elevation adjustment knob offers fine-tuning and stellar grip. With this knob, you can adjust around 27 feet at 100 yards.
Plus, its incredible fingertip windage adjustment provides around 16 feet of windage (right or left) at 100 yards. Thus, these high-precision adjustability features make this model top-notch for long-range shooting.
Lastly, the lateral adjustment allows the total length of 18 inches, and the two cams enable the users to move the cradle as they desire and lock it into place.
What else? A unique baffled tray enhances weight dispersion. You can keep lead shot bags, and they can handle around 100 pounds of shot.
What about its setup time? The assembling and setup might take around thirty minutes to an hour. However, this model comes with comprehensible and well-written instructions.
Pros
Easy-to-use

High-precision adjustability

Handles plenty of weight

Reduces recoil

Compatible with various rifles and shotguns

Ideal for long-range shooting

Offers excellent weight dispersion

Straightforward assembly
Cons
Heavier than other Caldwell shooting rests

Rubber straps might not secure thin-walled handguards
No products found.
2. Caldwell Lead Sled 3 – The Most Precise Caldwell Lead Sled Plus Recoil Reducing Rifle Rest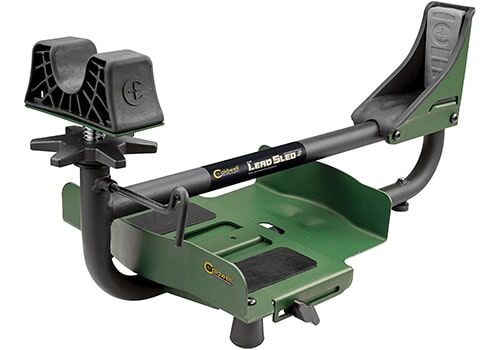 No products found.
Do you wish to enhance your precision while shooting? If you want top-notch results, this Caldwell lead sled 3 will suffice. It is perfect for sighting and zeroing the gun.
This improved lead sled is efficient and delivers precise results. Moreover, this next-generation, modern-technology-equipped shooting rest offers several outstanding features. Let's look at it in detail!
This model possesses a dual frame structure that makes it versatile to fit different shotguns, magnum rifles, or slug guns. In addition, the shooting rest does its job marvelously by locking the gun tightly in place.
It has a skeletonized front rest to cradle your stock, a non-marring rear cradle to safeguard your weapon's stock from damage, a shock-absorbing rest pad, and rubber feet for more stability.
Furthermore, it has a slidable and adjustable weight tray to fit a lead shot bag or barbell weights. The tray is very well-made and robust and can handle up to 100 pounds.
What's more, this model offers easy elevation adjustments. Its windage adjustment allows you to adjust with fingertips, while the rear elevation collar keeps your weapon in the best shooting position.
What else? The stock-stabilizer rear bag keeps the stock shift in place; plus, the multi-surface back foot offers steadiness and stability no matter the surface.
Do you know what is impressive about this model?
Its all-metal body is capable of reducing 95% of recoil. Plus, the elevation ram does not wobble; thus, it minimizes recoil and gives accuracy while shooting.
There are a few negative pointers about this model. First, this shooting rest does not support modern sporting rifles like AR-15 rifles.
Moreover, it does not offer a vertical adjustment on the rear pad, and the adjustment length is also limited.
Pros
Well-built

Robust and sturdy

Good finish

Excellent gun rest padding

Adjustable

Minimum recoiling
Cons
Not compatible with AR-15 rifles

The rear pad does not have a vertical adjustment

Limited adjustment length
No products found.
3. Caldwell Lead Sled FCX – A Top-notch Rifle Shooting Rest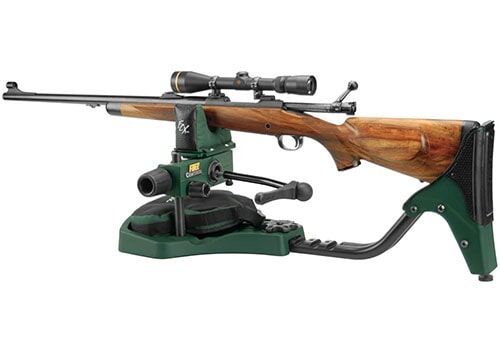 No products found.
Are you looking for a well-designed sled ideal for AR rifles, has full-length buttstocks, and is adjustable? If yes, this Caldwell FCX shooting rest will do the job!
Moreover, this sturdily built innovation offers the two most advanced technologies, i.e., fire control mechanism, and recoil reduction.
It mitigates recoiling by efficiently capturing and transferring the recoil energy from the shotgun or rifle to the weights in the weight tray.
Thus, it effectively eliminates around 95% of recoil and makes shooting enjoyable.
If we talk about its fire control system, it is an advanced rest control mechanism activated by the "joystick" style control arm. You can move the control arm in any direction to align the crosshairs perfectly.
Once aligned, release it. It will hold your rifle in that exact position. Thus, this precision alignment option enables the shooter to remain relaxed when pulling the trigger.
What else? Besides accuracy, it offers plenty of adjustments. For example, you can make elevation and windage adjustments in a single moment, and you can adjust the length up to four inches.
Furthermore, its cradle height adjustment offers versatility, and you can accommodate almost any muzzleloader, shotgun, or rifle. Plus, the placement of adjustment knobs is convenient for easy adjustments.
What's more, this model comes with a weight tray that can handle around 75 pounds. The shooting rest also has anti-skid rubber feet coated with non-marring material.
In addition, it comes with a polyester-filled medium varmint bag that will hold the gun securely and prevent damage.
Not to mention, this stellar-designed shooting rest is straightforward to use, reliable for shooting, versatile, and ideal for left and right-handed people.
Pros
Heavy-duty

Sturdy and durable

Lowers recoiling

Optimum shooting accuracy

Straightforward setup and usage

Precision in crosshair alignment
Cons
Expensive

Average quality weight bag
No products found.
4. Caldwell Lead Sled Solo – The Best AR15 Shooting Rest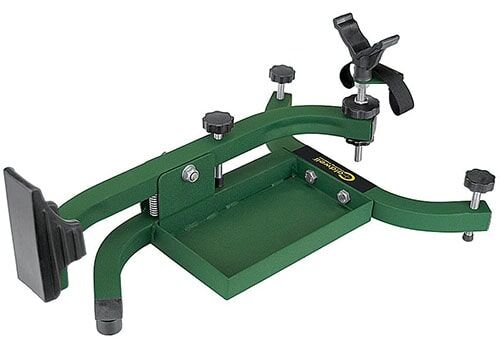 No products found.
This stable Caldwell lead sled solo rifle shooting rest easily holds AR-15 and any other traditional hunting rifle. It does a great job, and it's incredibly portable.
This heavy-duty sled is constructed from tough steel and possesses lever-action compatibility.
Let's look into its components.
The heavy-duty pliable rubber front cradle has an adjustable hook-and-loop strap to tighten the weapon's front end and prevent movement when firing.
However, if the Velcro becomes dusty or dirty, it might not provide an excellent grip.
Moreover, the rest's front end has two threaded steel legs that have soft rubber pads. You can adjust each leg with a hand knob according to your shooting platform.
In addition, its buttstock rest is constructed from the same rubber as a front cradle, and it provides a balance of recoil mitigation and rigidity.
It also comes with a weight tray that can hold up to 25 pounds bag of lead shot.
Let's move on to its adjustment features. The adjustment knobs are present to adjust the cradle's front height. Once adjusted, secure it with the lock to prevent the cradle from shifting.
Furthermore, a similar threaded steel knob is present for pivot elevation adjustment without a lock. Thus, you can easily make adjustments according to your target, either horizontally or vertically.
Not to mention, the shooting rest's entire frame has a durable rubberized coating that reduces recoil and does not scratch your gun. Plus, this lightweight shooting rest is easy to assemble and budget-friendly.
Oddly enough, it is not as highly adjustable as other Caldwell lead sleds. Plus, you might have to replace Velcro for maximum tightness. The humid environment, rain, or snow may develop rust spots on holes or threads.
Pros
Versatile

Highly stable

Robust built

Cuts recoil

Economical

Portable
Cons
Limited adjustability

Velcro replacement is inevitable

Tendency to become rusty
No products found.
Best Lead Sled Shooting Rest Buyer's Guide: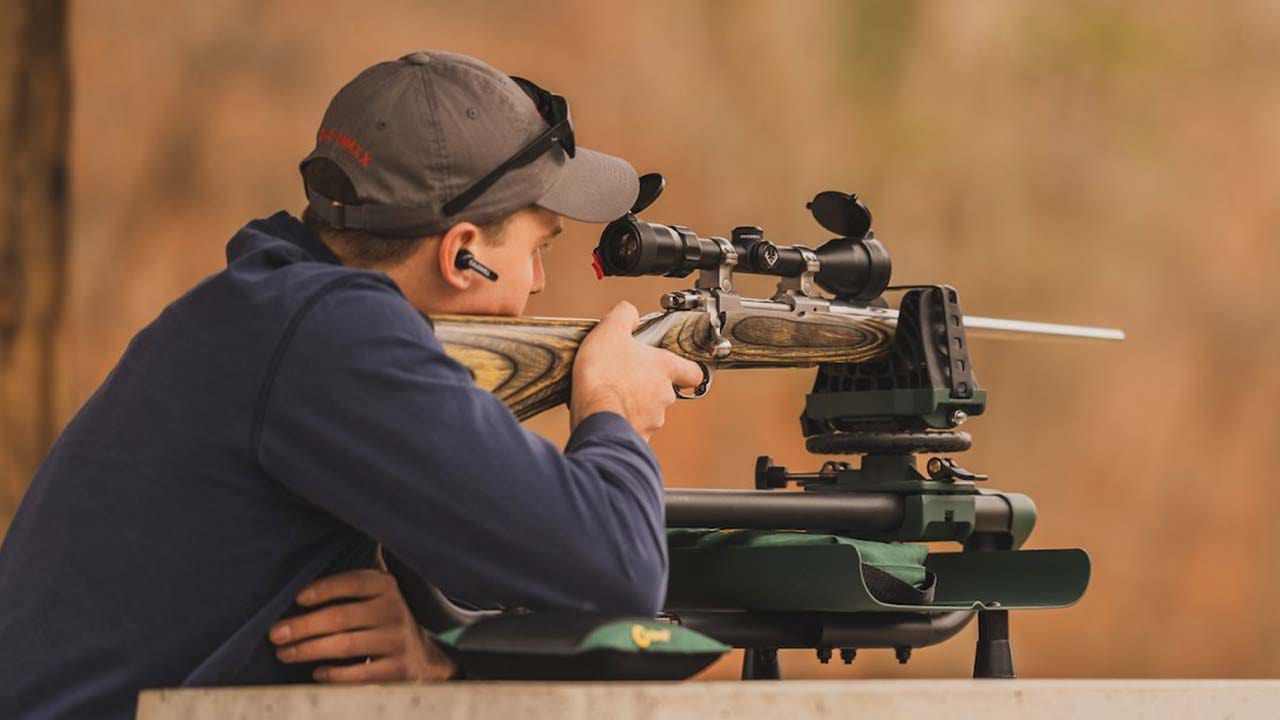 Deciding and picking the top-tier lead sled shooting rest can be pretty challenging, especially if you have a set budget.
We have mentioned the top four Caldwell shooting rests above. Why? Because of their innovative technologies in a shooting rest that minimizes almost all human errors.
These top-quality lead sleds are available in various price ranges, so you choose accordingly.
Since you know the benefits of a good shooting rest, you might question how to detect whether this product is suitable for the gun or not?
To make your purchasing more effortless, we have shared some factors that you should look at intently. So let's get right into it!
Recoil
As a shooter, you are well aware of how uncomfortable the backlashes feel. However, a high-quality and well-constructed shooting rest usually mitigates recoiling up to 95%.
The rest mentioned above all reduces recoiling by distributing the power evenly. So why not opt for the one that minimizes the impact of recoiling?
Safety
A shooting rest is safe when it provides an excellent grip. The firm weapon and surface grip make the entire hunting experience safe.
Moreover, a weapon tightly secured in its position increases accuracy and minimizes errors. It also prevents unwanted accidents from happening.
Adjustable
The shooting rest should provide optimum adjustability, and you can move it around slowly or quickly by either turning knobs or pushing the button.
Plus, the greater the adjustment options, the higher the precision and accuracy.
Durability
The shooting rest should have a solid construction that can withstand wear and tear. Not only that, the model should have a powder-coating finish or any other finish to prevent it from deterioration.
A good quality product always ensures longevity. Besides that, you have to clean your shooting rest to make it last longer and perform the same. Without the necessary maintenance, its shelf life will decrease gradually.
Easy Usage
The model or the type of shooting rest you wish to buy should be lightweight, portable, and highly adjustable.
It should provide convenience when you move around, set it up, or fold back.
Moreover, ensure its weight. Its weight should not strain your arms or shoulders.
How to Use a Lead-Sled Shooting Rest?
After buying a top-quality lead sled shooting rest, the next step is to follow the instructions given in the manual to assemble its parts. Then, follow these tips to shoot your target accurately:
According to your comfortability, adjust the shooting rest's height and lock it into place.

Reposition your shooting rest to modify its windage. Ensure that the rest is aligned with the target correctly.

Make sure that your shooting rest's rear leg is aligned with the rifle accurately.

Put the rifle on the rest's front cradle and tighten it so that your weapon stays in place.

Relax, focus, and shoot with an erect head position. The lead sled shooting rest position should not strain you.

Do not lean on the rifle too much because it will change its impact after shooting. This will happen due to your body pressure.
Frequently Asked Questions:
Conclusion:
The best lead sled shooting rest will improve accuracy and will provide a stable platform because of technological advancements. Therefore, it tends to eliminate human errors and provide high precision.
A top-rated shooting rest is also incredibly durable and functional. Therefore, make sure to consider the essential aspects that we have mentioned above before purchasing your item.
Caldwell is one of the reputable brands that offer stellar shooting experience and mitigates recoiling. If you want to improve your hunting skills, this brand will help you polish your skills.
So which are you thinking of buying? Let us know in the comment section below!