If you want to save time and still want to grab the Best Insurance Card Scanner, go for the BizCardReader Card Scanner, undoubtedly.
Are you in the database managing department? Does your work involve scanning hundreds of insurance cards every day?
Is manual data entry making you tired?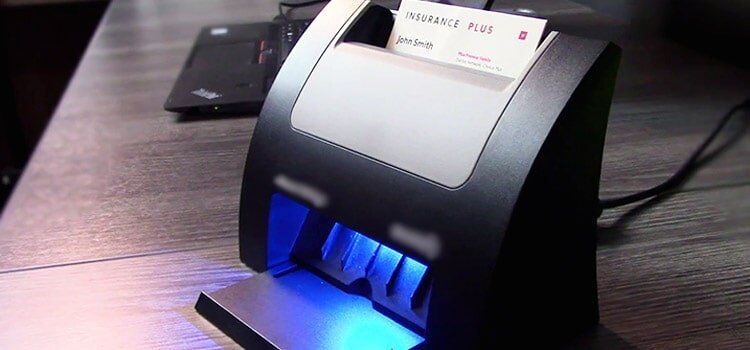 In any case, adding an insurance card scanner to your work gear is all you need.
An insurance card scanner is a dedicated scanner that makes a digital copy of cards.
There are numerous types of insurance card scanners available these days. From flatbed to portable, there is an immense variety to explore.
Unfortunately, this variety can often confuse first-time purchasers and lead to bad experiences.
To help you, we have delved into the details and articulated the ten best insurance card scanner.
Continue reading to find your ideal insurance card scanner.
Comparing 10 Best Insurance Card Scanner
1. BizCardReader Medical Insurance Card and ID Card Scanner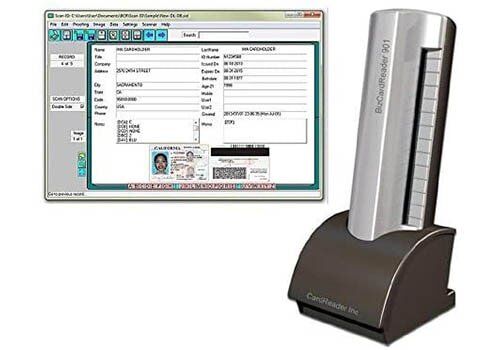 No products found.
The medical insurance card scanner by Bizcard Reader is quite an innovative product. It is a hybrid technology between portable and flatbed scanners.
Hence, making it extremely versatile and useful.
It has an extraordinary build with a broad base and a vertical scanning dock. Both the parts are detachable so that you can use them separately.
Overall, this simplex optical card scanner has an ultra-compact and portable build. You can easily accommodate into the tiniest of workspaces due to its small footprint.
You can even mount it in two ways; vertically and horizontally.
The company itself promotes vertical mounting as inserting a card vertically can reduce wrist strain.
People who scan insurance cards continuously or frequently may find this physically beneficial.
So, it is an ideal insurance card scanner for medical offices, hospitals, and database managing departments.
Connecting this Bizcard Reader insurance card scanner is also very simple.
It has a USB, self-powered connection that is quite unique too. You have to connect the scanner to a computer or laptop using the provided USB cable. It's usable with one computer at a time.
However, to stay on the go, you can also pair it with any other device with a USB port.
After the initial connection, you will have to download the scanner software using the provided CD.
Yes, it may sound a little old-fashioned. But, the installation takes mere minutes, and you will be scanning cards in no time.
This particular card scanner is fully TWAIN compliant too. It functions with all scanning applications and management systems. You can use it to scan all sorts of cards, laminated IDs, and whatnot.
The scan quality is top-notch with vibrant colors and details. There are minimal distortion and no blurred lines. It also has a scan-to-file feature that enables you to save the scanned files in the following formats:
Although it is a simple one-side scanner, it has a dual side-scanning technology too. You can benefit from it when time is scarce.
Concisely, the Bizcard Reader is an amazing insurance card scanner for small-scale offices and businesses.
You also get one-year parts and labor warranty. However, it is compatible with only Windows 10/8/7/Vs/XP.
Pros
Compact build

Easy installation

Good quality scans

Scan to file

TWAIN-compliant

Comes with a one-year warranty
No products found.
2. Fujitsu ScanSnap S1300i Portable Duplex Document Scanner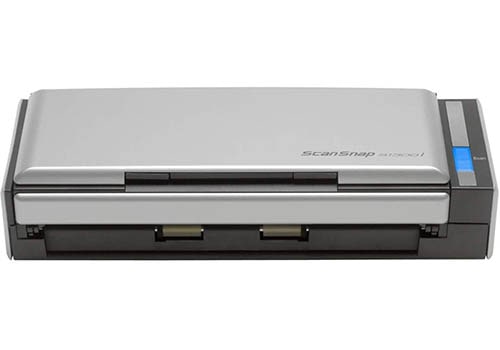 No products found.
Fujitsu Scansnap S1300i is all set to be your portable, reliable buddy within the four walls of your office or elsewhere if need be.
Well, it's not the pocket-size portable, but compact enough for you to move it around easily.
Dimensionally, it measures around 11.18 x 3.9 x 3.03 inches and weighs 3.08 pounds. When compared to other models, such dimensions make it both small and slim.
As for the media format, this phenomenal scanner supports both A4 size and business cards.
Its ADF (Automatic Document Feeder) tray takes about ten pages per operation and prints about 24 images per minute.
Although this speed may not be the winning one on this list of top insurance card scanners, we believe it works great for the price point.
However, the great part is, as you can 12 double-sided pages, you will not encounter a second delay.
The proficient engineering of this scanner promises smooth performance, free of jams and interruptions.
You will feel that the average speed factor further balances out with the fact that it offers an unbelievably high resolution.
With 600 dpi, you can scan your documents flawlessly with each grain's detail. On average, a document requires the support of 300 dpi for good scanning.
As you can see, this thoughtfully built scanner promises double.
Hence, the insurance cards you print (i.e., with images and minute text) won't feel cheap, flimsy, or low-quality. We assure you, it's going to be super sharp.
For helping you out with document organization, the scanner also comes with Scansnap document organizer software.
Using this, you can sort, arrange, and search for your document with ease.
Connectivity to cloud storage further makes document management convenient. In case there's a blank page, an upside-down scanning error, or an issue with the colors, its intelligent scan correction will take care of the issues.
Another interesting feature of this card insurance scanner is its capability to convert the document into searchable pdfs by only pressing a single button.
Or you can even convert your documents to Word or Excel files using the same function.
Since Fujitsu Scansnap S1300i comes features a rather portable built, it does not have many complexities on the surface. You will find only one control button and a sole LED indicator for operational purposes.
Pros
Robust built

Lightweight

Compact

Easy conversion of file formats

Intelligent scan correction

Excellent Image accuracy
No products found.
3. Duplex Medical Insurance Card and ID Card Scanner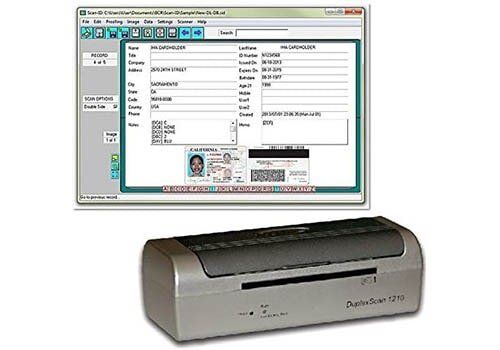 No products found.
Previously, we reviewed the Bizcard Reader medical insurance card reader that was a simple entry-level, one-side scanner. The Duplex medical insurance card and ID scanner is an upgraded version of it.
Bizcard Reader has dedicated this model for people who want an insurance card scanner for large-scale medical offices and departments.
As the title explains itself, this health insurance card scanner can scan both sides of the card in a single go.
Using this scanner, you can scan and accommodate both sides of the card on a single image. When required, you can also switch to the simplex mode to scan one side.
The presence of both technologies makes this scanner quite versatile. You can get all your card scanning work done with only one device.
Plus, the scan quality of this scanner is simply amazing. It has vivid and rich colors. The resultant scan will be crystal-clear and accurate.
The Bizcard Reader Duplex scanner features quad-powered rollers, which makes it ideal for heavy-duty work.
It has four high-traction rollers that make document feeding smooth. You can get the thickest of cards scanned easily.
There is also a scan-to-file feature that enables you to save the scanned files directly in another format.
You can store them on your PC as PDF, TIFF, and JPEG. Hence, making usage a lot convenient and rescuing you from all the hassle involved in other file conversion methods.
This Duplex scanner functions with a dedicated SCAN-ID LITE software. It is a card management system that allows you to manage card-relevant data easily.
The system is searchable as well as an exportable database of scanned cards, which makes accessing information easy and organized.
As for connectivity, this Duplex scanner also uses a USB connection. You have to connect the scanner to the computer using the included USB cable. Both the devices pair immediately.
The scanner is fully TWAIN compliant, so you can use it with a variety of applications and software. However, it is compatible with only Windows 10, 8, 7, VS, and XP.
You cannot use it with Mac or other operating systems.
Moreover, the structure of the scanner is slightly bulky and heavy. Its horizontal, long construction requires dedicated space.
All in all, the integrated features make this the best duplex scanner that comes with a 30-days satisfaction guarantee and 1-year warranty.
Pros
Double-sided scans

Scan to file

Easy to setup

Fully TWAIN compliant

Comes with warranty
Cons
Limited compatibility

Bulky and large
No products found.
4. Epson WorkForce ES-500W Wireless Duplex Document Scanner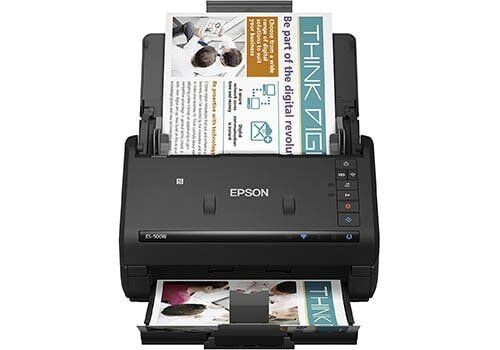 No products found.
Epson Workforce ES 500W does brilliantly for an entry-level duplex scanner. It's capable of printing about 70 images per minute! (Yes, we're talking about double-sided scans!)
Such speedy performance promises time efficiency is one of the prime needs of most hustling bustling offices. It's the gear that backs and supports your productive self and sky-high goals.
Even when it comes to single-side scanning, this printer promises 35 pages per minute. And here's an even more impressive fun fact: it can scan a pdf of 50 pages in only 44 seconds.
And that's only one of many examples of its speedy performance.
What's more, it comes with a sophisticated yet easy-to-understand control panel. You will find the following eight buttons on it:
Power

Wi-Fi (On/Off)

Start

Stop

Double feed detection skip

Slow mode

NFC

Wi-Fi protected Setup
The presence of NFC and Wifi-related control speak for themselves. ES 500W Epson supports wireless connectivity and operation.
You can conveniently connect it to your smartphone, tablet, or desktop without having to deal with wires.
Now, this, in turn, allows you to scan documents, invoices, receipts wirelessly, not only directly to your devices but also to cloud storage accounts.
Be it Google Drive, Dropbox, Evernote, Microsoft SharePoint, or any other. Alternatively, the USB 3.0 connection enables wired connections.
Moreover, there are five status LED lights as well, which add to the ease of use. These include:
AP mode (Wi-Fi Direct)

Wi-Fi

Error

Ready

Automatic feeding mode

Double feed detection skip

Slow mode
Naturally, these indicators add to the time efficiency offered by the model. You need not invest time figuring what went wrong if an issue or confusion ever arises.
As a cherry on top, it looks classy in office settings. Although it may require a complete corner to sit conveniently owing to its bulky structure, the overall look feels professional and sleek.
Hence, surely, that's an additional perk!
Pros
Wireless scanning

Easy installation

Classy looks

Capable of handling an extensive load

Easy controls

Versatile functionality
Cons
Requires Epson ScanSmart Accounting Edition Software
No products found.
5. Fujitsu ScanSnap iX1500 Duplex Document Scanner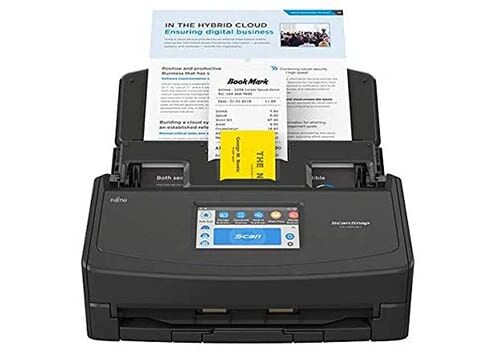 No products found.
The Fujitsu ix1500 has remained a popular document and insurance card scanner of ScanScap. This innovative product by the company makes managing paperwork a simple task.
Below, we have discussed every feature in detail for this Fujitsu ScanScap ix1500 review.
Fundamentally, the Fujitsu ScanScap ix1500 is a duplex and a sheetfed scanner. It possesses the properties of both types, making it an ultimate scanning solution. Overall, the scanner has a medium size and weight.
So, it is okay to accommodate the scanner in tight spaces and offices. It has a very user-friendly design so that even a beginner can use it conveniently. There is also a 4.3-inches touch screen for enhanced usability.
You can use this scanner for cards, documents, images, and whatnot. However, some users may find the output tray to be small for other documents.
The double-sided insurance card scanner utilizes wireless connectivity for operation. It uses both Wi-Fi and USB cable to function.
So, you can scan documents and card images to Google Drive, desktop folder, Dropbox, or any other option.
However, to access all sorts of cloud services, you will have to create a free ScanSnap account. Once made, you can store all the images anywhere you like and have a backup ready at all times.
There are also two modes; Access Point Connect and Direct Connect. These further ease the process of connection, offering feasibility.
Surprisingly, this ideal insurance card scanner also provides several customizing and organizing options. You can create unique user profiles and save scanned data accordingly.
The Quick Menu feature of the scanner allows you to start scanning at a single touch and then decide how to process the images. Hence, conserving a lot of time that you will have to invest later on data organization.
The usage of simple icons and designs makes the scanner suitable for even beginners. You can easily navigate your way without the help of an instructions manual.
As for the scan itself, the quality of these scans is simply fantastic. The duplex scanner has an optical resolution of 600dpi. It results in brilliantly colored and clear scans.
It also scans two sides at once with a speed of 30ppm. Thus, it is swift in its performance. The presence of a 50-page automatic feeder further makes things smooth.
There is even an automatic image cleanup software that optimizes the contrast, eradicates blank pages, crops images, and fixes them before producing a scan.
All in all, the Fujitsu ScanSnap ix1500 scanner is the perfect insurance card scanner. It is also operational with both Mac and PC.
Pros
Sturdy

Great scan quality

Double-sided scanning

Organization options

Automatic image cleanup

Good speed

Extensive compatibility
No products found.
6. Ambir nScan 690gt High-Speed Vertical Card Scanner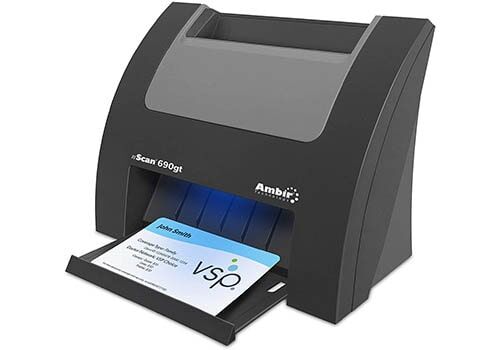 No products found.
Ambir NSCAN 690GT is a perfect pick for dental clinics and medical institutes. With that said, there are no restrictions!
It works brilliantly for any place requiring an ID card or insurance card scanning.
This ultra-compact scanner promises a hassle-free and speedy operation. For scanning the cards, all you will need to do is drop your card in the first slot, and it will be back in your hands in about 2 seconds.
So, you see, it cuts out the need for unnecessary touch and fiddling.
What's more, the motor speed has two variations:
At 300 dpi, you can get a color scan in three seconds, while 600 dpi will take 0.9 seconds. The presence of both adds to the functionality of the scanner.
Moreover, it comes with AmbirScan Capture Software. With this, you can conveniently save scans in all formats in both local storage and cloud storage.
Perhaps, it's the construction of this model that sets it apart from the rest of the scanners in this list.
It measures 3.4 × 6.6 x 5 inches, and unlike ADF flatbed scanners, it stands vertically on the desk.
That means its base (which is in contact with the desk surface) is much smaller as compared to others. Instead, it has a fairly tall height.
Hence, it comes in handy for small offices that do not have grand desks with a massive room for heavy, bulky, and fancy scanners.
Plus, a smaller size also makes it lighter in weight. So, you can move it about easily anywhere and everywhere.
A smaller size may incite worries for the quality of performance. But that's where this model takes you by surprise.
Despite being super compact, there's no compromise on the richness of its quality. The images and cards that you print will showcase unrivaled sharpness and color accuracy.
Pros
Impressive clarity

Highly compact

Portable

Sturdy built

Easy storage

Convenient maintenance
No products found.
7. Doxie Go SE – The Intuitive Portable Scanner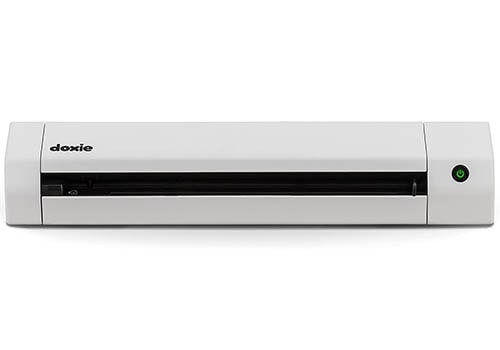 No products found.
The Doxie Go SE is a wireless and portable scanner that serves as an amazing solution for small-scale insurance card scanning.
Being portable requires no connection to any device or computer. You only have to charge it, turn it on, and insert the card for the scan!
There is no installation or connection method, which makes it a piece of cake for every user. You don't need to have the tech knowledge to use this simple device.
Also, it has a compact and lightweight construction. The design reduces its space occupation when scanning cards in tight places. So, it is quite easy to handle and store when on the go.
The Doxie Go SE wifi portable scanner features 600dpi optical resolution, which is pretty high for a portable scanner.
It offers crisp, clean, and detailed scans of all the documents. These resultant scans also have bright and deep colors.
In case of any error, the Auto Adjust mode fixes everything before producing the final scan. It crops the excess blank pages and enhances color contrast to provide you with a high-quality scan always.
Plus, you can scan full-colored insurance cards and documentation in only 8-seconds.
Although this speed does not compete with commercial scanning units, it is fairly good for a portable wireless scanner.
As it is wireless, the scanned images get stored in an included SD card. Its memory can store up to 4000-scans, which's a lot to digitize considerable data.
Then, you can transfer them to the paired device. You will only have to install Doxie's integrated and highly-useful software. The software allows you to organize all the data and create searchable multi-pages PDFs.
Using it, you can also convert the scanned image to different formats, like JPEG and PNG. You can even transfer them to local apps on the device or save them in any cloud software.
Although storage and transferring files are quite easy on this product, these files can be very large when shifted to a paired device.
According to one Doxie Go SE review, the files transferred from the scanner to an iPad were three times larger than any other portable scanner.
Nonetheless, the scanner comes with a one-year warranty so that you can get assistance in case your experience is unsatisfactory.
Pros
Compact and portable

Good resolution

Auto-Adjust feature

Rechargeable battery

Integrated and useful software

Comes with one year warranty
Cons
Large file size

Average speed
No products found.
8. Ambir ImageScan Pro 667 Simplex Card Scanner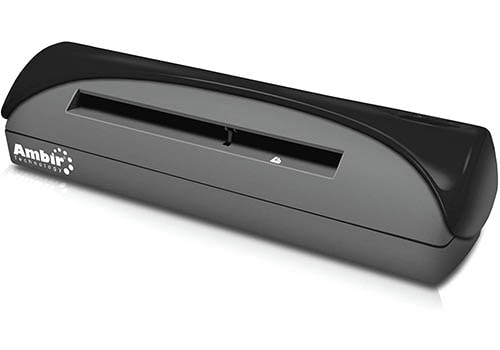 No products found.
Well, Ambir has a unique approach toward scanner manufacturing. Quite evidently, the company has zero interest in standing in the usual lane, waiting for attention and fame.
They know how to drive their boat to stand out while simultaneously catering to the issues that direly need attention, such as saving up on space!
Earlier in this list, we reviewed a model that saved desk space with its vertical construction. Ambir Image scan Pro 667 does the same with its elongated design.
The scanner measures 7.5 x 2 x 1.6 inches. Its width is much smaller in comparison to its length, which gives it a bar-like shape.
Hence, one can easily place it on one edge of the desk, horizontally or vertically. It will keep the desk from cluttering unnecessarily and provide more room for other important files and tasks.
As for the weight, it is not as lightweight as the previous model. However, it is still much lighter than most. Now, this, in turn, makes it highly portable.
In terms of scanning, it saves time well. Its careful engineering enables it to scan a card, be it insurance, credit, or any other, in only three seconds.
Hence, you need not waste minutes on a task as simple as this.
Note that, as a simplex scanner, it scans one side only at a time. Plus, it offers a phenomenal resolution of 600 dpi.
Certainly, that makes it a perfect fit for color image scanning. As for the storage, you can access and store documents directly in local storage or your cloud storage account.
Pros
Lightweight

Impressive clarity

Occupies minimal space

Sleek design

Portable

Excellent optical resolution

Durable structure
Cons
Not compatible with Apple devices
No products found.
9. Penpower WorldCardColor Color Business Card Scanner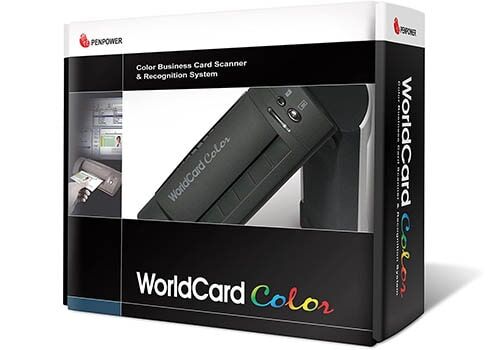 No products found.
The PenPower WorldCardColor business card scanner is an advanced device made specifically for card scanning.
Its portable and unique construction makes it difficult to classify it in a particular type of scanner. It is like none other in the market!
At a glance, you wouldn't believe that such a small and compact device is capable of producing high-quality scans.
The PenPower WorldCardColor card scanner has dimensions of 6.5-by-2.5-by-1.8-inches. However, it produces top-notch colored scans of 4-by-6-inches.
The scanner, being small, has great portability too. You can store or take it anywhere. It occupies minimal space, so you can place it anywhere too.
The scan quality of this scanner is quite impressive. It offers fully-colored, vibrant, and detailed scans of all sorts of cards.
Perhaps, the highlight feature of the device is its multiple language detection features. The scanner identifies the language on the cards and scans it without any error.
Also, this PenPower card scanner has a double-sided scanning feature that accommodates both sides of a card into a single image. Hence, making things simpler and easy to handle.
Once scanned, you can import/export/synchronize data to all software. It is compatible with a majority of databases and applications.
For organizations, this card scanner has up to 65,535-categories so that you can organize the data as per personal preferences.
There is also an advanced search to locate the information you require.
The PenPower card scanner uses a USB 2.0 interface, which makes data transfer quick. As for set up, some users have complained about difficulties in installation.
Plus, the customer service is not much help in the case too.
Nevertheless, you still get a one-year warranty that you can avail of in case of an unsatisfactory purchase. The scanner comes with a USB cable, software CD, calibration card, manual, and registration card.
Pros
Compact and portable

Detects different languages

Full colored scan

Sub-categories for organization

Flawless connection

Comes with one year warranty
Cons
Poor customer service

Difficult to install
No products found.
10. DocketPORT 667 Simplex Card Scanner (DP667)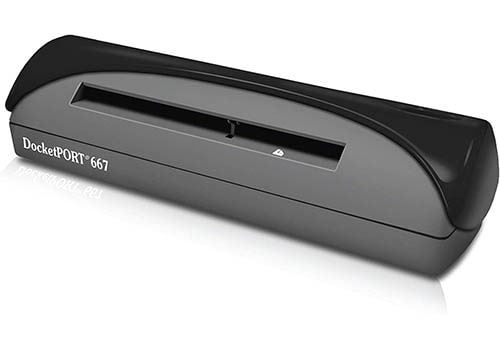 No products found.
Similar to Ambir ImageScan Pro 667, Docketport 667 also has a slim profile. It follows the same color scheme and might appear almost the same. But it differs substantially in terms of dimensions, functionality, and cost.
It costs lower than Ambir's Pro 667 and hence, is one of the cheapest insurance card scanner. But certainly, despite being cheap, it does not compromise on quality.
Deckport DP667 promises crisp and clear scanning. Be it colored prints or gray. As for the insurance cards, it does not provide a flagship-level performance. But it does a decent job.
When initializing the scanner, you will find that it is very easy to install. In the case of problems, you can always get connected with tech support, who seem to be quite friendly and supportive.
Dimensionally, it measures about 9.3 x 5.6 x 2.9 inches, which is slightly longer and broader than Ambir's Pro 667.
However, in terms of weight, it is, even more, lighter, which, of course, adds to its portability. You can easily position it from desk to desk if need be.
Also, with this purchase, you get access to a single PC software license compatible with Microsoft Outlook.
It makes importing and exporting contacts on your respective device easier. Thus, making it easier to share scanned documents with relevant authorities.
Pros
Highly compact and portable

Sleek design

Easy to setup

Easy to use

Inexpensive

Full colored scan

Excellent tech support
No products found.
Buyer's Guide: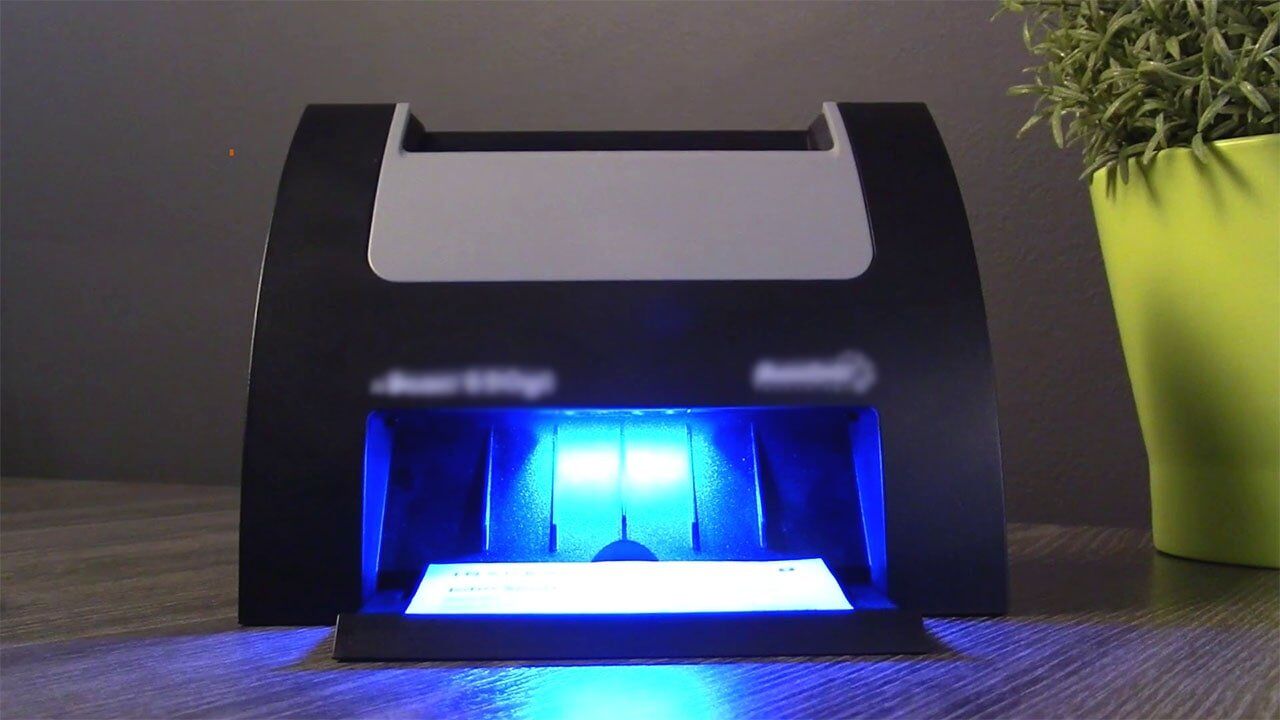 Above, we have evaluated all the best insurance card scanner that you can ever find in the market.
However, if none of these address your specific requirements for the scanner, then you can always purchase any other suitable product.
Before you make haste in the purchase, we strongly recommend you to use the below-mentioned evaluation factors to ensure the best possible quality. Read more!
Type of Insurance Card Scanners:
Although finding an insurance card scanner for medical offices might seem like a narrowed down and specific demand, you will still have to select from a sea of scanners.
There are several types of scanners available in the market, including:
Flatbed Scanners
Looks-wise, the flatbed scanners resemble a photocopy machine. However, it is quite versatile and smaller in size. You can use it to scan documents, photographs, cards, and whatnot.
To use, you simply place the card on the glass panel on the top so that the light underneath reflects it. An integrated image sensor captures this reflection and produces the scan.
Duplex Scanners
The Duplex insurance card scanner is capable of printing both sides of the card at once. It has either two image sensors or scans heads for the purpose.
However, these come at a fairly expensive price.
Portable Scanners
These scanners have a small and compact structure, which makes them extremely portable. You can carry and use these scanners anywhere.
Sheetfed Scanners
As the name says, the only feature that distinguishes a sheetfed scanner from other scanners is its automatic sheetfed scanner. So, it moves the sheets instead of the scan head.
But, the fast movements can deteriorate the quality of the print. Hence, these are not ideal for high-quality card printing.
All-in-one Scanners
These scanners are capable of performing the function of all scanners, printers, and photocopy machines. However, these do not excel at any of these features.
You can get all types of work done, but it won't have the quality of a separate scanner and printer.
Scan Quality:
When purchasing a scanner, the scan quality matters a lot. It is the primary feature, so you must be vigilant about it.
Below, we have compiled the three factors that determine the scan quality.
Resolution
The resolution tells the number of pixels a scanner can capture per scan. Its units are dots per inch (dpi). You must always select scanners with higher resolution. A higher resolution will yield a better quality of the scan.
Usually, scanners mention resolution in the format of optical resolution x interpolated resolution. For example, if a scanner has a resolution of 700 x 1800dpi, then the 700 will represent the optical resolution.
Comparatively, the optical resolution matters more than interpolated because you can not edit it in post-processing. So, the more the optical resolution of a scanner, the better quality you will get.
Bit Depth
This particular feature refers to the amount of information recorded per pixel. It determines the colors in a scan, which affects the image quality.
Higher bit depth means you will get more colors in a scan.
Also, it determines the size of the files that the scanner can store. Usually, a bit depth of 24 to 36 will give you high-quality scan quality.
Image Sensors
The image sensor is a major component of a scanner, and it directly affects the scan quality.
Insurance card scanners typically use two types of image sensors; Charge Coupled Device (CCD) and Contact Image Sensor (CIS).
Upon comparison, the CIS scanners produce a much less low-quality scan than CCD scanners. However, the CIS scanners are also portable and budget-friendly.
Speed:
If you require an insurance card scanner for commercial or office use, then speed is another factor that should not go neglected. Time consumed for a single scan or scans per minute determines the speed of the scanner.
Surprisingly, high-grade scanners take much more time than low-quality ones. However, day by day, we see innovative additions to these high-tech scanners.
Durability:
All the flatbed, duplex, and sheetfed scanners last at least 5 to 8-years of intensive use. These are bulkier and sturdier than other types of scanners.
However, portable and all-in-one scanners may or may not last long. You need to browse their build, design features, maintenance requirements, and evaluate reviews to find whether they are durable or not.
When in doubt, you should always consider scanners that come directly from the company or have warranties along with the package.
Frequently Asked Question:
Conclusion:
All the scanners mentioned above are some of the best-performing ones in the market.
However, our team dug into more details and comparisons to find the ideally best insurance card scanner.
And, the winner came out to be none other than the amazing Fujitsu ScanSnap iX1500 Color Duplex Scanner. This is a versatile and exceptional card scanner ever!
It provides premium quality scans with all those vibrant and vivid colors. Also, the scanner features an integrated, easy-to-use, and convenient design. Anyone can operate it quite easily.
Its duplex mechanism enables you to scan both sides of the card into a single image. And, the scan speed is simply great!
Besides, it has extensive compatibility so that you can pair it with any device and get scanning. We highly recommend it!