Have you heard of the term "tape-to-tape? It is an expression that describes a smooth pass from one team player to another.
If you are a hockey player, you would want to ace in the different types of passes. However, this requires a lot of skills and practice.
It is pretty impressive to watch other hockey players giving and receiving a pass while skating at their top speed. But do you wish to excel at hockey too?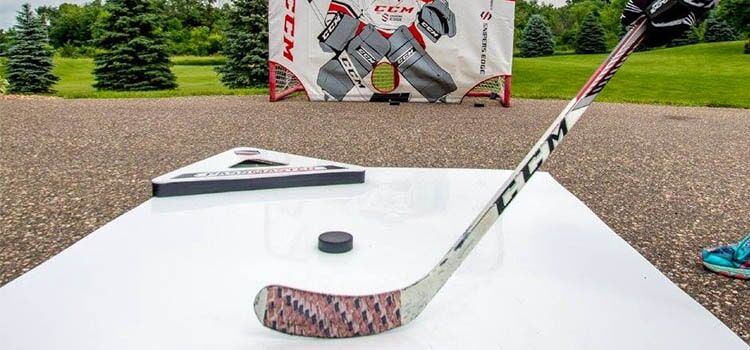 We are aware that the limited time with the teammates and on the ice can be overwhelming. However, with several industry-leading design hockey rebounders, you can develop your unstoppable skills.
You can maximize your practice time either by practicing solo or with your friend. Do you want to step up with those tape-to-tape shots?
You should check out the top-tier hockey rebounder that we have reviewed. It will help you pass the puck accurately and fluidly and help you score great goals with your teammates.
Take a look!
Comparing 5 Best Hockey Rebounder
1. Snipers Edge PassMaster – A Stellar Hockey Pass Rebounder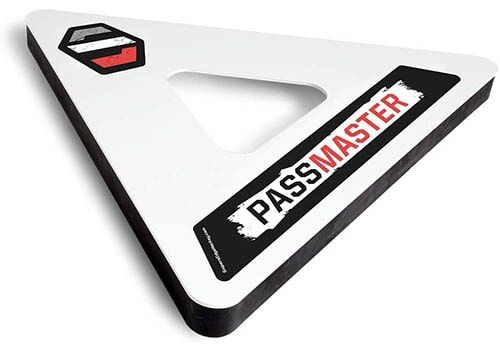 No products found.
Are you looking for a great training tool that you can use as a passing station for developing players?
This one-time trainer and passing tool will help you deliver soft passes, assist you to keep the stick on the ice, improve your stick-handling speed, and will allow you to pass or receive the puck accurately.
It is an excellent hockey rebounder to improve your skills and perfect your passing for the game. This versatile product is one of the bestsellers in the market.
What is so remarkable about this product?
This triangular shape rebounder has three usable sides that allow three players to play at one time.
It is a sleek, professional product that is engineered from heavy-duty rubber and steel.
This high-quality rebounder is heavy enough and weighs around 20 pounds. Moreover, it is highly durable because it is made from solid steel and high-strength and industrial reflex band.
What's more, its three sides will make your daily drill effective. It is ideal for receiving passes, one-timers, speed, and accuracy.
It is also fantastic for developing soft hands and gaining strength and control.
What else? You can use this rebounder on and off the ice to develop stronger and quicker hands.
The Snipers Edge is equipped with spikes to keep it in place; however, you can remove them to practice on the basement, garage, or driveway.
Oddly enough, it might not stick well on the surface like hockey tiles. Plus, your puck might get stuck if you pass it too hard.
Pros
Triple-sided rebounder

Durable

Aesthetic design

Multi-surface usage

Heavy-duty and well-built

Ideal for three players
Cons
It may not stick well on most surfaces

You cannot pass too hard
No products found.
2. Field Hockey Star Rebounder – A High-Quality Field Hockey Rebounder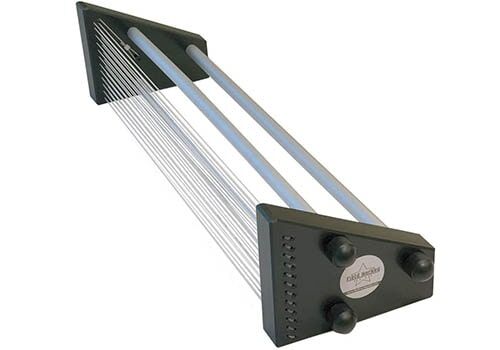 No products found.
It is an excellent tool for any field hockey player because it is easy to move around and use. This lightweight and professional-grade rebounder is engineered for individual training.
It provides a realistic passing experience by allowing the person to work on their skills from the comfort of their home. The good part? You will not require a training partner.
What else? This self-passing tool will help you develop various techniques, i.e., one-time passes, quick passes, short passes, and will improve your speed and power.
Moreover, you will receive a slight airball if you flip the rebounder.
this field hockey rebounder improves ball control and hand-eye coordination because it offers an immediate rebounding response.
What's more, you can carry this portable and convenient rebounder anywhere you want. You can use this European-made hockey ball passer outdoors or indoors.
It is perfect when you do not have access to a basketball court, artificial grass, or an outside field. It will work perfectly on any flat surface like carpet, tile, cement, or wood.
What makes this rebounder unique? It features a training application that allows users to participate in an interactive workout. It will serve you as your coach.
Surprisingly enough, this product is perfect for short-distance ball-handling practice and would be a bit difficult to use for practicing longer shots.
Pros
A field rebounder

It offers two useful ways

Ideal for outdoors and indoors

Includes a training application

Robust and well-built

Long-lasting

Improves ball control

Enhances hand-eye coordination
Cons
Not for practicing long shots
No products found.
3. TruPasser Roller Rebounder – A Dual-Purpose Hockey Puck Rebounder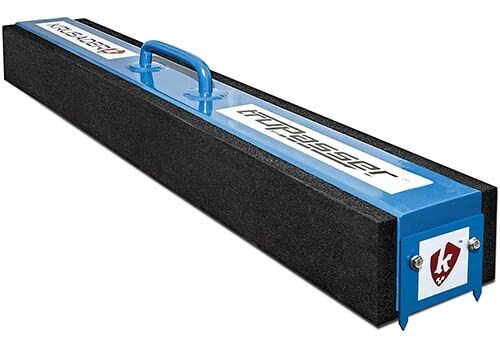 No products found.
Are you looking for a well-built, sturdy, and heavy rebounder for self-training? This rebounder is a long and large block that is not flimsy.
It is constructed from heavy-duty 11-gauge steel that makes this product robust, and it weighs around 28 pounds. Plus, it has a welded handle for easy portability and storage.
What makes this rebounder different from others?
It offers two large rebounding surfaces that provide consistent and realistic rebounds. Unlike rubber band rebounders, it will give consistent rebounds on any surface, even those not flat.
Moreover, this dual-purpose product allows you to practice on-ice and off-ice. It comes with spikes, screws, and side plates that you can install to use on ice.
However, you have to remove the side plate to practice on non-icy surfaces with roller pucks. Furthermore, it includes a sizeable anti-slip pad to secure the rebounder.
This rebounder does return hard passes or the ones that are slightly off the ground. The return passes may not come harder than those of the walls.
Pros
Sturdy and robust

Two rebounding edges

Ideal for on and off ice practice

Portable

Works well on any surface

Includes anti-slip pad
Cons
Return passes might not be harder
No products found.
4. Better Hockey Extreme – A Triangular Multiple Surface and Ice Hockey Rebounder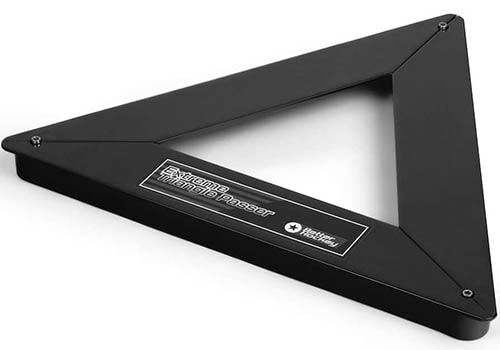 No products found.
Are you looking for an excellent ice hockey practice partner that you can play with outdoors or in-home?
This three-sided rebounder is fun to use because it is heavy-duty and works excellent. Its triangular shape allows you to pass the puck from three different areas.
Not to mention, several NHL players have used this passing aid to train themselves.
Its metal frame is well-built and has greater longevity. It has rugged rubber and steel and offers three 22-inches passing slots.
What's more, it has a heavy steel frame with retractable spikes that do not allow the rebounder to move even on harder passes.
Moreover, the band is very responsive and thick when the puck makes contact; thus, it will help you master shooting, passing, and stickhandling skills.
Since the rebounder is rugged and wide, it will not allow the puck to slide underneath the triangle even if you hit the puck hard.
Surprisingly enough, the puck might go under the band most of the time if the surface is not flat.
What else? This training buddy is highly versatile. You can practice on multiple surfaces like shooting pads, hockey tiles, asphalt, concrete, and real ice.
Furthermore, this product comes with retractable spikes and smooth rubber feet; therefore, making it easier for you to be used for off or on-ice drills.
Pros
Heavy-duty and rugged

Three side passer

Removable spikes

Smooth feet that prevent moving

It can handle tough shots

Durable

Long-lasting
Cons
Works on a flat surface

The puck may slide under the band
No products found.
5. Hockey Revolution Rebounder – A Heavy-duty and Skill Developing Passing Trainer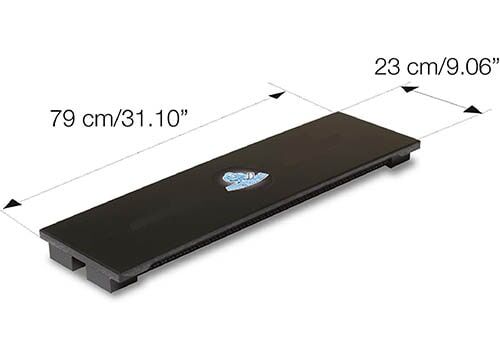 No products found.
This double-sided rebounder has a great size that allows two players to practice. Plus, this durable passer will enable you to shoot from 18 to 20 feet from the goal.
What features does this hockey rebounder offer?
It allows passers to pass from both sides with the help of two bungee cords. Thus, it is perfect for skill development drills.
Moreover, this durable and high-quality product improves passing movements and peripheral vision. It also helps in developing basic body movements.
Plus, to help you step up your hockey game, it comes with a hockey revolution training application. It is quick to install and offers an interactive workout for intermediate and advanced players.
What's more, this rebounder is manufactured in Europe, and it is built to last long. Although rugged, this rebounder is somewhat lighter than other products available on the market.
Not to mention, it is ideal for off or on-ice training usage; however, it will work best only on flat surfaces. It comes with special fixing rubbers for training on dry land and special fixing screws for ice training.
Besides its remarkable benefits, users pointed out a few drawbacks. The pass should be perfectly flat; otherwise, the puck will not return.
Plus, the band should be a bit wider to prevent the puck from hopping into the unit. It needs a slight design improvement; otherwise, the product works stellarly.
Pros
Lightweight

Dual-sided

Durable

Top-quality rebounder

Perfect for on or off ice training
Cons
The flat pass is mandatory

It does not have a wide band
No products found.
Best Hockey Rebounder Buyer's Guide: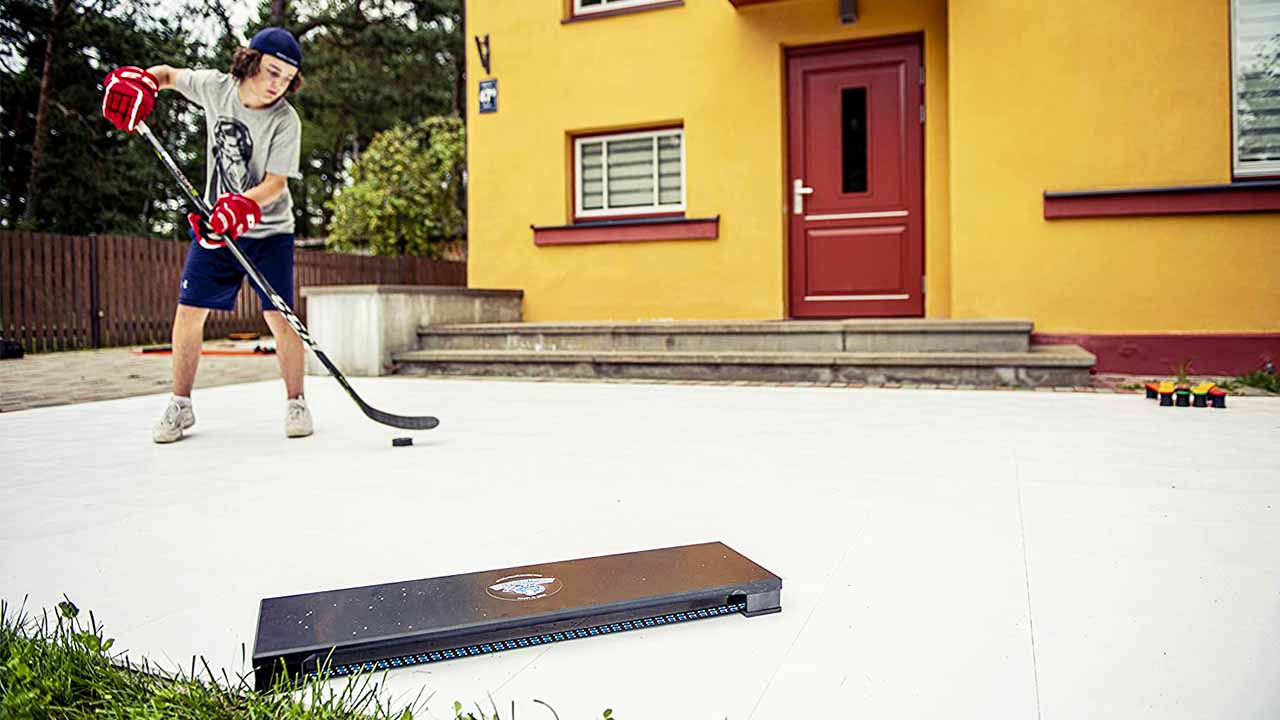 Hockey rebounders allow beginners, intermediate, and advanced players to excel in their game. They help them to develop their skills like passing and shooting.
They also improve hand-eye coordination, stickhandling, and peripheral vision. Therefore, if you are looking forward to becoming a hockey expert, you should invest in a good hockey rebounder.
Since there are so many rebounders out there, one can get easily frustrated. Selection can become overwhelming when you have to go through several product reviews at once.
However, with the best rebounders mentioned above, we have also listed a few criteria -Checkmark all these criteria before purchasing your hockey rebounder.
These aspects are as follows:
Rebound Quality
This is crucial to consider because nobody wants to throw the puck to get a slight rebound in return. Your rebounder should give you the feeling that you are receiving an actual pass from your teammate.
Therefore, you need a product whose return pass is harder, and it sends back the puck with similar force.
Durability
If you are committed or devoted to improving your hockey skills, you will have to send the puck several times to be better than you were before.
Due to this, you have to consider a rebounder that is heavy-duty and durable. The passing aid should be rugged and sturdy enough to help you master the skills you wish to achieve.
Versatility
This is another important quality of a rebounder that you should check before purchasing a rebounder. A stellar hockey rebounder usually enables players to play on the
Ice

Flat surfaces such as asphalt, driveway, garage, or concrete

Shooting tiles or shooting pads
First, ask yourself a question about where you are planning to use a rebounder. Then, check which rebounder can be used where.
Several brands offer rebounders that can be used on and off the ice. These stellar passing aids come with additional gripping systems to allow you to use them on ice without any problem.
Weight
These passers should be light in weight for portability and storage. However, they should be robust enough to withstand hard passes and send the puck at the same force.
Passer's Shape
Another crucial criterion is to select the passer's shape. Each has its own merits and demerits; therefore, choose according to your needs or preference.
Some of the few rebounder's shapes are as follows:
Linear
Since they are rectangular, they have a long rebound section. Moreover, they are available in various price ranges; some are cheaper while others are expensive. Plus, they work best on a shooting pad.
The only downside is that they have one rebounding edge since they are long and are best suitable for a single player.
4-Way
These types of training aids can train up to four players at once. They are excellent in developing fast hockey hands in receiving and giving the passes.
However, these rebounders are somewhat heavy and are not lightweight. They are challenging to move around and carry.
Triangle
Triangular rebounders allow three players to practice at once. These kinds of training aids are versatile and enable players to practice various exercises.
They can be used on or off the ice and are pretty robust and durable. Furthermore, they are lightweight and portable. You can easily carry or store them.
Price
It is one of the essential factors because everyone wants a high-quality product at a reasonable price. We have mentioned all the products that have an affordable price.
If you consider how many different exercises you can practice with a rebounder and how it can help you enhance or improve your skills, it is an excellent investment for hours of fun.
Frequently Asked Questions
Conclusion:
Elite hockey players have excellent skills; it's all due to continuous practice.
If you want to step up your hockey game, you should invest in a fantastic training tool that can help you in developing skills that a great player needs.
Our best hockey rebounder will not fail to impress you. However, keep the criteria in mind before selecting the best one according to your requirements.
Investing in a rebounder will help you practice all the shots and passes you wish to learn this summer. So, which one are you going to pick? Let us know in the comment section.