The comprehensive protection masks are not that easily available in the market. It takes time to get your hands on the best dust mask for construction that will keep you protected from dust particles, smoke, and exhaust gases.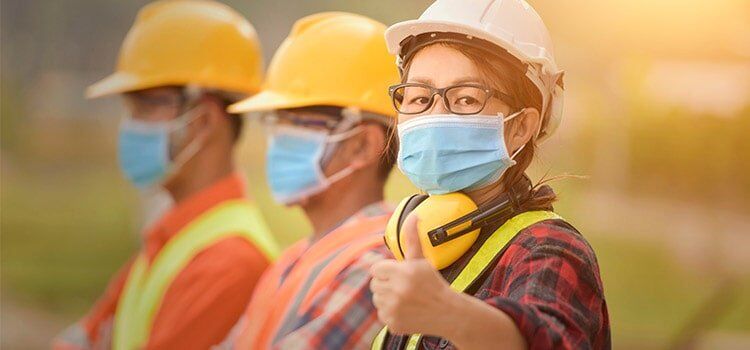 However, usually, I see that due to the low-budget and unawareness, mine workers or people working at construction sites are deprived of the best face masks.
Therefore, here I am with the top-picks – 7 dust masks that are reliable, have high-filtering technology, and are light on the pocket. Its job is to protect your lungs from the dust around you.
Stay With Me to Read More!
Comparing 7 Best Dust Mask For Construction
Most of the dust masks offer overall protection and safety for all the users because they are made up of high-quality material.
What's your say about it?
Read the complete article to agree with us!
1. 3M Full Facepiece Reusable Respirator 6800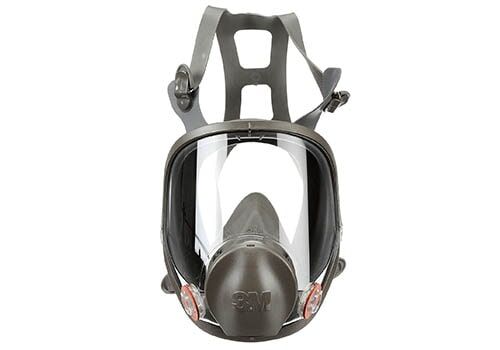 No products found.
Paint fumes, chemical vapors, and dust are hazardous to health. If you are working in an industry where you encounter these things daily, you would be familiar with respirators that help to freely breathe while in a toxic environment.
What makes this one different?
Amazingly, this 3M facepiece has the quality to seal the face quite effectively and comfortably through its silicone seal. It has good balance control and is lightweight too, so you won't feel it weighing down on your face at all!
Furthermore, it meets the eye and face protection standard of ANSI Z87.1 2010. Its lens is marked with the Z87+ which assures you that it can withstand mass and high-velocity impact as well.
Also, it protects your eyes and your face from harmful dust and chemicals. So, you'll be safe from any flying particles or vapors invisible to the naked eye.
Worried that visibility might be affected?
It is true! Because it has a large lens that does not blind your vision from the sides.
The integrated optical correction assures that as you look from one side to the other, the distortion is minimized! So, no more hindrance during working! Especially if you work on intricate projects such as paint patterns, this is great.
Also, don't worry about steaming the lens because of breathing. It has a unique 3M technology, the Cool Flow Valve that keeps your face and the lens dry. Now that's what I call ease of use!
Furthermore, the unique adapter in the center assures that the exhaled breath and moisture are directed downwards! So, you are not breathing in the exhaled breath.
Do you have a dusty worksite?
Don't worry! Its smooth surface allows you to clean it quite easily and quickly. Therefore, you can use it again and again.
So, you don't worry about the dust accumulated on the lens and the mask, distorting your view, or looking unpleasant.
Does your work involve acid and chemicals? You can combine the mask with 3M chemical cartridges or particulate filters to match your job requirements.
Visit their official site for more details on the compatibility of different 3M filters with this model.
So, if your worksite involves an encounter with mold, paint, or dust, the mask can accumulate the filters accordingly.
This makes it quite versatile to use! Therefore, I won't be wrong if I say that it is the best dust respirator mask for construction workers where different activities are conducted.
However, like all safety equipment, you should use it following the instructions provided because misuse of the products might result in sickness, property damage, or injury.
If you wear glasses, you might face difficulty in obtaining the seal. However, it depends on the shape of your frame.
Pros
Effective seal

Large lens

Optical correction

Easy clean

Versatile use

Comfortable fit

Meets ANSI Z87.1 standard
Cons
People with big glass frames might have difficulty in sealing the face appropriately
No products found.
2. GVS SPR457 Elipse P100 Respirator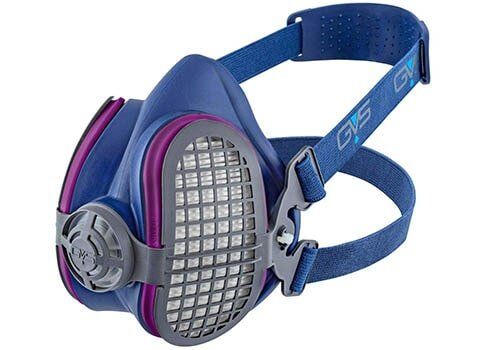 No products found.
The GVS Elipse mask shields you from mist, grain dust, concrete, welding fumes, fibers, asbestos, wood dust, and silica dust.
You can use it in combination with safety goggles for full-face protection.
It is extremely lightweight, specifically 130 grams! Therefore, it allows you to wear it for a longer duration without feeling weighted.
You can easily adjust the headband for a comfortable feel.
How a half mask is perfect:
It is designed for use with or without goggles. The filter is situated quite low to fit your face and give you an unobstructed vision.
It completely seals around the nose, so your safety glasses do not fog from breathing.
Therefore, even if you wear glasses, it won't be a problem. Also, you can use them with helmets and headphones quite easily!
Furthermore, the HEPA filters do not hinder breathing, therefore, giving you a comfortable experience. Say goodbye to fatigue!
Are you allergic to silicone?
Many face masks and dust protectors use silicone or latex to provide a complete fit. However, many people are allergic to silicone, making it difficult for them to wear such masks.
This mask is made from hypoallergenic material: thermoplastic elastomer, which is perfect for those who show symptoms of skin irritation and latex allergies.
Check out its applicability:
You can use it along with the HESPA P100 filters which are a water-repellent material. Also, a 99.97% protection against particulates of 0.3 microns; and a 99.98% protection against particles of 0.04 microns.
It is also NIOSH-approved! So, don't worry about the safety that this mask offers.
The best part is that the kit comes with a pair of filters inside! So, the mask is ready to be used immediately. However, after this, you would have to order the filters separately.
You can use it in extreme temperatures too! It ranges from -5 degrees Celsius to 55 degrees Celsius.
Although it is an ideal face mask for construction workers, it is not effective against chemical fumes, paints, pesticides, or molds.
Though there are other masks in the brand's range that provide these benefits too!
Compared to a disposable mask, this is quite effective in protecting against all kinds of dust, be it metal, coal, cement, or wood. So, it is a great replacement for disposable masks.
However, if you want protection against paint fumes and chemical vapors, you might want to check out other masks.
Pros
NIOSH Approved

Comfortable

Lightweight

Hypoallergenic material

You can use it with other equipment
Cons
Does not protect against chemical vapors, paint fumes, pesticides, and molds
No products found.
3. Trend Stealth Air APF10 Respirator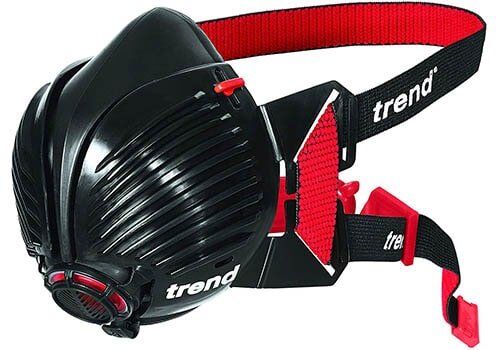 No products found.
The Trend Stealth Air presents a half-mask that is great for airborne particles. It is also approved for the BS EN 140 and 143 P3R standards for respiratory protective equipment for work.
It gives 99.99% protection against particles of 0.3 microns and above. Now that's efficiency!
So, whether it be fumes, mist, oil aerosols, and welds, it gives all-rounder protection. Also, there is less inward leakage and clogging pressure.
It gives an Assigned Protection Factor 10 rating, which is the maximum required by OSHA for half-face masks.
Is your skin sensitive?
Many masks come with latex and silicone to provide a complete fit. However, it might give some people skin allergies and irritation. This mask is made from odor-free, latex, and silicone-free material that is used commonly for sealing.
Also, the exhalation valve at the bottom assures that the air that is exhaled does not fog the glasses that you wear alongside.
There's more that adds to the protection!
The filters are situated inside hinged grills which assure protection from moisture and also improve filtration efficiency. You can replace the filters quite easily too!
Though it is equipped with filters and gives a great fit to the face, it does not hinder breathing. This is because of the large surface area of the filter.
Also, the neck and head straps are very comfortable too. You can adjust it as per your requirements and comfort level.
It is so comfortable that it gives great comfort even if you wear it for more than 8 hours! It is lightweight too, which is perfect for long wear. Specifically, its weight is 6.7 ounces, which is very light.
One drawback is that wearing it with prescription glasses plus safety glasses or headphones might not be comfortable.
The mask might result in an imbalance with two to three additional items. However, if your frames are small, they might fit well.
Pros
Anti-allergic material

Comfortable

Meets required standards

Hinged grills

Maximum filtration efficiency
Cons
Additional equipment might not fit well with the mask because it might get in the way
No products found.
4. 3M Rugged Comfort Quick Latch Respirator 6502QLx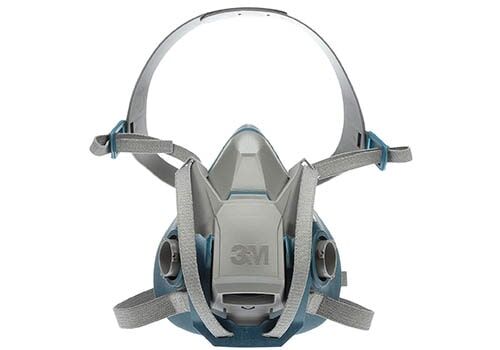 No products found.
If you are irritated by the tight respirator, know that you are not the only one. Everyone wants to have an easy-to-wear respirator that does not feel like you are fighting to breathe and can hardly get any air through.
A hand is all you need:
Not only does it take one touch to wear it and put it down, but the adjustable head harness also allows fitting 3 sizes. So, you can change the size if you are not comfortable.
1, 2, 3, it is as simple as this!
Wearing the respirator is very easy. Firstly, you need to unfasten the straps on the bottom and place them over the nose and mouth. Adjust it to give a comfortable fit.
Moreover, be sure to place the head cradle on your head's crown.
Secondly, hook the straps on the back of your head. Lastly, get down to adjusting the strap tension.
Wait!
Remember not to tighten the straps too much. If that is the case, initially you won't feel much pressure, but after a while, it can result in a headache.
Therefore, this is the reason why it is one of the most user-friendly ones on the market. Additionally, the spandex and polyester straps make it comfortable and elastic.
Furthermore, the 3M's Proprietary cool flow valve is inbuilt and makes breathing easier by reducing moisture and heat.
Best of all:
The most remarkable feature is that it is compatible with other 3M bayonet-shaped filters and cartridges. This feature makes it highly versatile for extreme work environments.
Thus, this is the reason why these heavy-duty respirators are specifically designed for industrial uses and not for use by the general public.
Moreover, the low-profile, sleek design is unique in the sense that it gives the workers a broader vision. Hence, making it a good option for compact places.
Say bye-bye to fogging:
Undoubtedly, fogging is a big issue when it comes to respirators. First of all, it is inconvenient. On the other hand, it is dangerous too.
If you are doing some dangerous work and your mask fogs up, it can be fatal. It comes with a special valve cover.
What is so special about a valve cover?
Surprisingly, the design is very well thought about. The valve cover is a useful addition that makes the moisture and air you exhale go downwards.
In this way, there is no fogging as the air does not accumulate inside.
The silicone face seal is resilient and this is what translates into durability. Also, it does not let the piece lose its shape under extreme conditions. For instance, high-heat environments.
Amazingly thin body:
It has a thickness of only 1". Yes, for the multiple features it offers, this is very lightweight and thin.
Remember:
Every time you are done with the piece, you need to check all the seals. Otherwise, you can't ensure if it is working properly or not. Worse yet, you can end up inhaling toxic materials and gases.
Better safe than sorry:
Check the positive and negative pressure user seals before you go ahead and wear them. Make it a habit to check it every time you use it.
The trick to getting a proper seal is to press the center of the filters on both sides while inhaling air. If you can feel it collapsing slightly, the seal is perfect.
Be careful to read the instruction manual thoroughly before using it.
The only downside to it is that sometimes, the masks contain traces of grease which seemed a little odd to us.
Pros
Compatible with 3M bayonet filters

3M Cool flow valve

The durable silicone facepiece

Less fogging

One-hand touch drop function

Low profile
Cons
It has some sort of grease inside
No products found.
5. RZ Dust Mask Unisex – Light Weight, and Durable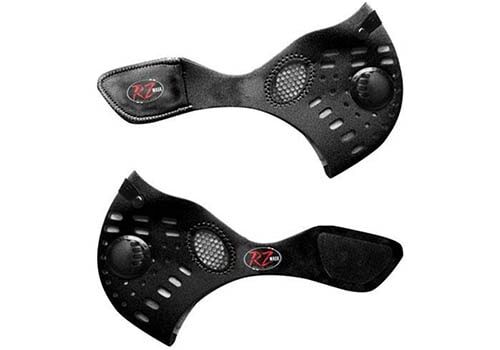 No products found.
When it comes to durability, RZ Mask is well-known for it! Being made of Neoprene does the trick, I assume. It does not tear away like the other thin fabrics and gives the mask longevity.
Tough on the outside, comfortable on the inside:
Even though it is tough on the outside, the inside is soft. The inner filters are replaceable and the material used inside is soft and comfortable. Therefore, you can wear the mask all day and still not feel any sort of burden.
Want to feel like you are breathing naturally?
Bingo! This is exactly what you will feel. The reason is, it has two air valves that give the best breathing comfort and make it seem like there is no obstruction and you are breathing naturally.
Unisex! You can say that again!
The black color and sleek finish make it a good buy for everyone. Now, you can get high-quality masks for the entire family. Moreover, you can easily adjust the straps to get a custom fit.
The Velcro strap adds to the user-friendly nature by making wearing and taking it off easy. No more pushing and pulling to get rid of the mask.
Tired of boring masks?
If there is one thing common in all masks, it is that they are very boring. But, not this one. Surely, it is one unique piece.
It has a pocket on the back, which can be used to hold your MP3 player while you listen to music. Interesting, isn't it?
Does it get any better?
Apparently, it does. The mask is washable by hand and can be reused when required. For best protection, it comes with a storage bag to ensure your mask is in safe hands even when you are not using it.
The only issue we faced was that it is not glasses-friendly. Fitting the glasses on top of the mask was nearly impossible and even once that is done, they tend to keep falling and creating a hassle.
Pros
Velcro adjustable straps

Unisex

Hand washable

Removable filters

Two removable air discharge valves

Durable

Affordable
Cons
Glasses don't adjust well on it
No products found.
6. BASE CAMP M Cross Dust Face Mask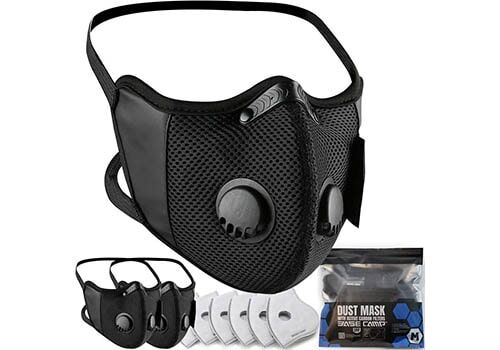 No products found.
Tired of buying masks that don't fit and are not true to their size? Did the Large turn out to be small and vice versa?
Don't panic!
BASE CAMP has introduced a one-size-fits-all option. Therefore, you can buy this without any tension.
Apart from this, the fabrics used are over-the-top. Nylon and melt-blown fabric come together to make it long-lasting and give better performance.
The fabric attracts the impurities and makes it easier to filter them.
Layers and layers of protection:
Unlike the other masks on the market, this is a 4th generation adoption of the BASE CAMP mask. Undoubtedly, it is the best of the line and comes with 6 layers of protection.
First is the layer of polypropylene, followed by double-layered melt blown, thirdly you have an activated charcoal filter, fourthly another layer of melt-blown fabric, the fifth is the ES cotton ending with another layer of polypropylene.
Phew! That is a lot, isn't it?
Altogether, these layers make it possible to filter almost 94% of impurities. For instance, dust, pollution, debris, smoke, pollen, etc.
You can also use it for sanding your log homes.
Best of the line:
Coupled with Advanced Nanotechnology and EAPI Technology, you get the best protection one can ask for.
With breathable mesh material, it enhances the breathability factor by 11.3%. Better materials mean better air circulation, less moisture inside the mask, and better heat dissipation.
Features, features, and more features:
It has a 6.1% higher elasticity as compared to the previous models. Hence, they are super easy to wear and take off. Additionally, maintenance is a piece of cake.
The carbon filter can easily be replaced. On the contrary, the valves and the shell of the mask are detachable. As a result, making it easy to wash.
Forget the hassle of wide back and earloop straps:
No one wants to go through the hassle of having uncomfortable straps around their head and ears. Therefore, the manufacturers have kept in mind comfort while making this mask.
The unique M cross design:
Moreover, the straps are adjustable and elastic and ensure the mask gives a better fit as compared to others.
Say no to fogging:
It comes with one-way valves that are larger than normal. Hence, increasing the exhaustion efficiency by 26.3%. So, you get better exhaustion of carbon dioxide, water vapor, and heat.
Consequently, the humidity level inside the mask is reduced and gives rise to higher performance.
Additionally, the flexible nose clip prevents any type of fog or smoke from reaching your eyes. This seals the mask from the nose area and it is the end of fogged glasses.
Remember:
For the mask to work properly, the seal should be intact and correct. Therefore, it is important to have a mask that fits perfectly and is not loose or tight.
Best of all it is economical as you get a pack of three masks at a super affordable price. Moreover, you get 6 additional charcoal filters.
Sadly, the clasps are placed on the left side and that poses a hassle when wearing and taking it off.
You need to work with both hands while the other masks on the market are more user-friendly as compared to this one.
Pros
6 layered protection

EAPI filter technology

Elastic and adjustable

Reusable

Mesh covers for better breathability

No fogging

Pack of 3
Cons
Clasps are on the left side
No products found.
7. AstroAI Face Mask With Activated Carbon Filters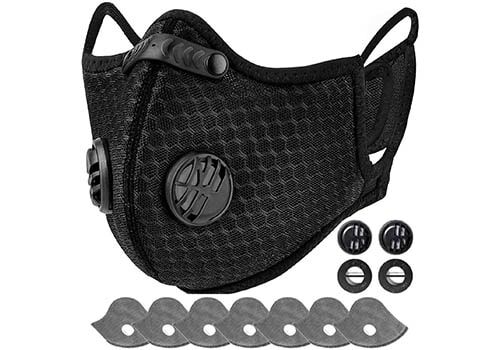 No products found.
Is your work calling for the best dust respirator mask that will keep you protected at the construction sites and from all the outdoor toxic gases?
Then what are you waiting for, AstroAl is here to solve all your problems in a blink of an eye.
Easy to use!
Though it is a single black color mask, it includes six separate activated carbon-made filters, which are available in the package.
It is an adjustable dust mask that offers comprehensive protection to the user due to its 4-layered filter feature. Thus, it is considered ideal for outdoor activities, cycling, and running.
Hence, it is used to remove all the non-oil-related pollutants, particles, and dust in the air.
Check out the replaceable filters:
This face mask is quite helpful during respiration with the inbuilt discharge valve that helps in breathing.
Plus, it also makes escaping moisture and heat easy, prevents fogging of eyeglasses, and keeps you safe from dust pollution.
This mask is dustproof that is made up of 100% nylon that ensures smooth breathing for a long time.
It is well-manufactured by a reputable brand that offers multiple comfortable functions as well as features that include an adjustable strap, flexible hanging ear loop, neck strap, soft and detachable nose pad, and clip.
All these functions provide a flexible, adjustable, and elastic fitting that will improve its wearing characteristic.
Furthermore, this item comes with 7 nose pads including 4 ventilating valves and 7 replacement filters that give a mask an extended life of service.
The plus point is that you can wash the mask by hand easily; however, it comes with a warranty of 1-year, giving its users all-time trouble-free breathing and protection from dust.
It is suggested that filters should be changed frequently after 40 hours while the user can only wash the mask, not the filters.
Pros
Good breathability

Comfortable to wear

Manageable

Lightweight

Durable

Good quality mask
Cons
Can sometimes slide down on the nose, if not adjusted properly

Can appear flimsy
No products found.
Buyer's Guide:
Ever heard about the specifically designed face mask for construction workers that is easy to wear and beneficial for your health as well?
Here you will find everything that you were searching for in a facepiece that offers complete face coverage and is available in standard sizes.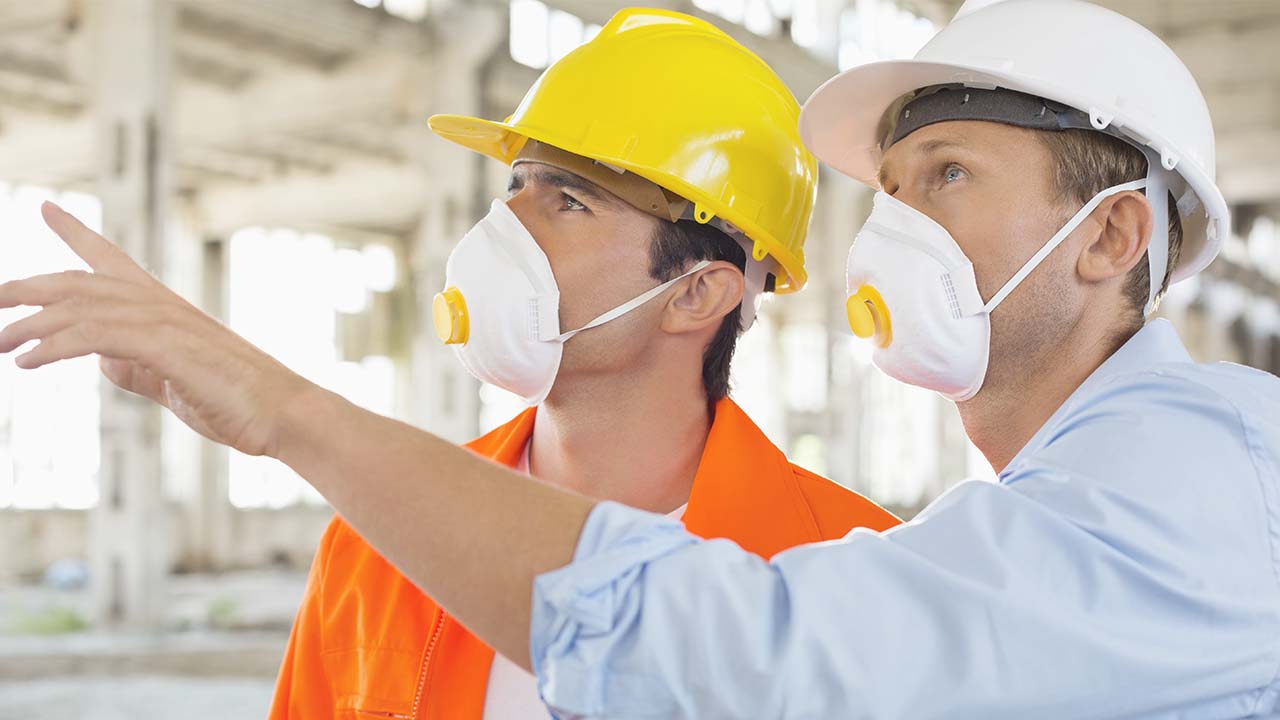 First of all, if you are looking for the best dust mask for construction then you should consider a few features in detail.
These details will tell you about the ideal version of masks available in the market that will suit your location, job, and budget.
So, what do you think, should we give it a start?
First thing first:
Material - How Compatible it is?
Usually, face masks are manufactured using different materials that include Nylon, Silicone, Thermoplastic Elastomer, Air Stealth, Polyester, Odor-free, and non-allergenic material.
Hence, they are considered good for breathing, enable easy respiration, and protect human nostrils and lungs from the dust.
If you want to buy one, then you should look for face masks made up of these particular materials. However, customers usually prefer buying dust masks made up of 100% nylon.
But, you have to take care of the material feature as well, as it should be recyclable which will save you money. However, many of these face-covering tools are reusable, replaceable, and come with an extra pack of filters.
Good for you!
Size - that you Demand!
You should keep in mind the adjustable and flexible sizes of the face masks that you want to buy. Every gear has its specific size and style.
Thus, they might be available in medium, large, and standard sizes that are most suitable for every face.
So, choose wisely when it comes to the selection of sizes. Some of the masks offer a complete size guide sheet that will help you to find one according to your face.
How Does it Protect? - Point to Ponder!
These tools are specifically designed to give you protection from all the non-oil particles, chemicals, gases, fumes, and harmful elements present in the air.
Therefore, it is structured in such a way that it will offer the user broad safety to enhance durability and comfort.
With the presence of the respiratory valve, the tool provides a complete face seal that is required when you are entering a contaminated area.
Their soft, resistant, dustproof, and light properties will make them eligible to be used in every field. Plus, their anatomical design protects the user from all the nanoparticles present in the air.
Moreover, they are considered ideal for all the glasses wearers who are sick of the fog appearing on the glass. Additionally, with the replaceable high-tech filters, protection has been made convenient and efficient.
Tip: Choose the masks that offer full seal protection with the face.
How to Clean the Mask? - Want to Know!
If you are selecting the face mask from our top picks, then you should know that they are easy to wash and easy to clean. What you can do is:
You can easily change the filters (if available)

Wash the mask by hand, without filters
Yes, it is that simple!
How to Wear it? - For the Beginners
Wearing elastic or strapped masks is not that difficult. They can be worn while following a few simple steps:
Unfastened the strap, then put the mask over your mouth and nose

Make sure that the respirator is covering your whole mouth

Bring the straps at the back of your neck and fasten them or hook them together

Afterward, adjust the tension of the strap according to your requirement and push the straps into the buckle
Note: Never over-tighten the straps of the masks.
Durability - Want to Know?
Choose the mask that is long-lasting and offers you a lot of benefits. Firstly, check the manufacturing of the gear, then the warranty, and then the applications.
Still, if you are not satisfied with your choice then try to refer to the packaging details, and consider the other features that you find suitable.
Filters - How Should they be Treated?
Before purchasing the right gear for personal protection, you should keep in mind the filtration technique and the available filters.
If they are disposable then you should dispose of them after a certain period of time.
If they are recyclable and reusable then you should change them frequently.
Some of them are considered to be activated carbon filters that are installed inside the face mask to ensure better protection.
So, now it's on you, which one to choose
Frequently Asked Questions:
Conclusion:
Construction sites have a variety of tasks going on. This includes cement work, woodwork, welding, painting, chemicals, and dust.
When it comes to the best dust mask for construction, you might be looking for something that gives you all-around protection.
Our top pick is the 3M Full Facepiece Reusable Respirator 6800. This is because it provides all-in-one protection. No need to add safety goggles on top!
Furthermore, you can clean the lens easily. It includes an optical correction for distortion-free vision.
Also, it is compatible with many filters and chemical cartridges which give it the versatility for use in construction sites.
However, it also depends on your requirements. If you wear prescription glasses and large frames, you might not attain the seal required for complete protection.
Also, if you wear headphones, it might hinder the effective use of headphones too. In this case, you can choose a 3M half facepiece from our list. All in all, the decision lies with you and your requirements.
Choose wisely!