Although we have the luxury of electrical power, several uncontrollable factors require lamp-lit solutions.
If you live in a natural disaster-prone area, you must be ready for anything.
There are many places where floods, hurricanes, and tornadoes make appearances, and it becomes necessary to have everything at hand – even the lanterns.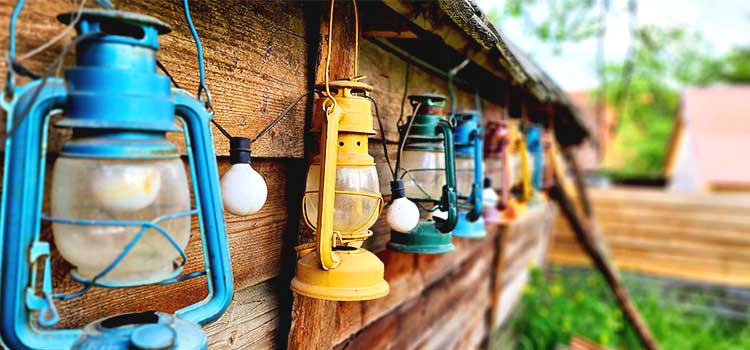 Why invest in an old-school lantern when we have LED torch lights?
These lanterns are super handy tools, especially when camping, in adverse weather conditions, power outages, and other emergencies.
Moreover, a lantern should be a part of your emergency kit because, unlike a torch, it not only illuminates the area but also keeps it warm. Plus, no torch can beat the lantern's glow.
We are coming to the most common question of yours: "which lantern should I buy?" Since the internet is filled with variety, selection inevitably becomes overwhelming.
After thorough searching, we have curated and listed a few lamps from which you can select your top-notch Dietz lantern.
If you want to light up your surroundings with this refined structure, scroll below for some detailed product reviews and a buying guide!
Comparing 7 Best Dietz Lantern
1. Dietz #80 Blizzard Hurricane – The Brightest Dietz Lantern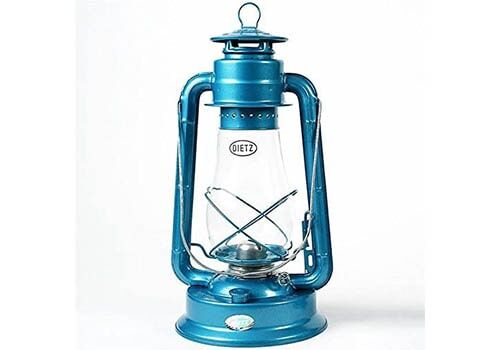 If you are looking to upgrade your old lantern, you will be pleased with this purchase. So what makes a blizzard a top-grade lantern?
It is one of the brightest wick lanterns whose light output is spectacular. This stationery light lights up the whole area because it is pretty large, possesses a tall globe, and has a wide flame.
This striking blue lantern is approximately 15 inches tall, and it can burn up to twenty-six hours with around thirty-one ounces of fuel.
Since it works for an extended period, you do not have to worry about torch batteries going dead.
Moreover, this oil lamp includes a ⅞-inch wick. Plus, it will burn bright as a star because of its twelve candlepower output.
What's more, its beautiful metallic exterior allows you to use this blue lantern as backyard decor for an old-fashioned and traditional look.
Plus, its color blue will stand out but will blend in perfectly with your other decorations.
Besides enhancing your backyard, you can use it for various purposes like backyard BBQ, camping, and it is a good investment against storms, power outages, and darkness.
Not to mention, it is the best kerosene lantern available because it is bright and offers a long-lasting service. It is also easy to operate and effortless to maintain.
What is the best way to use this lamp? This product only requires clean and clear kerosene to work. Using colored or scented fuels will only clog up the wick and will prevent burning.
What about its drawbacks? Many people complain that this lantern leaks. However, usually overfilling causes this problem. Fill the lantern up to 70 to 80% to prevent such issues.
Although you can use it for outdoor and indoor purposes, its massive size makes this oil lamp best for outdoor use only.
Pros
Delivers bright light

Large wick

Stellar candlepower output

Massive fuel capacity

Straightforward usage

Easy maintenance

Long-lasting
Cons
Might leak

Ideal for outdoor purposes
No products found.
2. Dietz #76 Lantern – An Economical Lantern for Subtle Lighting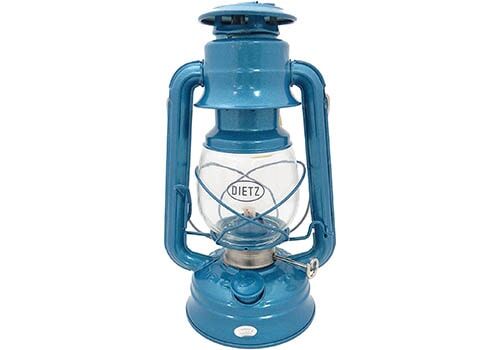 No products found.
Are you looking for a lantern that produces subtle lighting? This will be your go-to lantern if you do not prefer the brightness of liquid fuel or propane lanterns.
It produces a steady, pleasant, and warm light that is ample enough to illuminate your desk, small room, and you can easily do whatever chores you wish to do.
Moreover, you can also use it for emergency lighting, backyard or indoor decor, traveling, or camping.
Besides using it for emergencies, this oil lamp relaxes, comforts, and calms the person with its pleasing light and warmth.
In addition, this lantern is visually appealing and delivers a pleasant experience than fluorescent lighting.
What's more, this lantern has a durable construction, and with proper care, it can last long.
Plus, the Dietz #76 lantern's metal gauge is thick, has better overall finishing, and possesses a thick glass globe. In short, it is well-built and sturdy.
Furthermore, this oil lantern is manufactured in China and comes with a lamp globe burner and ½-inch wick.
It can burn for eleven hours straight on eight ounces of fuel; thus, it is budget-friendly. Plus, it has a seven candlepower output.
What's the best part? The flame does not blow out quickly, and it is pretty weather-resistant. It delivers consistent flames.
What else? This oil lamp uses highly refined kerosene; therefore, do not use any other oils like olive, citronella, or canola oils because it will clog the wick and produce unwanted soot.
It is straightforward to use and does not require any extensive procedure to maintain this product.
Moreover, the lantern becomes very hot, so do not touch the top and the glass globe. If you want to take it somewhere else, pick it up from the sides or base as they remain cool.
If we talk about its downsides, this lamp produces soot at high settings, and its light is not brighter than a propane lantern.
Pros
Economical

Safe to use

Weather-resistant

Easy maintenance

Compact

Soft, subtle, consistent, and pleasing light

Well-built and sturdy
Cons
Not the brightest lantern

It might emit soot at higher settings
No products found.
3. Dietz Little Wizard Lantern – A Little Wizard for the Blizzard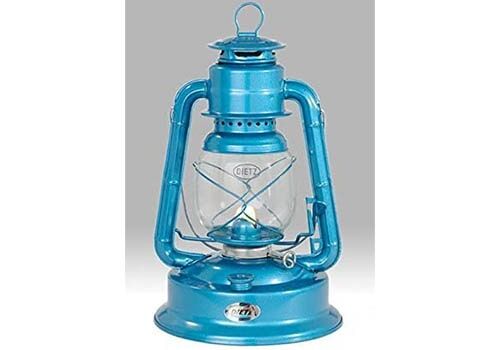 No products found.
If you want a light brighter than the candle and the flame that burns forever, Dietz little wizard is the one you need to enjoy the calming and relaxing effects of the glowing flame.
This China-crafted oil lamp is well-made, and you can use it for various purposes like emergencies, power outages, or for bringing the color in a dining space or retro restaurant.
How is this lamp constructed? Like other lanterns, it is also painted with a fancy color that gives a desirable pop of color, and it automatically enhances the surrounding.
The thick color coat protects the exterior from premature wear and heat. Thus, extending its lifespan. Moreover, the stand is cylindrical and has a frame that keeps the wick in place.
A key is present on the outside of the cylinder to help turn the lamp on and off. Plus, the key's material does not heat up; thus, it prevents burning the user's hand.
Furthermore, the lamp's entire structure is made in such a way that it gives stability. For example, it has a more extensive base that prevents accidental tipping.
The lamp's glass is also heavy-duty and heat-resistant; thus, it does not break easily and withstand heat.
What's more, the lantern is compact, and it offers various holding options like a hook for hanging and handles on the sides.
In addition, this oil lamp works well with kerosene; plus, make sure not to use other oils.
With thirty-six ounces of fuel, the lamp can burn up to forty-five hours straight. Also, since it has a larger fuel tank, it keeps the need for refilling minimal.
Moreover, its nine candlepower output is enough to use for outdoor purposes. In addition, this little wizard comes with a thick and long wick (around ⅝-inches); thus, it will burn longer non-stop.
Not to mention, the lamp does not require high maintenance, and it is easy and safe to use.
Oddly enough, this lantern's light intensity is not as incredibly bright as its competitors.
Pros
Delivers long-lasting light

Convenient and safe product

Easy to use

Easy to maintain

Stable and durable

Well-built
Cons
Not an extremely bright light
No products found.
4. Dietz Air Pilot Lantern – A Vintage Dietz Oil Lantern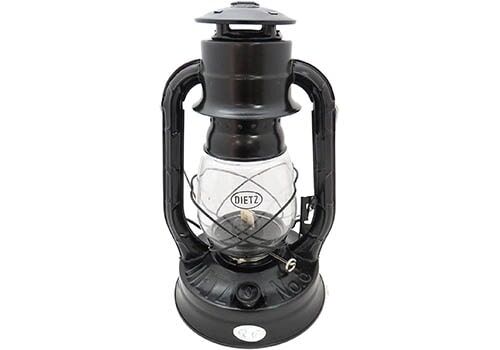 No products found.
It is one of the best vintage Dietz lanterns because it is available in bright and rustic colors such as black, blue, and rusty (unfinished).
Once unpacked, it has a nice big globe, a ⅞-inch wick for bright light, and ample land to prevent it from tipping. This product, like other Dietz lamps, is also made in China.
Moreover, it has an accessible lighting globe; you only have to lift it to access the wick under it. Plus, it is a sturdy and solid lantern that has handles on the sides and at the top for easy handling and portability.
What's more, the fuel hole has a capacity of thirty-one ounces of kerosene, and it can burn for twenty-seven hours straight.
Furthermore, this old-school lantern is economical and massive in size. However, if you want to use it for a more extended period, basic care is necessary.
Fill the tank with fresh fuel; however, do not overfill it because it will cause leakage.
In addition, trim the wick periodically, keep the globe clean, make sure the flame is low to prevent smoking, and do not leave your lantern out in the rain as it will rust.
What about its light output? It produces a pleasingly warm, bright, white light with minimal fumes.
Any drawbacks? It has a thin metal despite being sturdy, and its quality could have been better. Plus, it is not weather-resistant, and it can become damaged or rusty if left in the rain or snow.
Pros
Bright light

Easy to use

Portable

Low maintenance lantern

Well-made

Available in different colors
Cons
Cannot withstand rain or snow

It might not be incredibly durable
No products found.
5. Dietz Jupiter Lantern – An Efficiently-Designed Lantern With a Huge Reservoir
No products found.
If you often face problems with power outages, a lantern is always the best alternative to a torch with dead batteries or a candle. This oil lamp is well-constructed with flawless seams and powder-coated paint.
The Jupiter lantern is available in two colors (black and blue). Moreover, it has the exact mechanism as other Dietz lanterns.
But, oddly enough, it only uses synthetic kerosene or kerosene to work and is not compatible with paraffin.
What about its construction? Its design is similar to old-school lanterns but more sophisticated. It has a sleek, shiny blue body with two handles on either side to carry the oil lamp.
Despite having a massive size, it weighs less than about 3.2 pounds. Moreover, it is tall and sturdy and has an incredible light intensity.
The lantern has a potent glass boundary that protects the surrounding from becoming overheated.
What is the best part?
It has a large reservoir that can store up to eighty ounces of fuel, and it can run for a few days without the need for refilling. Since it has an extensive base, the lamp does not tip over when full.
Furthermore, this lantern can deliver an output of 12 candlepower. Plus, it provides a kind of warmth and charm that no modern LED or other lighting systems can match.
If we talk about its downsides, there are a few. First, since it has an enormous base, it takes up a lot of space. In addition, this lamp is not as bright as the propane ones.
Pros
Compact, sleek body

Lightweight and portable

Well-built

Long working hours

Minimize refills

Sturdy exterior
Cons
Not a space-saving unit

Works only with kerosene

No exceptionally bright
No products found.
6. Dietz D-Lite Lantern – A Classic, Attractive and Light-usage Lamp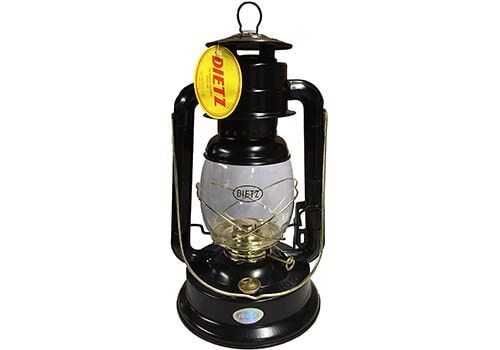 No products found.
If you are searching for an economical lamp whose warm glow gives a sense of tranquility and calms and relaxes the mind and body, you might have found it.
Plus, it is the most economical way to light up your home during power outages and gives a lovely ambiance.
What's more, this classic lamp is excellent for light use; however, it might not be the best product for heavy everyday usage. Moreover, this oil lamp is compatible with kerosene and paraffin.
Why does this model deserve to be included in our list?
Because of its remarkable productivity and design. This product usually attracts customers because of its unique structure and color pattern.
This lamp has a shiny black exterior with a golden interior surface. Its black body makes the product look fancy, and the two colors (black and golden) help retain the heat.
Besides adding beauty, these colors provide benefits. Furthermore, the glass globe in the center has an oval shape that is present on top of the golden base.
What else? The lantern's height surpasses thirteen inches but is lightweight for maximum portability. It also has two handles on either side and a golden handle on top for easy mobility.
Moreover, its large fuel tank can store up to thirty-one ounces of fuel, and you can use it for around twenty-seven hours.
Plus, its ⅞-inch wick delivers an excellent light output, and this lantern has a high intensity of fourteen candlepower.
Surprisingly enough, this product is a bit expensive than other models, and its lift mechanism is slightly hard to use.
Pros
Lightweight

Great fuel tank capacity

High light intensity

Great design

Durable
Cons
Not for heavy usage

Slightly expensive

A problematic lift mechanism
No products found.
7. Dietz Junior Lantern – A Well-made Attractive Lantern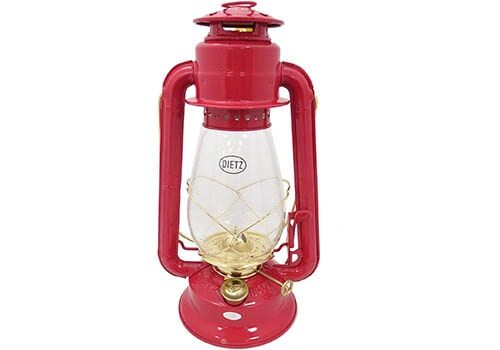 No products found.
If you are looking for an attractive accent lamp that you want to place on the refinished antique table, this might be your go-to product.
Do you know the exciting story?
The brand introduced the #20 Junior as "the Queen of the Cold Blasts." it is the 3/4th version of the #80 Blizzard and one of the most sought-after models.
It is available in various colors like bronze, black with gold, blue, red, and rusty (unfinished).
Besides using it as decor, it gives a soothingly warm light for various purposes such as emergencies, hurricanes, camping, etc.
What benefits does this lantern offer? First, it has a nine-ounce fuel tank that holds enough fuel to burn for twelve hours straight. Plus, it has a ⅝-inch wick that will produce nine candlepower.
Moreover, its tall profile globe makes it suitable to use at all elevations, and its total height is around twelve inches.
How to light up this oil lamp? You only have to push the lift lever down to expose the wick. If you want to remove the globe, lift the top slightly, and the globe tilts away.
To light it up, lift the globe, light the wick, and put the globe back down. Then, use the key to increase or decrease the flame.
Oddly enough, the paint might chip out eventually, and you may find the lever too hard to move the globe up and down.
Pros
Available in various colors

Sturdy and durable

Portable

Offers good light

Well-designed
Cons
Not an easy-to-use lever

You might find paint chips everywhere
No products found.
Best Dietz Lantern Buyer's Guide: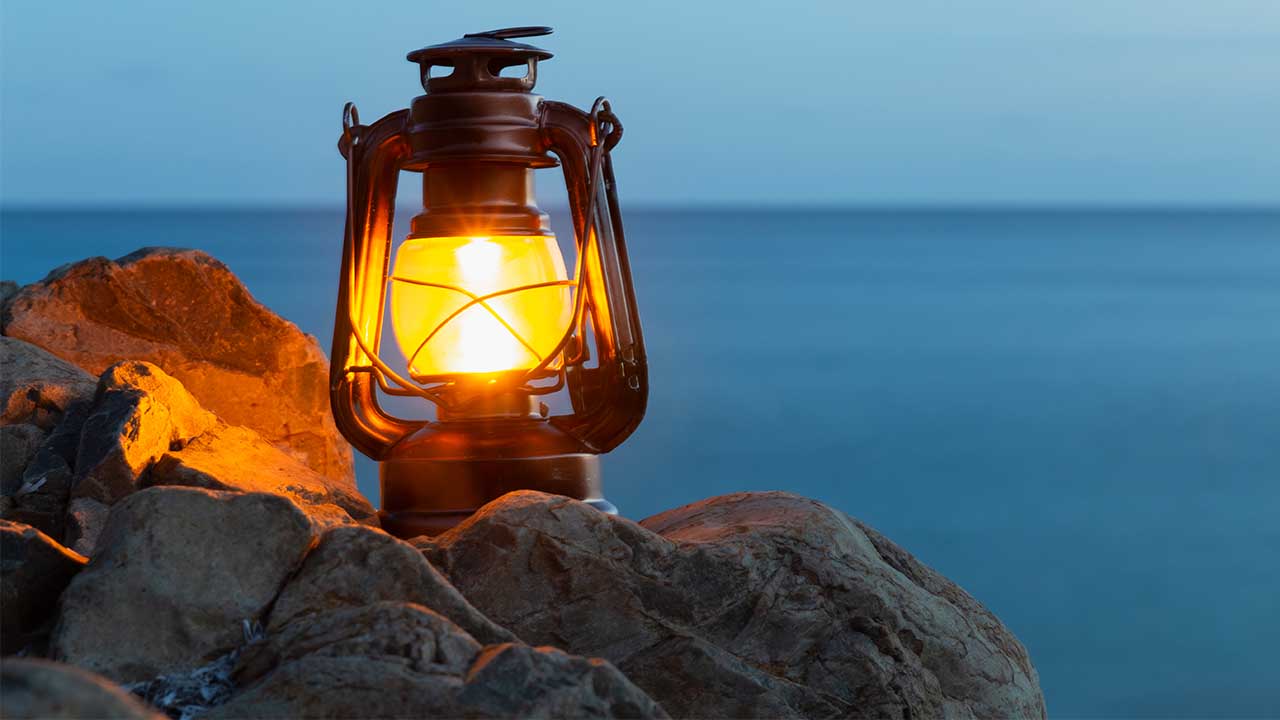 Although oil lamps light up the area and their purpose is to illuminate, this does not mean you can buy any lantern.
Moreover, various lanterns are available that you can choose according to your style and purpose.
Some are better for indoor purposes for decor, while others are heavy-duty and can be used for outdoor adventures and other emergencies.
Since you know the different top-notch Dietz lamps the brand has to offer, you might be wondering, "Which one should I pick for myself? or "which option will be a better buy?"
There are a few aspects to consider to pick out the best lantern for yourself! Therefore, you should check these factors out!
Fuel Usage
When choosing an oil lantern, make sure which oils are compatible with the lantern. Kerosene lamps usually support kerosene, and other refined crude oils will not work.
Moreover, some models accept citronella and olive oils. These oils burn cleaner than kerosene, but they are much more expensive.
Whatever your budget allows, you can choose accordingly.
Portability
Since you can not touch the glass because it will burn your skin, make sure the lanterns have handles.
Several lanterns come with a bail handle or a hook and oversized handles on the sides; however, they should be heat-resistant so that you can carry them easily. Otherwise, they will not be of any use.
Fuel Capacity
The total time of how long the fuel remains ignited depends on the fuel capacity. The more fuel the structure can hold, the longer the burning time.
If you are looking for emergencies or camping, make sure that your desired option is easy to fill and has ample storage space.
Moreover, if you plan to use it for an extended period, go for the one that can store more significant ounces of fuel. If not, the lantern with minimal storage capacity will work best for occasional usage.
Furthermore, it is crucial to note that when you fill the oil tank, it should be 80% full; otherwise, the oil will leak. Why fill 80%?
If you fill the container to its mouth and heat it, the liquid expansion will cause the container to leak. Therefore, it is advised not to fill the container to the top.
Lantern's Size
Each lamp has a different height and width. Therefore, you might think a large lamp and its shade will give more light output. However, that is not the case.
Sometimes a tall chimney or a globe allows more space for the oxygen to pass through to feed the flame.
Exterior
Material is another crucial thing to consider because you do not want a lamp composed of cheap products.
Go for the lantern whose exterior is composed of brass, copper, or glass. Make sure that your oil lamp has brass because it provides increased durability. Also, choose the one that does not get heated super quickly.
Some oil lamps are made from plastic to make them extremely lightweight. However, avoid using plastic because it will eventually melt or burn your product.
Durability
Good quality oil lamps are built to last. Plus, glass and metal oil lamps last for ages, and they come in handy whenever you need them.
However, proper care is essential. If the lamp is not weather-resistant or does not have a protective coating, keep it away from rain or snow as it will become rusty.
Moreover, prevent overfilling, do not forget to trim the wick, and keep it clean as these lamps are pretty easy to maintain.
Temperature Adjustment
Every lantern has a key that ignites or extinguishes the fire. However, it also comes with a knob to adjust the heat according to an individual's comfort level.
Make sure the lantern you are thinking of buying possesses such knobs.
Frequently Asked Questions
Final Thoughts
The Dietz lanterns that we have mentioned above are all affordable and straightforward to use. You can use them for indoor gatherings, decor, outdoor tours, and adventures, or emergencies.
These versatile vintage lamps provide a soothing and relaxing ambiance when used indoors. Plus, they increase the beauty of the room.
We hope that this complete guide was helpful enough to help you select the product you were looking for.
Don't forget to go through all the aspects that we have mentioned. They will help you make an informed decision.
So which top-quality Dietz lantern are you going to buy? Let us know in the comment section!